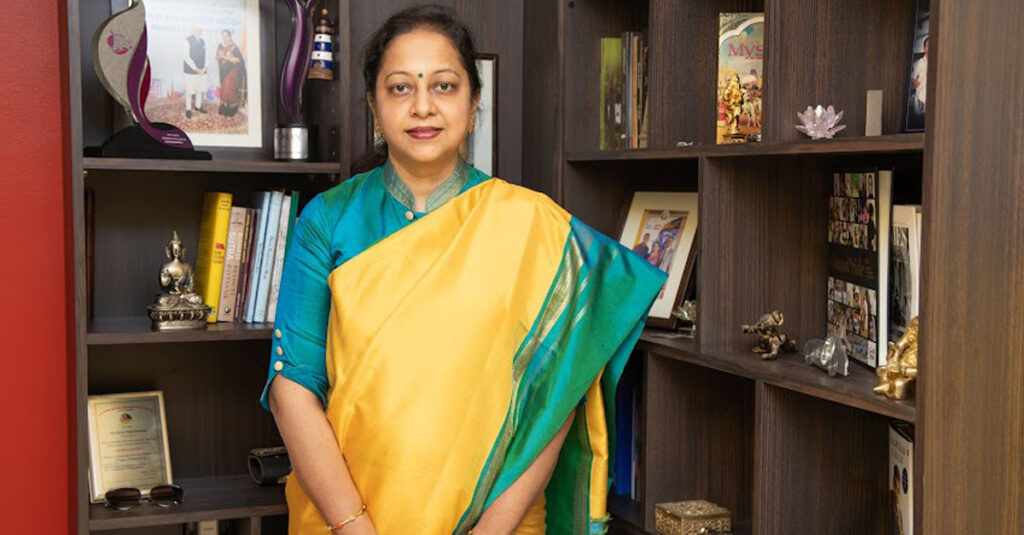 MUSCAT – Mind, body and spirit. The connection between the three can be best exemplified in practicing yoga, learning Sanskrit and engaging in art, says a top practitioner, of the three life essentials, in Oman.

Combining the material and the spiritual in a unique manner is a blessing that Dr Kavitha Ramakrishna, a Sanskrit, yoga, and Tanjore painting exponent in Oman, is endowed with. Dr Kavitha, who was earlier recommended by the Indian embassy for the PM Yoga Award 2021, has earned the unique distinction of being able to link the worldly and the transcendent.

Yoga curriculum being planned
Currently engaged in creating a yoga curriculum to be included in the educational system in Oman, Dr Kavitha believes that yoga is one element that can bind the youth in a sense of unity, "as it highlights the inherent synergy among all living beings".

Yoga for better humans
She highlights the importance of including both theory and practice of yoga in the curriculum at all levels so that students can benefit from it. "Today, stress is all around. The best way to combat stress is to maintain proper physical and mental health and yoga is essential for that," Dr Kavitha notes. Worldwide, the education systems is focused on building the intellectual side of a student, but just imagine if the power of education can also be utilised to build better humans? "That is where yoga comes in," she says.

Always for a cause
Dr Kavitha is a disciple of Dr H.R Nagendra, chancellor, S-VYASA university (*). She has done extensive work in learning and being a part of several historic yoga and ayurveda courses. A gold medalist in Sanskrit, she has taught several hundreds of students in Muscat. All her works are honorary and are always focussed on a cause. She has authored the book "Tamoghna," which lends an insight into sun salutations. The proceeds from the book sale were directly donated to the Oman Cancer Association.
Dr Kavitha has exemplified her efforts to spread the importance of sun salutations to many communities in Oman, thereby doing her bit to help people stay fit mentally and physically.

Journey of self
"Yoga and sun salutation has become important in my life not only for improving health or fitness but also for personal development. It is not just repetition of postures – it is more about exploration and discovery of the subtle energies. It is the journey of self. It is the vaccine against all disorders," she said.

Tamoghna Foundation
It was to spread this message that the Tamoghna Foundation, an NGO, was founded. The mantras of Tamoghna are:
* Restlessness to restfulness of the mind and body.
* Reversing the disease conditions by reversing the thoughts.
* I – illness to W- wellness by yoga, which means joining, calmness, balance, skilfulness, mastery over the mind. This is the aim of Tamoghna.

Helping the blue-collared"With these mantras this foundation helps people who need assistance. Working for a cause and producing a positive effect is the aim. During this pandemic situation the foundation has completed the mask distribution for the needy in Bommasandra Industrial area, Bangalore, Karnataka," Dr Kavitha informed. She is now working towards a camp where yoga, health assistance, financial education, and many more helpful resources will be provided for India's blue-collared segment.
Cultural ambassador
In Oman too she has helped workers in many labour camps – especially in Muscat — by training them in yoga and giving talks about health and stability. She is known as the cultural ambassador in Oman for her contributions in highlighting India and Oman's art and culture. She had the opportunity to present her work in front of several ministers in Oman and India. She had a chance to present a Tanjore painting that symbolises the Indo-Oman relationship and her book Tamoghna about Yoga to Shripad Naik, union minister of state (independent charge), ministry of ayush and also the former minister of external affairs, Sushma Swaraj as well as the current minister of external affairs Jaishankar.
Selfless service to society
She believes in selfless service to the society where she wants to change people's lives through her dedicated efforts. She has a motto of bringing happiness to everyone's life through yoga. She has worked tirelessly with the Indian embassy and the Omani government to raise awareness about yoga and its importance. She had the opportunity to present her work about yoga to the former chief minister of Karnataka B.S. Yeddyurappa and spoke to him about the major role of yoga in vitalising the body and mind. She also had the honour to present her works and her book Tamoghna to Sri Sri Ravi Shankar, founder of the Art of Living Foundation. The exchange of words and appreciations from him for her work has motivated her to conduct more and more activities about yoga in Oman.
Blessed with great mentor
"I am blessed with a great mentor and guide in Dr Nagendra who has pushed my abilities and provided me with immense knowledge about yoga," Dr Kavitha said. He is also encouraging her work towards the development of yoga practice in Oman. "I have also collaborated with the Whispers of Serenity organisation for mental health, an institution that is founded by Her Highness Sayyida Basma Al Said."

Awards galore
Dr Kavitha has also earned a name by her motivational speeches. She has curated many social programmes – for free — about Indian art, culture and yoga. She has won many awards from the media houses in Oman for her efforts in strengthening the healthy relationship of Oman and India through yoga, art and Sanskrit.

Many milestones
Among the many milestones in her life was the opportunity she obtained to meet the Indian prime minister, Narendra Modi, during the latter's visit to the Sultanate. She was the only Indian lady who was given this privilege – a testament to her status among the diaspora here.
(*) Swami Vivekananda Yoga Anusandhana Samsthana (SVYASA) University