SOHAR – Under the patronage of His Excellency Dr Said bin Mohammed Al Saqri, Minister of Economy, and the presence of His Highness Sayyid Faisal bin Turki Al Said, Chairman of Universal FINE Chemicals SPC, Sohar Port and Freezone signed Sub – Usufruct Agreement with Universal FINE Chemicals SPC, marking a transformative step towards shaping the future of trade and industry. The agreement paves the way for the establishment of the world's second largest Polymer Manufacturing Plant in Sohar Port, catering to diverse applications including production of energy, agriculture, wastewater management, and the pulp and paper industry in Middle East, North and South America and the European Union.

The Polymer Manufacturing Plant represents a remarkable investment of USD 300 million, encompassing future plant expansion. Occupying an impressive land area of 240,000 square meters within Sohar Port, this project not only showcases a commitment to technological advancement but also enhances the industrial landscape's development. The innovative venture promises to revolutionize energy production, agriculture, water management, and beyond. This pioneering project enhances the commitment of both entities to advancing technology and fostering sustainable growth across diverse sectors.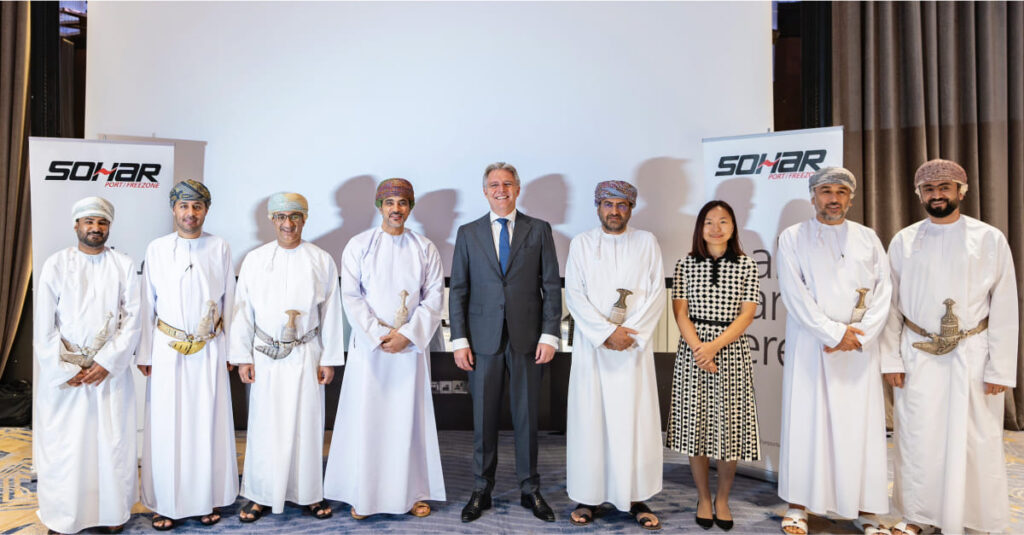 This agreement positioned Sohar Port into the forefront of global exporters of industrial chemicals. The infusion of substantial foreign direct investment from Singapore and China enhances the attractiveness of Sohar Port as a premier investment destination, reinforcing its global competitiveness. Locally, the venture amplifies supply chains, attracts related industries, and strengthens local trade networks, significantly contributing to economic prosperity. By integrating within Sohar Port's Petrochemical Cluster, the project not only amplifies its significance but also attracts downstream industries and stimulates regional business growth.

Commenting on the importance of the Agreement, Echo Liu, CEO of Universal FINE Chemicals SPC stated, "This partnership marks a significant milestone in our pursuit of excellence. By leveraging the strategic advantages provided by SOHAR Port and its proximity to key markets, we aim to redefine industry standards and contribute to sustainable progress."

The polymer plant will be equipped with innovative technologies. It will produce polyacrylamide and related monomers. The main plant product – polyacrylamide is used for enhanced oil recovery, water treatment, paper industry, agriculture and other applications.

Emile Hoogsteden, CEO of Sohar Port, stated, "Through our signed agreement with Universal FINE Chemicals SPC, we're not only shaping trade dynamics but also driving Oman's Vision 2040 forward. This collaboration is a testament to our unwavering commitment to innovation-led growth, propelling our nation into the forefront of global progress. By revolutionizing trade and fostering economic prosperity, we're turning the Vision 2040 aspirations into tangible reality."

The scope of this project extends beyond regional boundaries, with a strategic focus on serving markets in the GCC, North and South America, and the European Union. By strategically targeting these diverse and expansive markets, the collaboration between SOHAR Port and Universal FINE Chemicals SPC aims to establish a strong foothold in key economic zones, effectively delivering innovative solutions and contributing to economic growth on a global scale. This global outlook reflects the partnership's commitment to not only fortifying the local economy but also creating a lasting impact on a broader international stage.