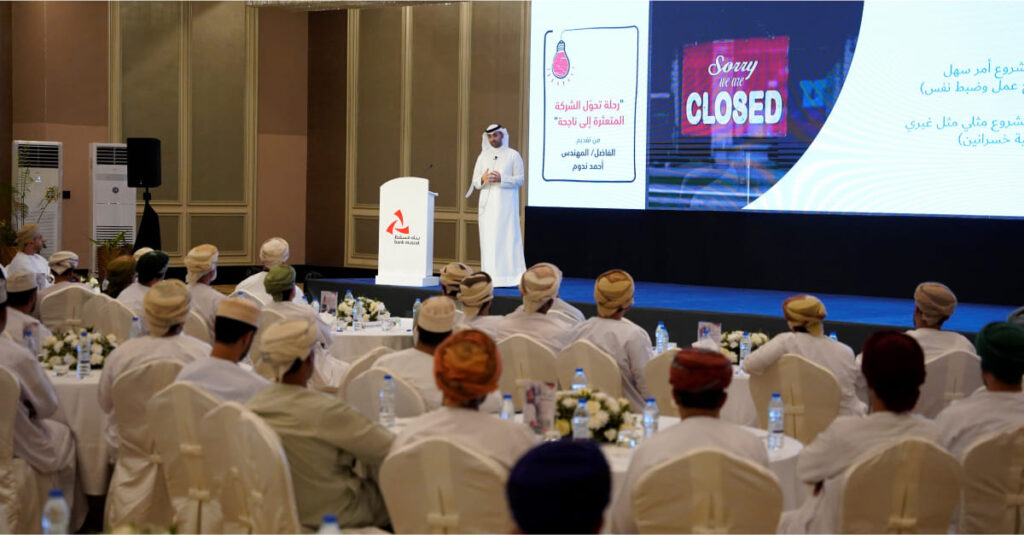 MUSCAT – In line of its corporate vision "To serve you better, everyday" and commitment to enhancing and supporting the SMEs sector, Bank Muscat, the leading financial institution in the Sultanate of Oman, organized a seminar on "Secrets of Success- A Company's Transformational Journey Towards Growth" in the Wilayat of Salalah, with the attendance of a number of executive officers from the Bank and "Najahi" Business Banking customers from Dhofar.

Speaking on the occasion, Taya Eid Bait Sabeea, Deputy General Manager – Interior Regions, Bank Muscat, delivered a speech in which he expressed his gratitude for the active participation of entrepreneurs in the seminar organized for "Najahi" Business Banking customers. During the speech, the Deputy General Manager highlighted the prominent roles the SME sector plays in driving the Sultanate's economic growth, bringing about sustainable development, and creating job opportunities for the Omani youth. He also explained that the Bank Muscat's "Najahi" Business Banking provides great support to SMEs through a suite of products and services offered to cater the diverse needs of entrepreneurs and customers. Therefore, Taya extended his thanks and appreciation to all SMEs for their constant trust in the support granted by Bank Muscat, having emphasized that the Bank will continue providing the best services to its individual and institutional customers.

During the event, Ahmed Ndoom, an entrepreneurial consultant, delivered a workshop about "Secrets of Success- A Company's Transformational Journey Towards Growth" in which he illustrated the importance of Small-Medium Enterprises as a key player in the Sultanate's economic growth, having focused on a number of major subjects that were of high importance for entrepreneurs to expand their businesses. The seminar constituted a new step for ambitious entrepreneurs to develop their businesses and find solutions to the challenges facing the SME sector. Therefore, the entrepreneurial consultant, during the delivery of the workshop, highlighted the main leadership qualifications and traits that future leaders must have and also gave reference to other fundamental practices they must be capable of doing to reach a higher and global level of leadership, such as integrity values, demonstration of leadership capability through practices that speak to the public needs and interests, a clear vision, ability to encourage the talented people, and enhancement of a positive competitive atmosphere.
Bank Muscat is one of the Sultanate's pioneering financial institutions frequently committed to organizing such meetings and seminars in emphasis of the importance of the SME sector and its role in enhancing the Sultanate's economic prospects. It is worth noting that the Bank has previously organized such successful seminars that received customers' positive feedback, and which touched upon various matters and topics on human resources and the development of businesses in different sectors and domains. It is a matter of great pride for Bank Muscat that "Najahi" Business Banking has been praised by its customers for the various services and facilities provided since its inception in 2014 as it has enabled many to develop and expand their businesses and grow in size to realize their entrepreneurial dreams, which closely goes in line with the Sultanate's overall developmental goals of economic diversification, job creation, and growth in the Gross Domestic Products (GDP). In light of this, Bank Muscat will continue to organize such seminars and initiatives that contribute to the growth of economic business sectors conducive to sustainable development.
For more details on "Najahi" Business Banking, customers may visit the nearest branch, call 24790000, or visit the online page available on https://www.bankmuscat.com/en/najahi/Pages/default.aspx