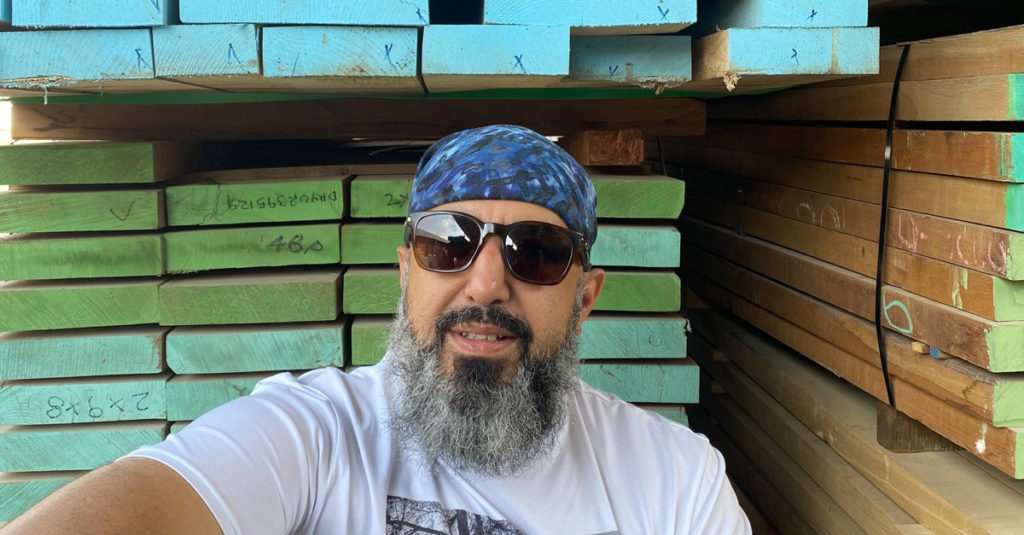 Give him a block of wood and Mohamed Al Khaifi transports himself to another world, downright content. And, within no time, a wooden miracle would be carved right in front of your eyes. As unique as the wood from which it was crafted.But would Khaifi call his woodwork art? Does he consider himself an artist? No.Of course, he wants his work to look as nice as he is capable of making it, but he is hesitant to call it art. His work is quite a rage among many known circles in Oman, yet, humility being one of Khaifi's many virtues, he confesses that although he would like to describe himself as an artist, he is "still not there yet," he tells the Black & White online.Excerpts:
What kind of woodwork do you do? How would you term yourself?
I do everything that has got to do with wood. I am a carpenter; a joiner and I carve as well.
It's a passion of mine. I like different types of wood, getting to know their grains; it's like a hobby, more so, a passion. I've always known that I wanted to do this, but I've only started doing it a few years back. I've done a lot: birds, trees, tables, cutting boards, jewellery boxes, toy boxes, cabinets; cleaning roots and putting glass on them; designing a full kitchen and a pantry for my mother… it was all a learning process for me.
Carpentry is a hobby, one that pays nowadays. I am also running a construction company. I have two separate offices for them (workshop and construction company), right next to each other.
Since I'm not always needed at the construction company, I go to the workshop and keep myself busy. I retired from the ministry in 2017. I used to work at the Sultan Qaboos Grand Mosque as a guide, taking people around and I worked at the construction company as well. I wanted to do something after I retired from the ministry. I work at the workshop as well as the construction company, so it is not my only source of income. I call myself a "wood-worker" or a carpenter. Now I've started designing cutting boards since I wanted to do something new and unique to upgrade myself. In a word, I would like to describe myself as an artist, but I'm still not there as yet. Though that's what I'd like to achieve.

Since when did you get into this woodwork?
As far as woodworking is concerned, I began in early 2018. But I've always been passionate about fixing stuff. Even when I was younger, I wanted to fix the broken things I found in and around the house. I tried to do a lot of DIYs. But I officially started only in 2017, when I was 40. This is when I finally found some free time to start doing woodwork.

How did you get into this field or art? Are you self-taught or did you learn it from someone?
I am self-taught. I've watched a number of YouTube videos and read many magazines related to woodworking. I have a small workshop – a hobbyist workshop – with most of the required tools. It's not as well equipped as a factory, but I have most of the required tools. For example, if I wanted to build a kitchen, I go on YouTube and find and refer to about 10 to 20 videos. Yes, I do make a lot of mistakes in the process, but I learn from them too. Sometimes I ask around for help, especially if it is to do with something heavy, but I usually work alone. I do this work in my free time. I'd advise everyone to do something or make something creative (with their own hands), because it brings peace of mind and is equally fulfilling. Sometimes, I find some who want to join me, for which I am very grateful. It's an opportunity to work with other people who are just as passionate about it. I've named my workshop after my last name: Khaifi's Woodwork. My logo has my beard in it along with my blade.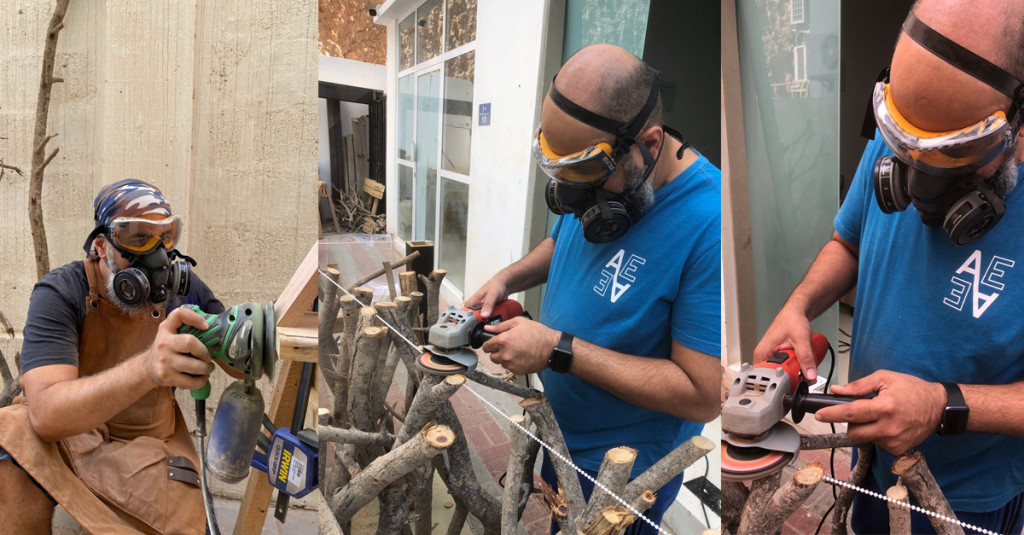 You work with your hands and also machines? These are woodcutting or wood designing machines?
Yes, I work with my hands and with machines as well. Some of the machines include the tablesaw, handsaw, jigsaw, sanding and drilling machines. They are costly but are of good quality and quite durable. I buy some of them locally and/or from Dubai and order the others from the US. It depends on you and your workshop, but as you keep going you can continue to upgrade your machines as there is always something new coming up.
They say when you work with your hand, you are a labourer; hands and head, you are a craftsman and when you work with your hands, head and heart, you are an artist – could we call you an artist then; what best defines you in your woodwork?
As much as I'd love that, I think it is still too early to start calling myself an artist. I'd like to get there though. I would like to make things that are unique and beautiful, but it takes time. You need a lot of knowledge and understanding about the craft, the wood, the details, before you can get there. Although some people do call me that, regarding some of my previous works, I don't agree with them. But yes, I would like to get there.

What is that main character that a woodwork designer has to possess to be good at his craft?
To be a woodwork designer, that is to get into the designing category, you first need the right tools. Then you need to know what you are working with. Take the wood, it has so many variants to think and learn about; the type of wood, it's colour, density, the look; whether it is for indoor or outdoor use; how to cut and sand different types of woods, etc. You need to have patience. You can't do everything in a day or in one go, it has stages like planning, cutting, joining/gluing, sanding, varnishing or painting and so on. And it could turn out to be quite a long process and it cannot be done in one day. For example, if I wanted to make a cutting board for food, there are only a few species of wood/trees that are recommended for it (like fruit trees, the type of trees that don't produce toxins in the wood). The best wood is hard maple, walnut, teak and some more that you may find on the Internet. You need that knowledge to get to that stage of a designer.

Were the early days challenging? How did you get people to fall in love with your woodworks and how did you gain mastery over your craft?
It wasn't easy. It was challenging; everything in life is challenging at first. After working on something for a few days, a small mistake could make it to fall apart and I'd have to start all over again. It was depressing at times, but that's all a part of the learning process. Sometimes when you fall down, you just need to get back up again and keep going. My parents taught me that.
I think people started liking my work because I was doing something different. There are carpenters around who do all sorts of standard stuff, things you've seen before: cabinets, beds, drawers and tables — all the regular stuff. The change would only be in the colours. But I want to do something new. I started with carving and creating different and weird-looking things inspired from YouTube videos. Things that other carpenters in the industry would not do. For example, I took tree roots, cleaned it, polished it and placed a glass over it and also provided the means to hang a lamp on it. You won't find something like that easily. My work stood out from the rest.

What kind of creations have you brought out? Are all of them of utility value (furniture) or are there art forms too?
I wouldn't call them creations. For example, I glue different types of wood together and make an artistic-looking table. Or I cut up plywood pieces and put them together to make a box. I've built a river table, which was very challenging. I think it was the recent cutting boards that got all the hype for their unique look. I called them the Picasso Cutting Boards. I think that was when I received artistic inspiration; when I was trying to create something that looked different to other cutting boards.

What kind of wood is used in your work?
I have used pine, teakwood, walnut, ash, hard maple and red oak.

Everyone wants to own pieces that are unique and original? Is there a great demand for your work? Is there competition or are you the only one in this field? What kind of unusual demands have you obtained?
I have been receiving lot of requests. People love the unique cutting boards. So there is a demand, especially when they are made of high quality woods like walnut and hard maple. There is competition in every field but if you are unique and different, then the road is clear and hardly any competition.
An unusual design or challenging request that comes to mind was when a client asked for a counter table made out of wood branches. We had to source a local type of wood called sumr and put them together like a group of branches and placed a glass (2.5 m wide) on top. It was challenging to try and connect them but it turned out to be a piece of art. If I find it unusual or different, I will take up the request, otherwise I may decline. I take up work that is unique.

How much time do you spend on the woodwork – is it a morning to night job; does it take a lot of your time so much so that you don't have time for anything else?
The timings depend on the work. For some items, it may take only a few hours initially. But if it is a busy day with a woodwork project to be completed, I wake up early in the morning after Fajr prayers, get home to finish my breakfast, then get to my workshop and work fully until lunch hours. I take an hour's break to eat and relax and resume work at the workshop until sunset. That's how a busy day looks for me. Other times, by 4pm, I am done and return home to my family and kids.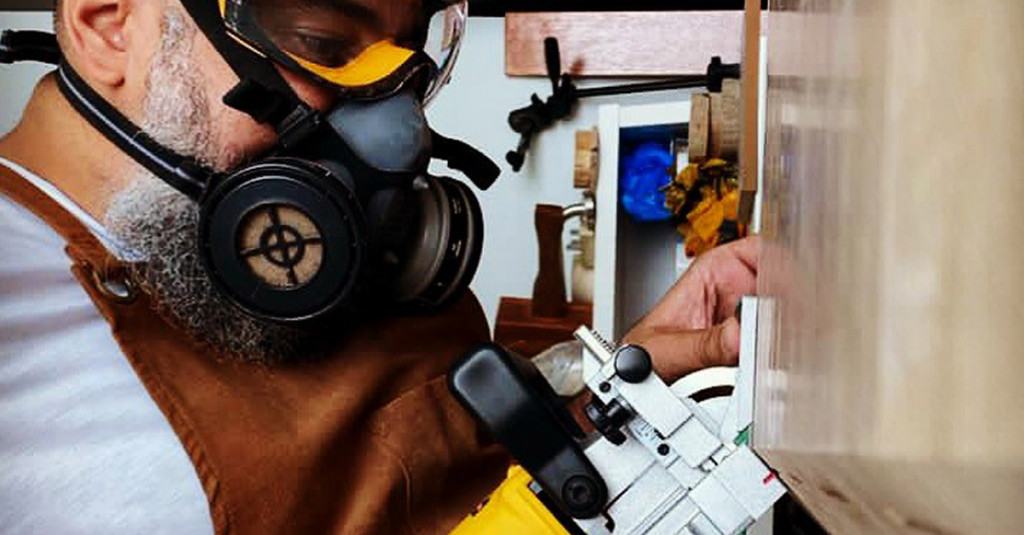 You are a local company. How is the business scenario according to your business/craft? Do you have competition?
Every business is in survival mode at the moment, due to COVID-19, especially for start-ups and entrepreneurs. But anyone who does anything unique or different should be able to sell and succeed. Yes, there is competition, with Omanis in particular; I have noticed more Omanis doing carpentry work as well. Masha'Allah, they're doing great work! There are better artists out there. More like carpenters than artists, but still, competition is there. They make me want to be better. It's always good to have healthy competition — it pushes you to do more.If I have to add anything, I would just like to say, to anyone to who wants to begin something, it won't start by itself. Nothing is easy. You need to plan in advance and start slowly. Educate yourself. Put it in your mind that you will fall many times. Be prepared to have small setbacks or failures, but you need to get over it and become stronger.
Working with your hands is a blessing. If you have any free time, you need to find something to do with your hands and keep yourself busy. Be creative. Anyone who wishes to be a wood-worker, carpenter, artist or anything, just do it. Don't wait until tomorrow, for it may never come. Go ahead and start, use even the simplest of tools. Just start doing it. Unless you start, how will you finish?Instagram: Mohamedalkhaifi
https://www.instagram.com/mohamedalkhaifi/
Going with the grain
The woods are lovely, dark and deep,
But I have promises to keep,
And miles to go before I sleep,
And miles to go before I sleep.
Robert Frost, poet