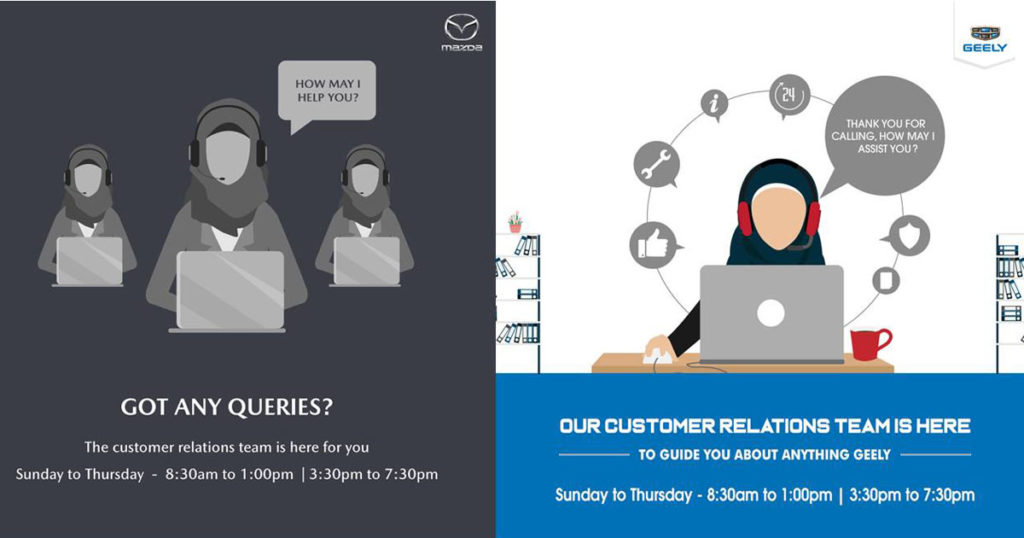 MUSCAT: With an ongoing mission to deliver customer service excellence to all of their Mazda and Geely customers in Oman, Towell Auto Centre is now providing service assistance and information through their Customer Relations Team and Call Centre.
"Our customer relations team is here for you!" says Towell Auto Centre, the exclusive dealer for both the Mazda and Geely range of vehicles in the Sultanate of Oman.
Current Mazda and Geely owners in Oman, as well as those looking to purchase new vehicles can contact the Customer Relations Team at +968 242 29100 or via [email protected] from Sunday through Thursday, from 8:30am – 1:00pm or 3:30pm – 7:30pm.
These new Call Centre timings have been established by Towell Auto Centre to add further call-in convenience for all customers. Any questions or queries you have about the Mazda or Geely range of vehicles in Oman will be happily answered by the team.
Mazda and Geely service bookings can also be made through the Call Centre, and the team can provide info on any of the Towell Auto Centre locations in Oman where the latest models can be viewed and test driven. The team is also on hand to receive any suggestions, feedback or queries you have.
In addition to contacting the Customer Relations Team for all Mazda or Geely related enquires, you can also explore the world of Mazda (www.mazdaoman.com) and Geely (www.geelyoman.com) online, or via the Towell Auto Centre showrooms located across the Sultanate.