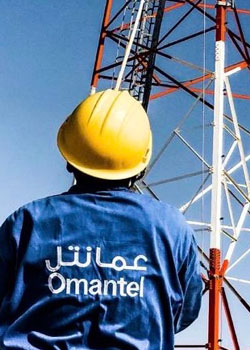 MUSCAT – Omantel has remained a partner in Oman's nationwide initiatives being implemented in light of the COVID-19 pandemic. Omantel has not only been at the centre of awareness drives taken in the direction of public safety and health by joining hand with relevant authorities, but it has also up scaled its services to meet accelerated service demands.
The demand for various telecom services has seen an exponential increase since the pandemic as individuals and enterprises – government and private – switched to a more flexible yet productive way of functioning. Remote working facilities needed added network upgrades and Omantel rose to the occasion like a true digital partner.
In response to these shifts in demand, Omantel has proactively upgraded its networks, increased the capacities of its Internet facilities, and employed modern digital technologies to provide the best services to customers. These measures by Omantel have resulted in a remarkable increase in the use of its various telecom services and in turn, empowered its customers, from government agencies and major companies, to adapt to the requirements of the new situation of work from home. This has complemented the overall global public health motto: Stay Home, Stay Safe.
Omantel's response in dealing with challenges resulting from precautionary measures included expansion of fixed-line and mobile networks (3G, 4G and 5G) by increasing the capacity of existing sites, adding new sites and increasing Internet capacities. During the period from last February until date, Omantel added 77 new 5G sites, upgraded 42 sites from 3G to 4G in addition to adding 26 new sites to its 3G and 4G networks. Omantel also increased the capacity of 23 4G sites in various governorates of the Sultanate.
Commenting on this achievement, Eng. Said bin Abdullah Al Ajmi, Vice President of Operations Unit at Omantel said, "Providing telecom services that live up to the aspirations of our various customers is a priority for us at Omantel. COVID-19 was a real test for the quality and reliability of our network in addition to its ability in meeting the exponential increase in traffic resulting from individuals spending more time at home and the increased requirements from several companies and institutions that had to provide their services remotely. We worked diligently to come up with innovative and safe solutions that meet the needs of the different customers."
He further asserted, "Telecom networks are designed to deal with an additional number over their average capacity. We use different technologies in our networks such as 5G, 4G, 3G for mobile networks in addition to the fibre optic network and the legacy fixed networks. All these major technologies have proven their reliability over the past years. During COVID-19, we are proud of their exceptional performance that successfully met the increased and sophisticated requirements of our customers, enabling individuals to work from home and corporates to ensure business continuity and serve their customers virtually.''
The Vice President, Operations added that there has been a noticeable increase in the demand for Omantel services through channels such as the Call Centre and Omantel App. "For instance, more than 5,000 customers have opted for the Plug & Play 5G home broadband from February 2020 until date," he added.
Since the spread of the pandemic, traffic over Omantel's fixed network witnessed a significant 35 percent increase by the end of May. Special offers launched by Omantel giving unlimited local calls to 'Baqati' and 'Hayyak' subscribers for 30 days also increased the voice traffic on the mobile network by 14 percent by the end of May. Data usage in the mobile network too, witnessed a 36 percent increase between February and the end of May 2020. Omantel's infrastructure has been able to accommodate this increase without causing any bottlenecks in the core network.