Top supermarket chain Lulu says fake messages won't dent their image as they have a strong and loyal customer base
You must have been at the receiving end of some of the above messages now or even before the pandemic. In fact, there are plenty of such messages floating around claiming that the recipient has won tens to thousands of rials as part of promotions by Oman's top supermarket chain, Lulu Group.
Nefarious schemes
Seemingly oblivious to the fact that the world they also live in is under the grip of a deadly virus with countries facing emergency-type situations and people in total disarray, these anonymous scammers continue with their nefarious schemes.
People alert to scams
But luckily, here in Oman, most of the populace is alert to these scams. Despite being in the midst of the COVID-19 crisis, they are vigilant and don't easily fall prey to the wiles of these despicable 'scamsters'. Yet, there would be the odd ones who may unwittingly fall for the scam bait.
Strong and loyal customers for Lulu
Top Lulu Group officials, while warning shoppers not to fall for such fake messages, however noted that their "strong and loyal customers are not (likely to be) misled by such messages".
"Also, if some inaccurate information spreads, we immediately reach the customers with proper communication," Ananth A. V., director, Lulu Group International and Shabeer K.A., regional director, Lulu Group, informed Black & White online. To a query, the duo said they had no clue as to why these messages are being made and circulated. "(We have) no answer (to that)!" they said.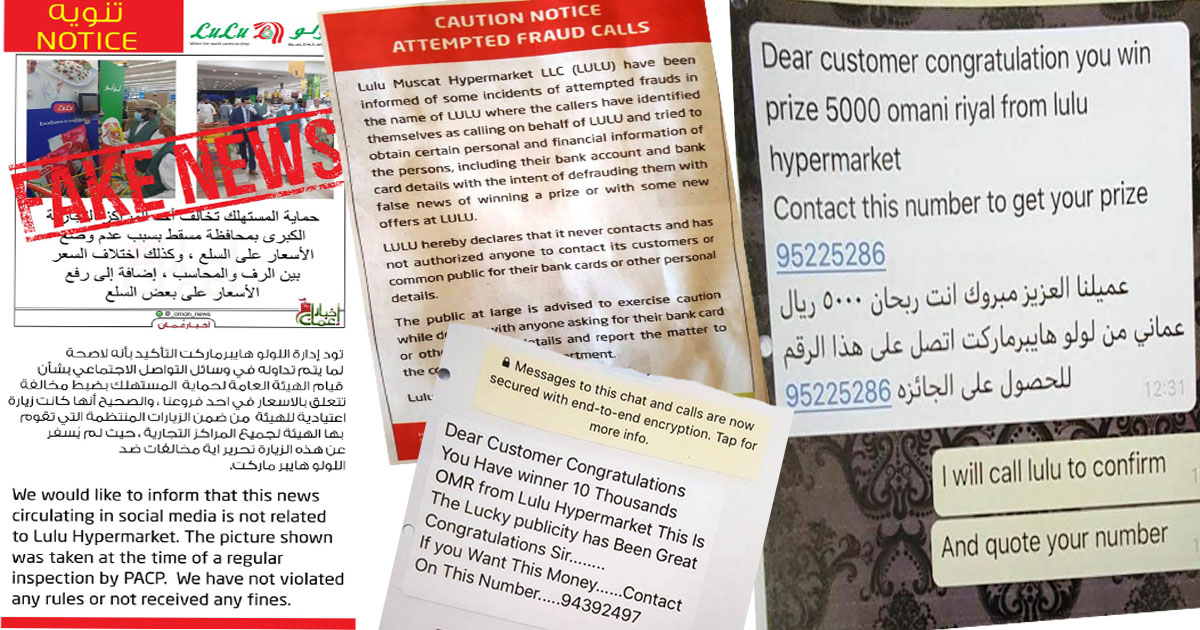 Lulu Group's promotional and other messages are released through their social media channels, namely Facebook, Instagram and Twitter and also through their website and the mass media.
Excerpts:
When did these fake messages first start to appear? Was it just before the pandemic or was Lulu a target much before that?
Like every leading business organisation, we are also getting targeted with fake messages. These fake messages have been there long before the pandemic.
Have many such fake messages come out? Are they still coming?
Recently, we encountered:
*On May 15, 2020, there was a video containing misleading information about face masks, which was done by a blogger. He shot the mobile video inside Lulu, comparing the prices. The information he published was wrong. Upon our complaint to the authorities, a clarification video was done by the blogger.
*On April 25, 2020, one message spread in the social media with a web link, saying Lulu is giving away RO150 worth of coupons during the COVID-19 pandemic to the customers.  A fake alert post was created by us and published through our social media.
Time to time, we report to the authorities about such messages or activities as and when they appear. Also, we inform or alert the customers regarding those messages through different media.
What are the reasons for the spread of these fake messages?
They might be trying to collect customer data for fraudulent purposes.
Have these messages dented Lulu's image in any way or have they caused any harm at all?
We have a strong base of loyal customers who are not misled by such messages. Also, if some inaccurate information spreads, we immediately reach the customers with proper communication. 
Have customers fallen for these fake messages?
Whenever we come to know about such messages, we clear our stand and lodge a formal complaint to the authorities concerned.
Has Lulu management lodged a formal complaint with the authorities concerned?
We have lodged complaints to the authorities concerned. And prompt actions have also been taken.
Is it happening only in Oman or is it common in other Lulu outlets in other countries too?
No, not only in Oman, it is happening in other countries too.