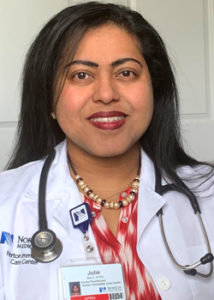 Julie Alexander Bejoy
Doctor of Nursing Practice (DNP), Family Nurse Practitioner Board Certified (FNP-BC), Bachelor of Science in Nursing (BSN)
Norton Healthcare, Louisville, Kentucky, (USA)
As a frontline provider, Julie recounts some of the challenges she faced and the lessons she learned during this COVID-19 period
Virus has no boundaries
As an Advanced Practice Provider (Doctor of Nursing Practice) I have been privileged to lend my services during the COVID-19 pandemic.  Being a frontline provider in the emergency department, dealing with patients presenting daily with the novel Corona virus infection, I am constantly made aware that this virus has no boundaries. I have been challenged to reconsider contemporary practices and explore uncharted territories in medical practice. While efficiently practicing hand washing, social distancing, and using personal protective equipment efficiently, I have been vigilant that every patient I see could be a potential COVID-19 rule-out.
Practicing emotional resilience
Undoubtedly, I have been humbled witnessing how even a healthy individual gets infected with this virus. They quickly circle down the drain, fighting for their life without family support, in their quarantined final stages of life. This season has challenged me to be more sympathetic, be a patient advocate and stand by the grieving family during the loss of their loved ones while camouflaging my own exhaustion and the days of hard work.
Along with providing well-informed care to my patients it has been challenging to educate the nursing and other multidisciplinary team to maintain best practices that would help flatten the curve of this unprecedented infection. It has been a challenge to provide support to emotionally and mentally drained coworkers. Beyond doubt, there has been no better time than this to practice emotional resilience as a healthcare provider.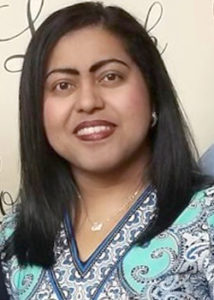 Patient education is vital intervention
It is common for everyone to experience increased levels of distress and anxiety, particularly because of social isolation and uncertainties of time. As a frontline health care professional, we are particularly vulnerable to negative mental health effects and burnouts as we strive to navigate and balance the duty of caring for patients with concerns about me and my family's well-being.
I am appalled and mystified the way number of COVID-19 cases has climbed across the globe. The growing domain of public fear presents frontline providers like me with an outlet to demonstrate that patient education is a vital intervention that we are uniquely equipped to spearhead.
Emphasising with every patient the importance of hand washing, wearing mask, avoiding unnecessary travels and sick contacts is a part of my professional role. Reading daily and changing practice as recommended by CDC guidelines for COVID-19 has been a priority.
Life is happening pretty fast
Personally, I have had to improve hygiene practices and pay attention to details trying not to bring infection home to my family and avoid putting them at risk. Emotionally, this season has been a time of self-reflection and internalising the truth that every life matters and that life is short and uncertain. Life sometimes comes at us extremely fast.
Spending time with my family during quarantine has helped me get recharged to go and perform my duties again the next day. Enjoying every moment, uplifting others around me, and disseminating knowledge among others regarding infection prevention has been my new way of life.
Pandemic will have an everlasting effect
Around the world this pandemic has changed the way people lived their lives. Social isolation, work from home, zoom classes, closed businesses and job losses have thrown humanity around the world for a loop. We, as people, will have to change our lifestyles for the better. The novel corona virus pandemic will have an everlasting, far-reaching effect across all facets of our society. Fear is not the answer when you deal with COVID-19. For many, this is a dark season of life. On the contrary, we need to embrace the need for interdependence, build emotional support, strengthen human interactions, and seek information that could drive us to demand a more supportive social safety net.

Time to live in harmony with nature
For individual concerns related to one's mental health and well-being, encourage communication with trusted colleagues in addition to accessing mental help programmes.
By developing a well-informed, evidence-based grounding of the current, authentic information pertaining to the virus will also help society with how to deal with the pandemic.  The impending increase in COVID-19 cases and economic loss might present a silver lining in the aftermath of the pandemic. Helping others cope with their stress can also make your community stronger. Do not forget that children, teens, and the elderly population need increasing attention and help during this uncertain period of social isolation.
Engaging these vulnerable groups with new hobbies and talents, in and around the house and maintaining open communication might prevent depression, anxiety, and other mental illness. It is time to learn to live in harmony with nature. Emphasis on good diet, exercise, along with mental and spiritual balancing can help restore our society.
Currently, let us stay the course
While every one of us deserves equal access to fact-based news and analysis, my advice to the public would be to stay away from misinformation and fake news.  We cannot plan for what we cannot predict.
Controlling the corona virus will require a coordinated global effort, and it is possible the disease will never be fully eradicated despite widespread efforts to develop a vaccine. It is equally important that we do our civic duty of social distancing to help prevent a second surge in cases during the peak of winter 2020. Pay attention to CDC guidelines and other scientific studies if possible. But staying the course is important while the fog of this uncertainty dissipates.
When all is set and done, I am sure people around the world will emerge on the other side a little better than they were before, a little wiser, with suffering turned to wisdom and emerge out of this crisis with tools to build a better world.