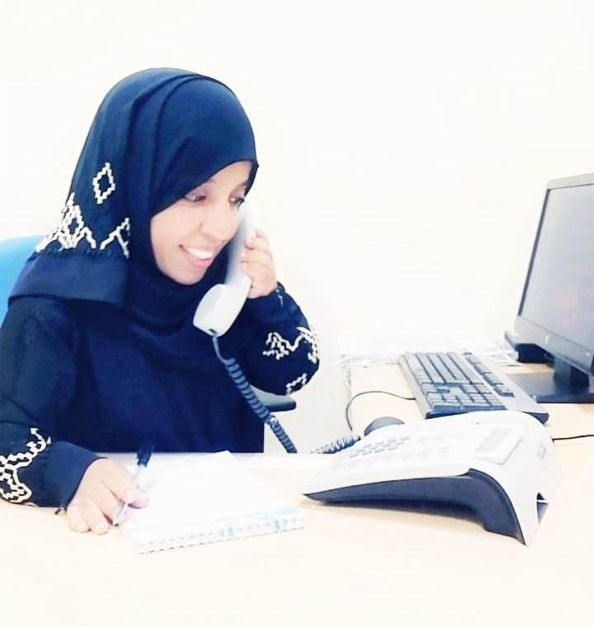 Amna bint Mohammed AlHarrassi
There is no better person in this world than the one who makes an effort to bring a smile on someone else's face, wipe away their tears and relieve them of their pain or suffering. Amna bint Mohammed Hamed Al Harrassi is one such woman who goes to great lengths to not only put a smile on the faces of those who come in her path, but also do her best to relieve them of their suffering.
Experiencing suffering can heal it too
And sometimes, one has to know what is suffering so as to be more compassionate and more empathetic to someone else's pain. And Amna Al Harrassi, who was born with dwarfism (*) knows what pain and suffering is like. But, she is healed of her suffering because she has experienced it to the fullest.
You are given what you can endure
Unlike others, Amna's challenges were many. But, at the same time, like the saying, you are always given what you can endure, Amna not only endured her challenges, she overcame them.
A gentle soul
Simple and minimal in her approach, she radiated an energy that can only be generated from a woman with a gentle soul. Asked to introduce herself, she simply said: "I am Amna bint Mohammed Hamed Al Harrassi. I am from Nizwa, Al Dakhliyah region of Oman. I was born with dwarfism and I am the eldest of my brothers and sisters."
Motto: to help others
For some time, she worked as a dental technician, and that itself gave her ample opportunity to bring cheer to the patients she met in her work. "From the very early stages of my studies, I wanted to specialise in one of the fields of medicine. I wanted to be in a field that will help other people; to be able to relieve their pain and suffering and be able to draw a smile on their faces. "I always felt good seeing people smile and being happy. Taking pain away from someone; helping people in pain is a very humane process and I wanted to be a part of that sector," Amna tells the Purple. And she went in the right direction. She completed her schooling in Nizwa and joined the then Institute of Health Sciences (currently renamed as the Oman College of Health Sciences) and took a course in dental assistance.
Living a life that she dreamt
"I am grateful that I could get an opportunity in the dental field, and live a life that I dreamt of: putting a smile on people's faces. It was my choice to get into the dental field. Choosing the medical field has made me realise how fortunate I am despite the many challenges life put me through," Amna confessed.
Knew her role well
Amna knew her role well. She knew that she could increase the efficiency of a dentist in the delivery of quality oral health care and form an important part of the team. Moreover, she had good communication skills and was very responsible. Thus, she was in the right job as she was good at performing many tasks, which required both interpersonal and technical skills.
The right hand of a dentist
The daily life of a dental assistant involves plenty of coordination and assisting the services' process. "A dental assistant is the right hand of the dentist. Other than assisting the dentist during the treatment process, a dental assistant is the first point of contact for the patient. "We carry the responsibility of welcoming the patient; putting them at ease, determining the necessary tools and equipment, sterilising the equipments required for carrying out the procedures needed by the dentist; preparing the patient for the procedures; conducting initial examinations of the patients who arrive and present them to the doctor; follow ups and overseeing the procedures; providing post-operative instructions and care process, plus keeping the dental room as clean as possible; maintaining appointment schedules of the patients and patient records," Amna reeled out, adding that such a long list did not limit their functions. "As assistants, we have to do the best to provide the required dental services and procedures to all the patients."
Opened her eyes to a different reality
"I have learned and accepted the wisdom that made me choose to work in the health sector. It made me open my eyes and to learn and understand the fact that whatever my health condition, it was far better than the suffering of many patients. And for that I am eternally grateful to God – most often we grumble about what we have, totally forgetting to be thankful for what we have!" Amna noted.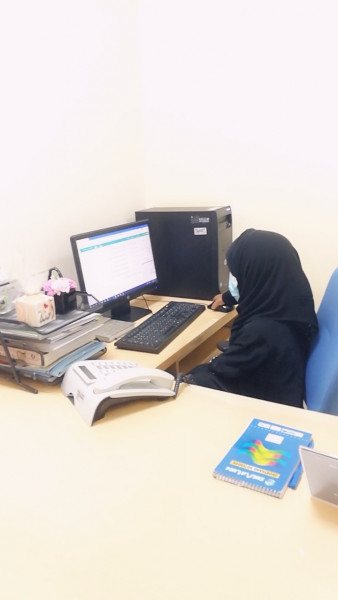 Happy in her job
Despite various other challenges, included commuting from home and to the hospital, she was still happy in her job. "One has to be lucky to get a job that makes you happy as well as wise. It made me realise the value of life. It also made me appreciate it, filled as it is with so many glorious moments," she said, adding that even though later on she moved to a different department, she was still in the ministry of health and serving people.
Instrumental in alleviating pain
"In more ways than one, I am happy and grateful to be working in an arena where I get to serve people. And it is gratifying to know that at least, in a small way, I am instrumental in alleviating their pain and suffering. Then, I forget all about myself – all my issues; my limitations, my pain and suffering."
Transferred to the Nizwa Hospital
Amna began her career as a dental assistant in 2009. "Initially, I was employed at a hospital in Adam. But commuting from my home to the work place and back proved to be very difficult for me." After nearly four years, in 2012, she got herself transferred to the Nizwa Hospital. However, after her transfer to the Nizwa hospital, she joined in the administration department. "So, from then onwards, I am working as a coordinator in the administration department of the hospital."
Still satisfying patients needs
"But that does not mean I have moved away from patients — I am still working in a hospital, a place where every staff or team member strive to achieve one goal: satisfy the patients' needs and alleviate their suffering. I am glad I am still in the same field, contributing in my own small way," she smiled, a smile that literally lights up the room.
The many challenges she faced
Amna then also briefly spoke of the challenges that she faced. "In this journey of my life, I had to confront many challenges. This included being at the receiving end of many frustrated people who did all they could to discourage me from achieving my dreams. But I did not pay heed to their negativity. I wanted to prove to everyone that I will achieve my goals and fulfill my dreams. I know if I had to build my future, I needed to have a sound foundation and that is why I educated myself and finished my dental assistance course. Climbing over the challenges with my limitations was not easy, but with patience, persistence and determination I achieved what I had set out to. Also, remember that life makes you experience both — negative and positive sides."
People who were supportive
"And the positive part is that there were many people who have stood by my side and gave me the strength and the inspiration to climb over all the challenges that I had to face. These people who were firmly behind me at various stages of my life include my family members, my teachers, colleagues and administrators at work," Amna fondly recalls.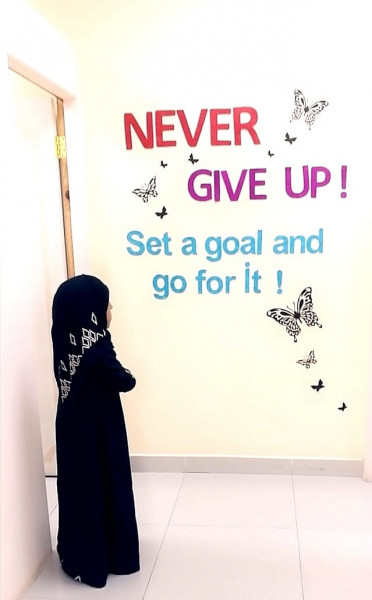 Life is an inspiration
Sometimes life, in its own way, teaches you to be strong. "Whatever I lacked in my physical aspects, I made up with my mental strength, hard work and positivity.
I cannot count the challenges I have face, because, like life it was unceasing. Every day is a new challenge. And I believe everyone who touches your life, makes a difference, and inspires you in some way. Life, in that way, is an inspiration to me!"
To be an inspiration to others
Amna also hopes that her life would serve as an inspiration to others who faced any type of limitations. "I hope to be an inspiring person who is able to motivate others to continue their ambitions; I want to open the door of hope wide for them; I want them to believe in themselves and their abilities, and I think in this way, we will also help build Oman together."
It also brightens her heart
Meanwhile, at the Nizwa Hospital, she continues on with her work, always pleasant, always smiling a smile that is infectious by its very nature.Some days she gets a smile in return and sometimes even something extra: a grateful nod in her direction.And that is the reason why Amna is determined to put a smile on someone's face every single day because it also brightens her heart.
(*) Dwarfism is a medical or genetic condition that causes someone to be considerably shorter than an average-sized man or woman. The average height of an adult with dwarfism is four feet, but dwarfism could apply to an adult who is 4'10" or shorter.