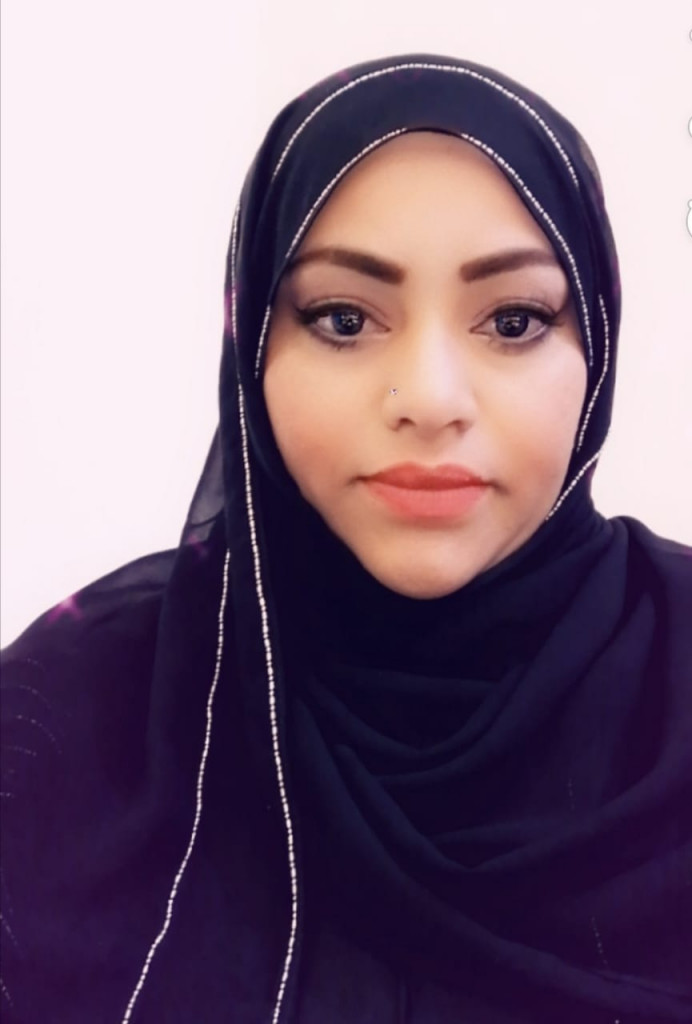 Ruqaia Thani Al Wahaibi
Ruqaia Thani Al Wahaibi is a perfect example of an ordinary woman with the halo of extraordinariness around her. And not just a halo. Her extraordinariness is not just a figment of our imagination – it is in and all around her. It is in the way she is today; the manner she speaks; the way she conducts herself; and how she has brought herself out of sheer nothing to more than everything a woman could aspire for today, not just in her own singular achievements, but the biggest of them all – being a mother from a small, traditional village who has given wings to all of her children – to not just soar high, but to fly to any destination they choose to be.
Hailing from a traditional fishing village
Ruqaia Al Wahaibi hails from the traditional fishing village of Sidab and is currently a supervisor at the Sidab women's (Nissa Sidab) small stitching business group of which she has been a member since 2004. "I am married and have four daughters and a son: Miyasem, Haneen, Yakeem, Maher and Zahra."Though from a traditional fishing village and family, I grew up learning not just fishing, but also stitching, as most of the elder women of the family and tribe indulged in stitching," she told the Purple. As was the custom in these fishing villages, the men in the family went out to the seas to fish. That was their livelihood. "We depended primarily on the seas for our living. My husband still goes fishing."
Stitching in time…
But, as Ruqaia grew up learning all the household chores like every other girl in the village and also assisting in the fishing trade, her mother still took time out of her to teach her stitching. "And in those days I never thought that stitching would become my profession; my career," she says, adding that the fact that she would one day finally grow up to be a supervisor of a well-known Omani ladies' stitching group of Sidab was not even in the remotest corner of her mind.
Bridging the gap
"To be honest, little did I realise that stitching would become my career and it would bridge the gap between nothing and everything; between regress and progress. But, I went along as per my mother's advice and I soon realised that I too had a chance in the big, bad world out there – that I too could make a mark of my own.And I did, which is why I want my children to gain the freedom that I got and to pull out all the stops and go achieve what they want in their world and not to let their background or their doubts or their fear to pull them down."
Enthusiasm to excel
Ruqaia never let that happen – she never let her background, or the fact that she was just part of a small fishing village ever define her or diminish her enthusiasm to excel. "I believe financial independence brings confidence in a woman and it helps her in most of her decision making. I was fortunate to be a member of the Nissa Sidab women's group, and took up stitching as a group trade. The initial confidence was that I already knew the job and I was also working hand-in-hand with my own community," Ruqaia recalled.
Became a supervisor
But, it took her some time and also quite a lot of effort to streamline herself with the job. Although, she knew the workings, it was not as simple as that. "But slowly and steadily I got the hang of it and as I increased my efforts and kept an open mind, I began to really excel at it. And soon I rose to the post of a supervisor.
A woman can do anything
"Today, after 16-odd years at the group, I am a proud woman. My family also feel very proud of me and they have all the right to enjoy that feeling because they have rendered unconditional support through these years and have been with me through thick and thin. A sense of accomplishment sweeps me and I don't feel limited by anything and certainly not my surroundings," Ruqaia stressed, adding that a woman can do anything and everything she sets her mind to.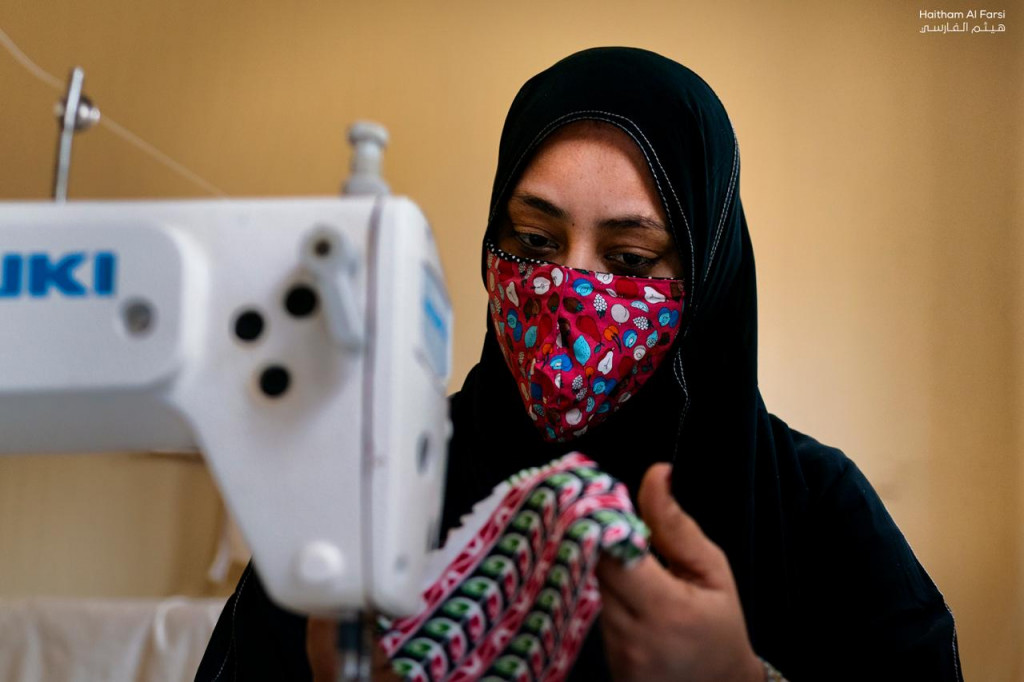 Became better skilled
"When I learned stitching from my mother, I did it because all the women in my family or the community that I grew up in were customarily passing the traditional art of stitching to the young women in the family. I never thought it would one day turn out to be my career."However, when I started coming to the Nissa Sidab office, I realised my shortcomings; I had to learn much more. And therefore a need in me arose to become better skilled and more efficient. So, I took up classes to learn soft skills, computers, language and professional machine stitching too.
Perfect example of a true Omani woman
"I wanted to be a better person, a professional at work and realised that the richness of the traditional Omani culture reflects on every woman of the Omani society. To that effect, I am a perfect example of a true Omani woman. I realise now that I epitomise true womanhood. Today, those who come to see and buy our traditional stitched products and Omani crafts look upon me as a true guide to enlighten them on the products and its features. And that alone makes me feel that I am doing my humble bit to pass on the rich Omani tradition to those who are unaware of it."
Set an example to my daughters too
"As a woman, I know I must set an example for the community I come from. More importantly to my daughters. I want to be an example for them; and I want them to be proud of me, my achievements, and my independence. I want them to exude in my positivity and hope that my attributes and my strengths could serve as a mirror for their own future endeavours. What a girl needs is not money or safety or freedom. That may be inherent, but what sets us apart is our self confidence and self reliance. And that is exactly what I want my children to learn from me," Ruqaia stressed.
Opened her mind to possibilities
Her confidence was strengthened by the exposure she got from her work at Nissa Sidab. "And, it opened my mind too. I want my children to be on top of the world, to do the things they dream of and achieve whatever they put their minds to," Ruqaia said.
Springboard for future successes
"I believe that we are our own limitations. Or rather, we create our own inadequacies; first in our minds, where we stunt our own growth. Women have a habit of comparing themselves to others. That creates doubts and restrict our normal abilities. I believe a woman requires the right support and encouragement of her family and community, because it is this acceptance that serves as a springboard for her future successes. It brings out the best in her," Ruqaia said.
Plenty of challenges to overcome
But, she pointed out that there were challenges for many women, especially those who came from traditional backgrounds. "In most communities, there is a general expectation for a woman. She is expected to take up cooking, cleaning, washing, stitching and all related household chores, while at the same time being a mother, wife, sister, daughter etc.
Women use 10 hands or more
"This is something that falls naturally on women. And that is where the challenge lies – it is from there that she has to come up. Multitasking maybe a modern word, but in reality such women have 10 (or more) hands and she never ever stops working – even the little moments that she shuts her eyes, she is thinking of how to complete the next task and it is from such an environment, she takes on the additional task of fulfilling her own vision and realising her own dream. And that is what an Omani woman is – she juggles both tradition and modernity, no not with ease, but with experience, she does it with a certain dexterity that anyone can marvel," she noted with pride.
Born with boundless capabilities
And to her children and all children, this is what she has to say: "Fly high — be on top of the world, and realise your dreams by working hard for it. I keep saying this to my children. Boys and girls are the same, because they are individuals. And they have to equally work at what they want to achieve; they have to strive hard to fulfill their dreams and for that they must cultivate a winning mentality and not let their surroundings, or allow the naysayers to bring them down – let them know that they are born with boundless capabilities and limitations are mere figments of the mind."
Efforts not in vain
When Ruqaia's first-born daughter Miyasem grew up and joined college, her mother was very proud of her. And even more so, when she approached her recently to seek her consul about an interest that was growing in her heart. "She came to me saying that she was interested in parajumping and paragliding. And at that moment I realised that my efforts were not in vain. My children were on the right path. They didn't settle for the ordinary.
Sky is the limit
"So, I encouraged her with the same words: 'You are what you do the best. I want you to fly high, be the best in what you choose to do.'
If she believes she can do it, then nothing can limit a girl. Nothing. Sky is the limit. If it is flying, then let her fly!"
Live a life with set goals
Miyasem travels, with some of her like-minded friends, twice a week to a training ground just after Barka, to train for para jumping and gliding."It is her opportunity to fly and learn independence with responsibility. I stand by her, so does her father and her siblings and other family members. And this will give her the right confidence to go forth and achieve her dreams.Strength and character of person, whether it is a he or a she, comes by living a life with set goals that will be realised by sheer hard work.
Never clip your wings
"The world is full of opportunities so keep your hearts and minds open. This is my message to every woman out there – never clip your wings, dream well and pursue your dreams and realise them."My second daughter, Haneen, has discovered a creative eye and indulges in photography. She captures beautiful images and moments for posterity. My words to her also remain the same: let your creativity soar, go forth and realise your dreams, keep working hard to reach your goals and never let go of the dream."
---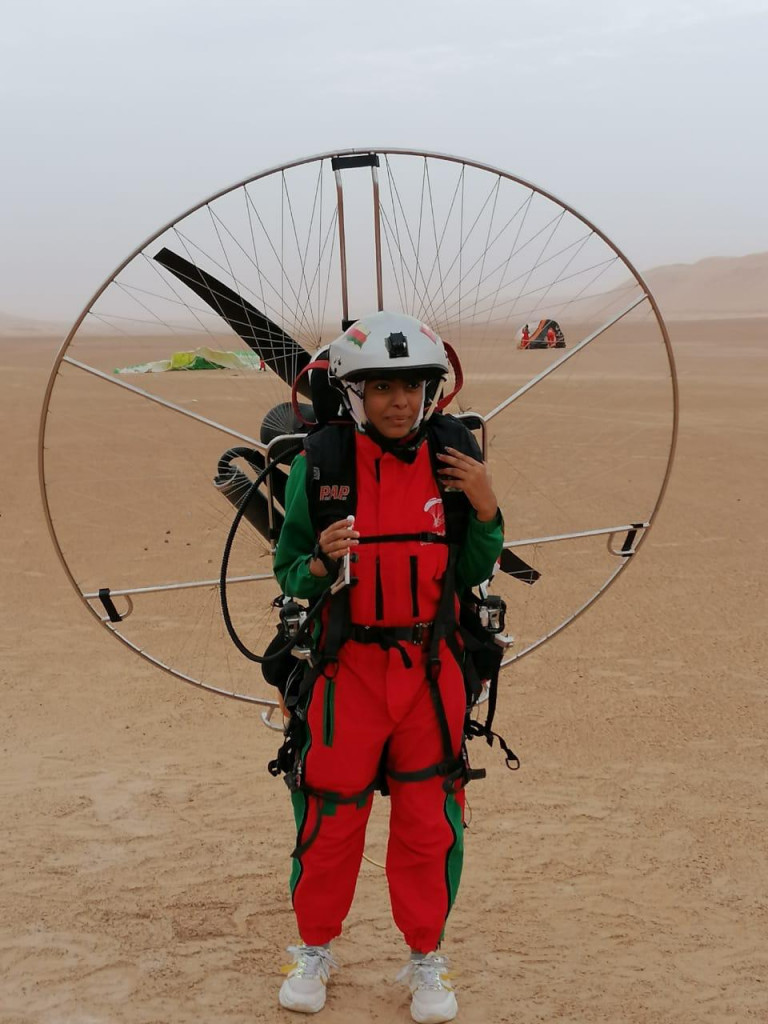 Miyasem knows how it feels to fly like a bird
Most of us have often wondered how it would feel like to be a bird.
Miyasem Ahmed Al Dughaishi, the eldest daughter of Ruqaia, harboured the same dreams and she didn't keep it lying down. True to her nature, forged by the enterprising and forward-thinking mother of hers, Miyasem decided to give wings to one fond dream of hers – literally.
For the last several months, she and her friends are driving all the way to a training area just beyond Barka to learn the intricacies of paragliding and parajumping. These are sports that are challenging as well as amazing adventures that take you to places and show you things that you could only dream of. Miyasem, who is currently pursuing her final foundation year of an oil and gas course at the Majan College, is working hard at making that little dream of hers into a reality.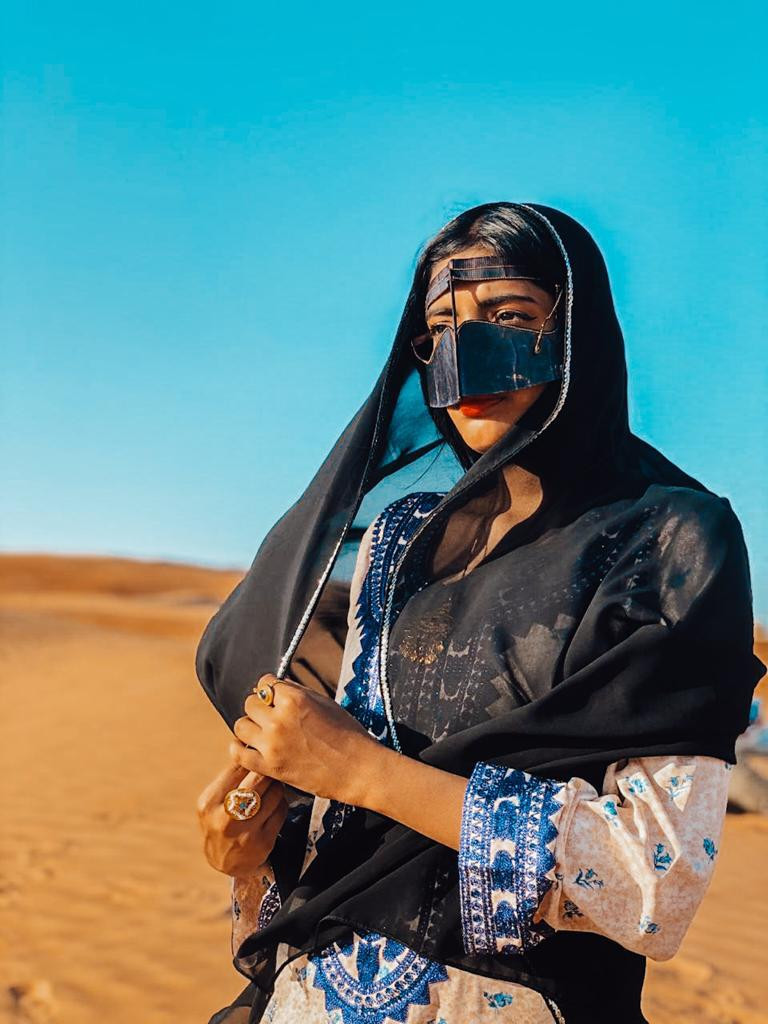 Enrolled for the paragliding course
"While the pandemic set in, we all went online with our curriculum. At the same time, we also decided to engage in brushing up our innate skills and pursue our hobbies. My sister, Haneen, took to photography and I became her model for all her experimental model shots. She is very creative and has proved to be quite good at it. Other than these stints at modelling, I was looking for something to get my adrenaline going and that is when I heard of the parajumping and paragliding courses, which were being conducted at Quba Al Janan, which is just after Barka.
I got permission from my mother and my family to enrol myself for the course and soon I was part of it. For the last three to four months, I am going for the training classes, held twice a week," Miyasem said.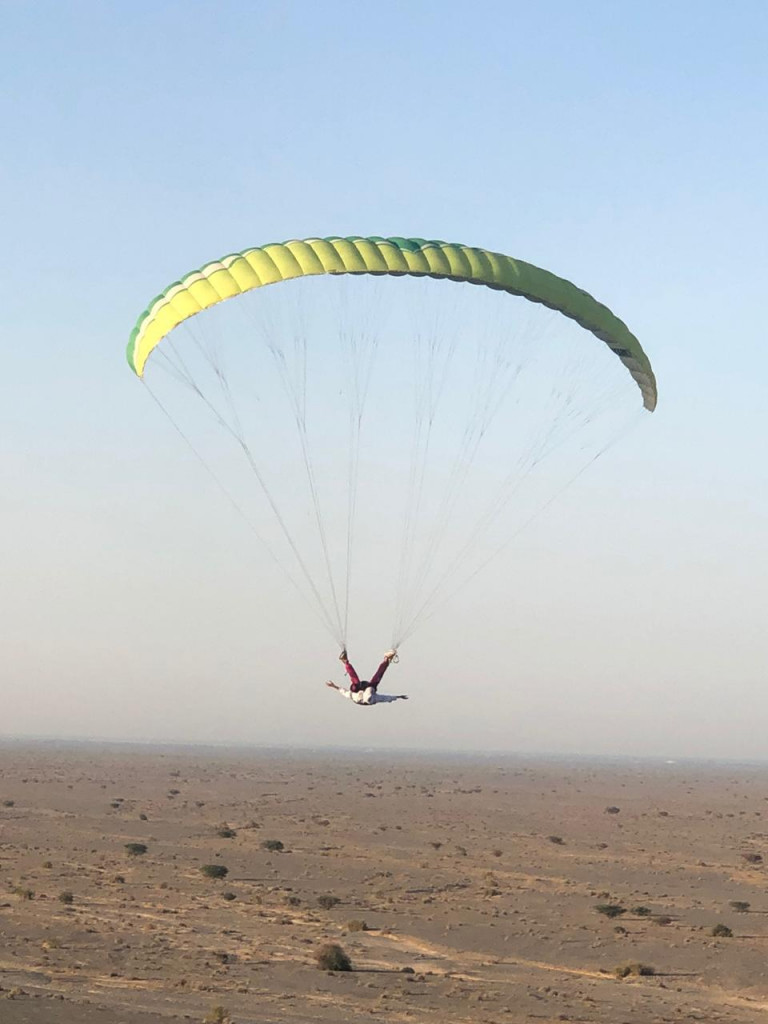 View from the top is amazing
"I am delighted beyond measure to be part of this training.Paragliding literally takes you up and let you see the world from above in a very unique and exhilarating way. Simply put, the view from the top is amazing.
Experience gives her positivity and courage
"I really owe this to my role model of a mother and a very supportive and understanding father – you can't ask for better parents!"Today, more than ever before, this experience has made me look at the world with positivity and courage."
An exhilarating journey
Of course, she has a long way to go before she becomes an experienced paraglider. But the journey itself has been an exhilarating one for Miyasem."I need to put in many more hours of practice and training and I hope to do well and be consistent in my learning. I must thank God for opening this wonderful door of opportunity for me.
Path to success paved with hard work
"Look, I may be from the fishing village of Sidab, but I happen to be the daughter of a very strong and inspiring mother, who is not just a live example, but is someone who constantly pushes us to excel. She has taught us that the path to success can be paved with only hard work and perseverance," Miyasem said.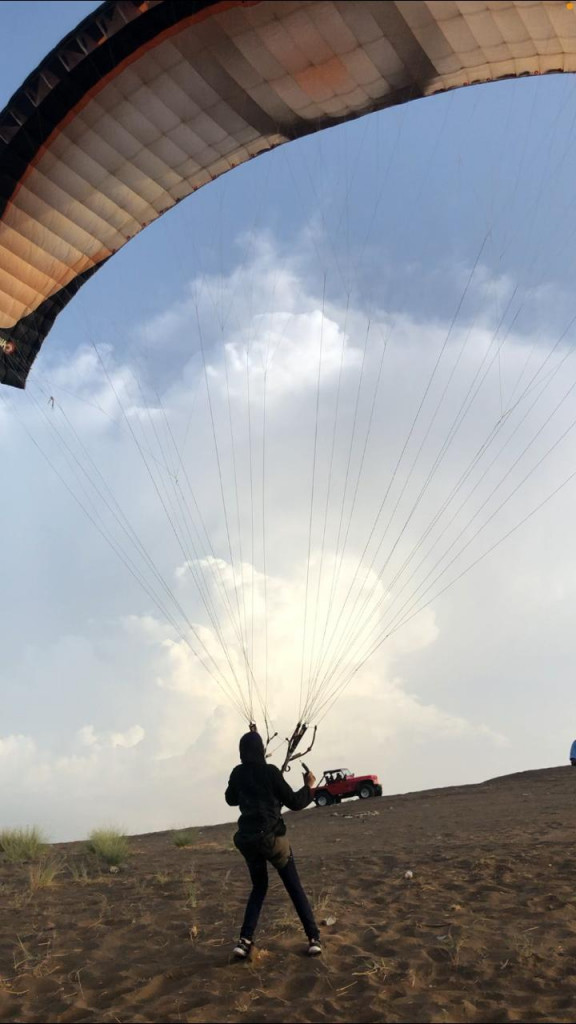 Hope to soar and fly
"And beyond learning to fly, I want to make my mother and my family feel proud of me.Flying gives you confidence. Even though I was a bit nervous at the first few sessions, later on I got the hang of it. I am confident now and hope to soar and fly high and realise my dreams," Miyasem hoped.