The impact of the coronavirus (COVID-19) pandemic on the mental health of people is such that it can push you over the edge.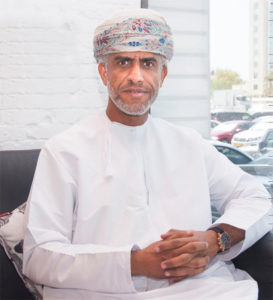 However, while agreeing to this, Dr Hamed Nasser Al Sinawi (*), senior consultant psychiatrist, Sultan Qaboos University Hospital (SQUH) notes to the Black & White online that a good number of people have managed to develop the right amount of resilience to withstand this adversity.
 Excerpts:
 HOW DO WE GET OUT OF FEELINGS OF DEPRESSION, FRUSTRATION AND OTHER 'MIND-AILMENTS' THAT COULD ARISE IN CERTAIN PEOPLE DURING A CRISIS LIKE THIS?
It is true that COVID-19 and social distancing have a major impact in our lives, including feeling of depression and anxiety. Here are a few tips that the mental health professionals advocate, which we can do to maintain our mental health wellbeing.  These include:
Keeping to a routine, waking up and going to sleep at the same time as this keeps a structure to your day and motivates you to do some pleasant activities.
Be productive
Try to create moments of happiness even while in isolation. Make a list of activities such as doing exercise at home or reading books and watching movies. You could perhaps cook a new dish or take up an online course.
Keep in touch with others
Call your family and friends using telephone or video call. This will keep you connected and boost your morale; after all we are in it together.  Therefore when we call our loved ones we have a chance to check on them or ventilate our feelings or just have a good laugh together.
Look after your physical health, eat healthy balanced food and have enough sleep and exercise.  These are important elements for mental wellbeing as well.
HOW MINDFUL AND SENSITIVE SHOULD WE BE TO THE MENTAL HEALTH NEEDS OF THOSE WHOM WE CARE ABOUT, BE IT FAMILY, FRIENDS, COLLEAGUES OR EVEN ACQUAINTANCES?
 This is an important point, the most challenging aspect of COVID-19 is that no one knows exactly when the quarantine period will get over and when life, as we know it, will return to normal.  It is understandable that we reach out to those around us for reassurance. As human beings we tend to show empathy and compassion to those around us and try to help them, but we need to be carful not to overdo it as it may have negative impact to our mental health being. People with no background training in mental health may be at risk of  "absorbing" problems they hear from others and starting to ruminate about them. The other day, someone was telling me that he started feeling guilty when he reads about others losing their jobs and having financial crisis while he is well off and get his full salary. Such feelings are not helping and may lead to feelings of sadness and depression.
HAVE SUCH STRESS-RIDDEN PEOPLE BEEN REACHING OUT TO MENTAL HEALTH DOCTORS/PERSONNEL LIKE YOU AND OTHERS HERE IN OMAN?
Since the start of the pandemic, people started reaching out mainly through online platforms, since it is difficult for them to attend face-to-face clinical consultants. Some people who already have mental illness such as anxiety would be constantly worrying whether they would be catching the virus and transmitting it to their family; or whether they would be getting treatment; what if their situation gets worse? What if food runs out of the supermarket? And many other endless worries. Some people develop insomnia; they are unable to fall asleep either because they are worried about their finances, or the impact of COVID-19 on their studies and future, especially those who are studying abroad and had to be evacuated to Oman. Although they continue to have classes online, they are not sure when they will be able to go back to their colleges. Some patients are helped with the reassurances, but others would need more counseling and psychotherapy.
WHAT WOULD BE THE IMPACT OF THIS DEADLY VIRUS ON THE MENTAL HEALTH OF CHILDREN, WOMEN AND THE ELDERLY?
Each generation have their set of worries.
Children
With regards to children, it depends on their age. Some children might not be very concerned, whereas others develop higher levels of stress, and may feel restless or grumpy. Some might develop anxiety and become irritable, aggressive or scared. Depending on how long the situation lasts, feelings of sadness or depression could appear, which could lead to social withdrawal or crying. The lack of routine and not being able to go to school, visit their friends or play in the park makes them very frustrated.
The continuous reports and pictures of people who are getting sick and even dying that children are seeing on TV and social media can lead to fear and anxiety.
Women
Women are often the main caregivers in their homes and providers of health facilities. Also, it is well know that the majority of healthcare workers in many countries, including Oman, are women.  This puts them at an increased risk of contracting the deadly virus. While some women feel trapped at home and are stressed from being with the kids all the time and are forced to keep them busy and entertained; others may be victims of domestic violence too. Reports from other countries showed that men who feel angry and frustration from losing their jobs and having financial problems tend to abuse their wives.
Elderly population
Most seniors are not comfortable with smart phones or the media language therein, hence the precautions for a pandemic need to be explained to them in a manner they understand it.
Since the start of the pandemic and the repeated messages through the media was that the elderly are more likely to become very ill if they catch the virus, and many countries reported large number of this segment dying because of COVID-19, therefore its understandable that the elderly may have health-related anxieties. With home quarantine and social distancing, the elderly have became more isolated, especially those of whom are used to going out and meeting their friends and other family members on regular basis. Some of them were not very familiar with the use of smart phones, which makes them even more isolated. Those with multiple health conditions needing regular hospital appointment or home visits from the community nurses have become more worried as these services are temporarily stopped.
NOW, THOSE WHO ARE ALREADY SUFFERING FROM DEPRESSION OR SEVERE ANXIETY DISORDERS – WHAT WOULD BE THE PSYCHOLOGICAL IMPACT OF THE VIRUS ON SUCH PEOPLE WHO ARE ALREADY ON THE EDGE?
International studies showed that people who are already suffering from mental health problems before the COVID-19 are more at risk of having a worsening situation of their symptoms, either because they are unable to attend regular appointments with their doctor or because of the quarantine or because they feel more isolated. People with Obsessive Compulsive Disorder (OCD), especially who have checking, hoarding and washing compulsion, are at higher risk. Advice on improving personal hygiene measures might increase the contamination obsessions and washing compulsions. Quarantine can lead to different kind of problems. It can precipitate feelings of fear, anger, anxiety and panic about worse possible outcome, boredom and loneliness and guilt about not being around for their family. In a person with a previous psychiatric disorder, all these problems can surface with renewed severity!
IN THE CURRENT SITUATION WHERE COUNTRIES ARE IN LOCKDOWN AND ITS PEOPLE INSIDE THEIR HOMES AND PRACTICING SOCIAL DISTANCING, WOULD YOU ADVOCATE PRACTICES LIKE CHECKING ON ONE ANOTHER, CALLING OR VIDEO CHATTING WITH THOSE FROM WHOM YOU HAVE BEEN SEPARATED FOR SOME TIME NOW?
Absolutely! This is essental to keep your mental health wellbeing. Human beings are social creatures and being away from each other leads to feelings of isolation and frustration, which evetually leads to depression. Keeping in touch with others also makes us feel good and less guilty especially when the others are family members who need us to be there for them.
THE MIGRANT POPULATION IN OMAN WOULD BE UNDERGOING SEVERE STRESS AND MENTAL PAIN BECAUSE THEY ARE NOT ONLY BATTLING THE VIRUS, BUT ALSO IT'S ACCOMPANYING DISASTERS LIKE LOSS OF JOBS; BEING BROKE AND THEREBY PUSHING THEIR FAMILIES BACK HOME TO ABJECT POVERTY?
This is very true.  Again as some migrant workers are living alone here in Oman, far away from their families, many of them will feel more worried and isolated.
DESPITE ALL THIS, DON'T YOU THINK THAT PEOPLE POSSESS REMARKABLE POWERS OF STRENGTH AND THIS IS ALSO THE RIGHT TIME TO DRAW UPON SUCH RESERVES AND BOUNCE BACK; DEFEAT THE VIRUS AND CLIMB OVER THIS CRISIS? HOW DO WE MAKE PEOPLE AWARE OF THEIR STRENGTH WITHIN THEMSELVES?
It is important that we point out that its not all doom and gloom with COVID-19, for some people it was a chance to reflect on their lives, connect with their family members and develop new skills.
The health crises made people realise the  role of doctors, nurses and other health workers and how to appreciate what they do to treat patients. The fact that the government has implemented relevant stategies, including working at home and with improvement internet service this would be a practical solution to busy roads and overcroweded offices. In psychology, there is a term called 'resilience', which is the ability to withstand adversity and bounce back from difficult life events. It's a form of psychological strength and today, we find that more people have developed that.
---
RESEARCH ON THE PSYCHOLOGICAL IMPACT OF THE COVID-19 PANDEMIC ON OMANI CITIZENS AND RESIDENTS
The COVID-19 pandemic have brought several changes to our lives and with it uncertainty, changing daily routines, financial pressures, and social isolation. It is understandable that we worry about getting sick; how long the pandemic will last, and what the future will bring.
Information overload through the different media platforms and the rumours make us feel out of control and it is not clear what we should do. Research from other countries showed people experiencing psychosocial distress, such as anxiety and depression.
STUDY BEING CONDUCTED
"We (*) are conducting a study to assess the situation in Oman. Our study has two parts, first, to evaluate the presence of anxiety and depression among citizens and residents during COVID-19.
"We send invitations to the public via social media to take part in our research by completing a survey of questions about the presence of symptoms of anxiety and depression using international scales," said Dr Hamed Nasser Al Sinani, senior consultant psychiatrist, Sultan Qaboos University Hospital.
In the second part, we contact all those who have symptoms of anxiety and depression and offer them to take part in either receiving internet-based psychotherapy provided by a qualified therapist over six weeks or self-help material that will be sent to the participants via email on a weekly basis.
The objective of this is to assess whether internet-based psychotherapy would be better than self-help material. We are inviting more people to join our study so that we can have enough participants to get valid results. Contact: 97746888 or 99858476. Email: [email protected]
 (*) Team of researchers in mental health from Sultan Qaboos University Hospital and Oman Medical Board.