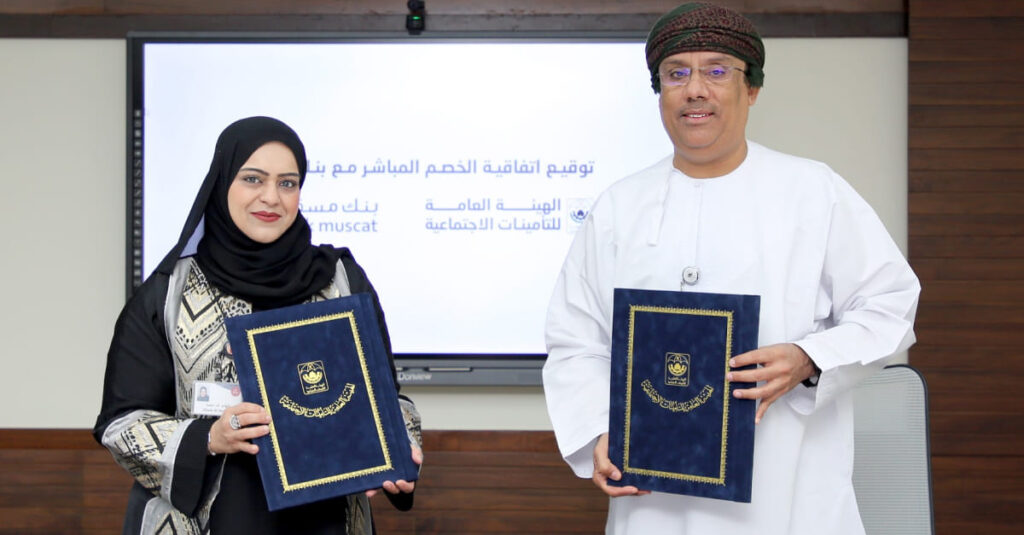 MUSCAT – The Public Authority for Social Insurance (PASI) signed agreement with Bank Muscat for the introduction of collections of contributions through Direct Debit solution. This solution will help enhancing the efficiency of revenues and expenditures, minimise the time and effort spent on managing and collecting contributions, and help handling the challenges of installment checks. It aims to shift from manual to automated work methods that are more efficient and accurate, and it can be accessed through various channels. It will help customers pay their contributions in timely manners, as well as enhance constructive partnership with local banks in the Sultanate of Oman. The agreement was signed by Dr Faisal Abdullah Al Farsi, General Manager, Public Authority for Social Insurance, and Ilham Murtadha Al Hamaid, General Manager – Corporate Banking, Bank Muscat.'

PASI is the public authority in the Sultanate, providing social protection to the insured Omani citizens and their dependents. It attaches great importance to technological developments to provide high quality insurance services to customers. Digital services have witnessed a remarkable development over the past few years. It offers ease, speed and high security, and it provides innovative smart systems available in new advanced applications and software. PASI is committed to contributing to digital transformation to help achieve strategic goals in line with the government's guidelines. Throughout the past years, the public authority has implemented various policies and projects which aim to simplify procedures and make them faster.  
Bank Muscat has been a pioneer in Oman in implementing digital banking solutions for its customers and is focused on helping corporates to make a smooth transition towards efficient tech-focused processes and use cutting-edge technology to their best advantage. Through this collaboration with the bank, PASI will offer the collections of contribution to the corporates, ministries and institutions through the Direct Debit solution. With the growing requirement and need for multiple avenues for making payments of contribution from the entities, Direct Debit solution will be an added transformative digital solution that will make the entire collection process efficient and seamless. This collaboration further enhances the existing relationship of Bank Muscat with PASI which includes wide range of digital banking solutions and services comprising of Corporate Online Banking, Business to Business (B2B) and Bill Payments.
Alia Marhoon Al Hinai, Head of Finance and Accounts, Public Authority for Social Insurance, said: "Direct debit is a payment order issued for debiting from the customer's bank account to the Authority's account directly based on the approved installment plan. This project is one of the initiatives that PASI is working on to achieve strategic objective aimed at enhancing the efficiency of revenues and expenditures, as well as providing integrated services by investing in digital transformation and provide electronic insurance services for customers.
Speaking on the occasion, Wafa Ibrahim Al Ajmi, Assistant General Manager – Transaction & Government Banking, Bank Muscat, said: "As a foremost financial service provider in the country, we are constantly working towards empowering government and private institutions to succeed in rapidly changing digital environment. We are fortifying our already strong relationship with PASI, with our new age digital solution of Direct Debit which will make the Public Authority for Social Insurance the first government institution to implement this solution. We are excited and confident that this collaboration for collection of contributions from entities with our Direct Debit solution will enhance banking convenience for PASI and their clients. Through Direct Debit solution, PASI now will benefit with complete control over entire collection process and PASI's clients will have a convenient mode for paying contributions. We look forward to continuously bring sophisticated digital solutions for our customers and supporting Oman vision 2040 for establishing knowledge based digital society."