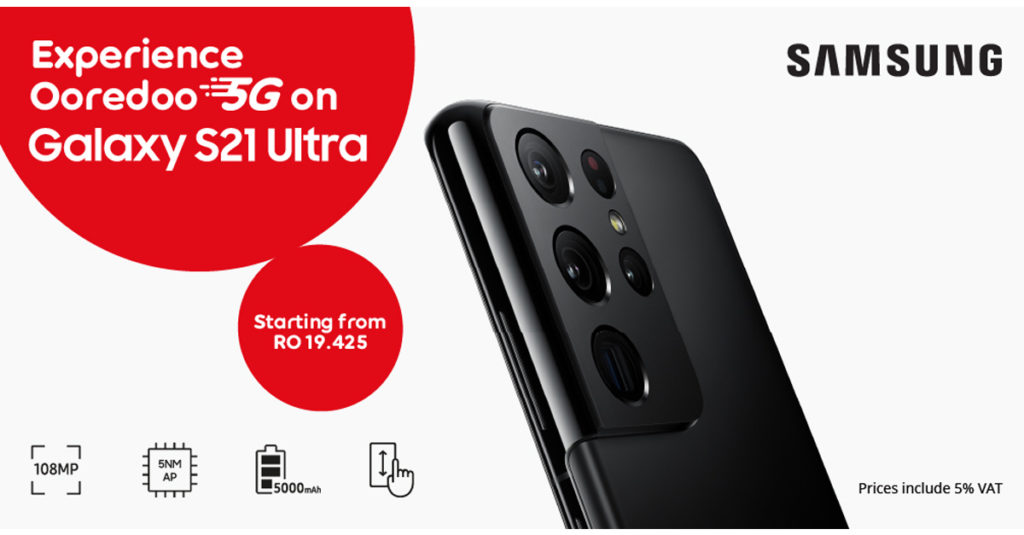 MUSCAT – Now available on Samsung 5G-enabled handsets, customers can take their digital experience to the next level, with Ooredoo 5G for mobile. And for a limited time only, the company is offering the chance to enjoy 5G for free.

Customers in 5G coverage areas can take advantage of the free opt-in option and enjoy amazing stability, almost zero delay, and lightning-fast download speeds. The telecoms company has already announced the promotion on Huawei handsets and is expected to add Apple in the near future. Having launched 5G for home internet and businesses last year, 5G for mobile is the next step in Ooredoo's journey to transform the Sultanate's digital landscape.

Raed Mohammed Dawood, Director of Branding, Communications and Corporate Affairs at Ooredoo, said, "With 5G technology being rolled out across Oman, users can now take their internet experience to exciting new heights. At Ooredoo, we are always on the hunt for ways to enhance our customers' digital lives, while also being fully committed to supporting Oman's Vision 2040 to be a future-ready and digitally-focused economy."

"Promoting innovation and encouraging the adoption of next-generation technologies to elevate brand operations and broaden customer services is a vision that Samsung has shared with Ooredoo for a long time," said Osman Albora, Senior Director – Mobile Division, Samsung Gulf Electronics. "The 5G rollout in Oman represents a new era in communication and connectivity for the country. We aim to ensure the potential of mobile experiences are fulfilled through the power of 5G."

As part of its ambitious roadmap, Ooredoo plans to construct and install around 2,000 5G stations over the next five years. With the potential to benefit everything from entertainment and education, to scientific research and healthcare, 5G is an important feature of Oman's strategic plans, positioning the Sultanate as one of the worlds's most advanced countries for technology.
Customers can opt in for a free 5G trial through the Ooredoo App or by sending an SMS to 80082.