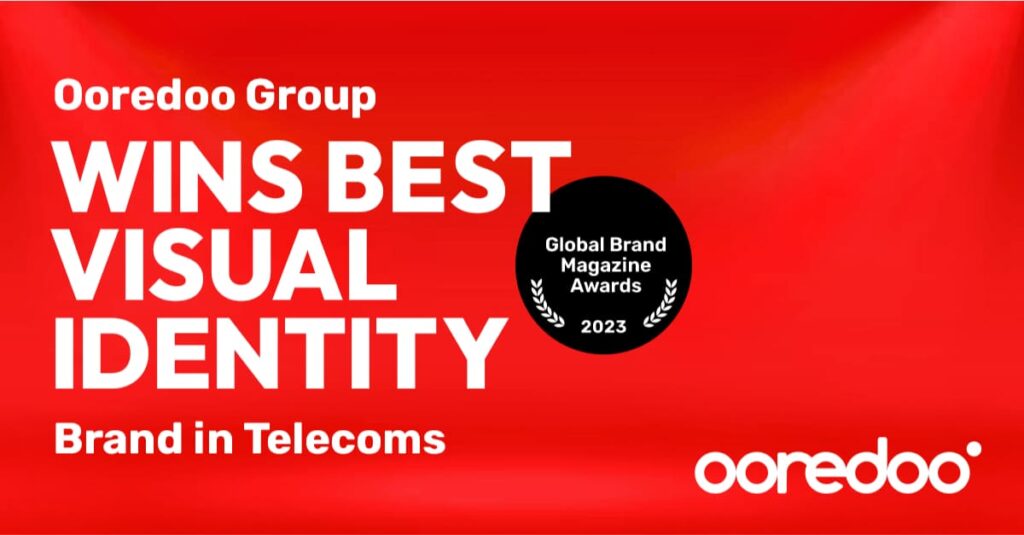 DOHA – Ooredoo Group, one of the world's most dynamic telecommunications companies, has announced today receiving prestigious titles at the Global Brands Magazine Awards 2023 – cementing its position as a leader in the MENA & SE Asia regions. The awards, organised by Global Brands Magazine (GBM), recognise outstanding performance and vision across various industries.

Ooredoo Group was awarded the coveted title of "Best Visual Identity Brand – Telecommunications, MENA & SE Asia – 2023", reaffirming once again the company's unwavering commitment to excellence. This remarkable achievement follows the company's recent brand refresh with a new bold, vibrant, and distinctive visual identity that mirrors Ooredoo's passionate spirit and its readiness to a future that never stops evolving.

The brand refresh introduced the new tagline "Upgrade Your World", encapsulating the company's promise to continuous improvement, and to enabling human progress, ensuring that every connection, innovation, and service provided contributes to the advancement of individuals, businesses, communities, and countries across its global footprint.

In addition to this significant recognition on company level, one of Ooredoo's leading figures – Fatima Sultan Al Kuwari, Group Chief Human Resources Officer – was also honoured with the prestigious title of "Most Aspiring HR Leader, Qatar – 2023". This award acknowledges her exceptional leadership and contributions to the field of human resources.

Ooredoo Oman won "Best Digital Transformation and Customer Experience Oman 2023" Award, recognising its transformative digitalisation strategy and its seamless customer experience.
Sheikh Mohammed Bin Abdulla Al Thani, Deputy Group Chief Executive Officer at Ooredoo, said: "At Ooredoo, we believe in pushing boundaries, fostering innovation and continuously improving to 'Upgrade Your World'. We are honoured to receive these prestigious awards from Global Brands Magazine, recognising our exceptional visual identity and the outstanding work of our dedicated teams. These accolades reflect our firm commitment to always delivering excellence in everything we do. In an industry characterised by rapid innovation, our new brand positioning shows our forward-thinking approach, placing customers and employees at the centre of our business transformation strategy."
The Visual Identity & Leadership Awards, a segment of the GBM Awards, are designed to honour companies that have excelled in evolving visual identity sectors. An external research team meticulously evaluated nominees, making Ooredoo Group's win a testament to its exceptional service delivery and commitment to excellence.