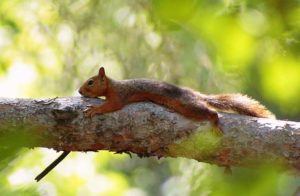 By Priya Arunkumar
I am a morning person.
I wake up at 5.30am every day. It is like clockwork. I don't need an alarm.
It doesn't matter what time I sleep, where I sleep, how I sleep… I just wake up at 5.30am. And I have been waking up at this time in the last three to four decades of my life.

Brains function better in the mornings
Blame it on my father who ensured that his children woke up early. He dinned into our heads that brains function better in the early mornings. Then there was our PT teacher who besides being a morning person also wanted to propagate it to the world. He also firmly believed in the early morning rule and would make us run in the mornings.
Morning person…no more
Dad is right.
I always focus better in the mornings; have a truckload of energy, and remain hyper. Friends get irritated sometimes… actually, most of the times. Now, did I say I am a morning person?
Sigh! Not anymore. Not since June this year.
5.30am is a distant dream
I wake up now… oops sorry, wrong thing to say. I drag myself out of bed at nine or even 10am now; that too with an alarm, multiple alarms actually. I keep an alarm at an hour's gap from 5.30am onwards, hopeful that I will somehow awake from my deep slumber. But it doesn't work. I am not able to shake off my sleep and grogginess or wake up at my normal timings.
Five thirty seems like it happened eons ago, like a distant dream.
Maybe in some twisted way, my body is compensating for all those early mornings?
No I am not 'positive'
But, even at nine, I am super tired, drained of all energy, ache all over, and plod through the whole day with a splitting headache, sometimes a blurred vision, and a burning throat.
No, I know what you are thinking. I am not COVID positive. In fact I tested negative.
No longer lively or energetic
Of course, someone whom I had interacted with tested positive and I stayed put at home — as per the official's orders – for 21 days. I have no fever, no cough, and no congestion. I am not breathless. I am neither diabetic, nor do I have any blood pressure complaints.
I can still run three kilometers a day and hold my breath for 75 seconds easily.
But, I am no more bright eyed and bushy tailed.
Take one, no two panadols
And I feel down and drained. I sleep extra hours. I have severe body ache.
And the headache is killing; the throat ache is painful.
It's all in the season, some say. The frequent free advice I get is to take a panadol, and in case the headache and body pain still persists, take two. I am on it. I take one and then I take two.
Maybe paranoia
Meditation, breathing exercise, ginger, garlic, pepper, herbal tea, hot water, inhalation, turmeric milk, lemon and honey… you name it! Corona will run a mile from me if it just takes even a whiff!
Must be the Vitamin D deficiency… or you must have contracted a milder version of the dreaded virus… Ah, you sit glued to the laptop of yours for hours, no wonder. Occupational hazard. Check your eyes.
It could be paranoia. You have been working at home and isolated.
Paranoia it is.
Healing from what?
I took a vitamin D shot, am on a B-12 regime, have a perfect 6/6 vision, but now sport a reading glass in the evenings, because in the day time I can see, read everything…
I still have a splitting headache, on and off, full time body pain, fatigue.
And I still sleep like a dead woman until nine.
Maybe the body is healing, they say.