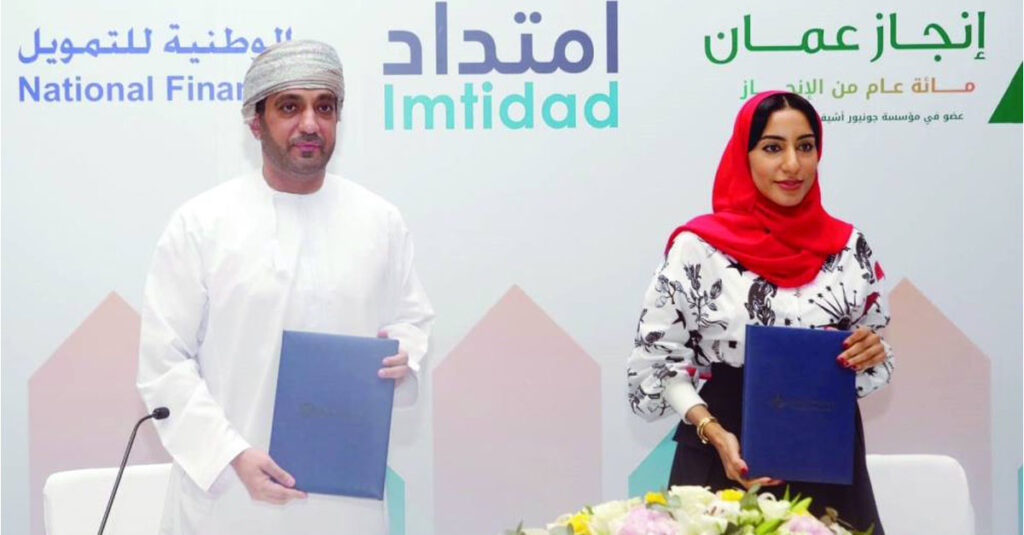 MUSCAT – National Finance has collaborated with Injaz Oman organisation under the company's independent wing for sustainable initiatives – 'Imtidad'. National Finance will contribute in empowering 1000 participants through the programme of Injaz that aims to equip students with skills in entrepreneurship and prepare them to enter the job market.

The agreement was signed by Tariq Al Farsi, Chief Executive Officer of National Finance, and Khaula Al Harthi, Chief Executive Officer of Injaz Oman. The ceremony took place in Hormuz Grand Hotel Muscat and witnessed the presence of senior officials from the two sides as well as media personnel.

The six-month-long programme targets students of higher education institutions which seek to enable university and private college students to establish real projects after gaining the necessary skills from the training.

Speaking on this collaboration, Tariq Al Farsi said: "We are pleased to sign this agreement with Injaz Oman. Through Imtidad, we constantly seek to partner with such organisations and support their impactful initiatives as we believe that this will add great value to the community as well as the country. This programme aspires to support the youth and develop their capabilities to excel in entrepreneurship and start their projects. Such ventures are in line with Oman Vision 2040 as they create jobs opportunities and stimulate economic diversification, ultimately boosting the national economy".

Khaula Al Harthi, Chief Executive Officer of Injaz Oman stated, "At INJAZ, we inspire the youth of Oman to be future entrepreneurs by training, encouragement and sharing entrepreneurship knowledge. We express our gratitude to National Finance Imtidad for lending support to one of our key programmes that drives this objective. As an organisation that aims to fulfill national priorities with regards to learning, development and employment, INJAZ believes in the strength of such strategic collaborations that help drive national goals of Vision 2040."

It is worth noting that National Finance remains committed to its corporate social responsibility by delivering various such initiatives. Therefore, the company launched 'Imtidad', an expression of the company's commitment to positively impact various vital segments that include education, community, health and environment.

National Finance, established in 1987, has built a reputation as the market leader trusted by thousands of customers across the Sultanate. National Finance offers a wide range of products targeting both individual customers and Small and Medium Enterprises (SMEs) through its 20 branches across the Sultanate.