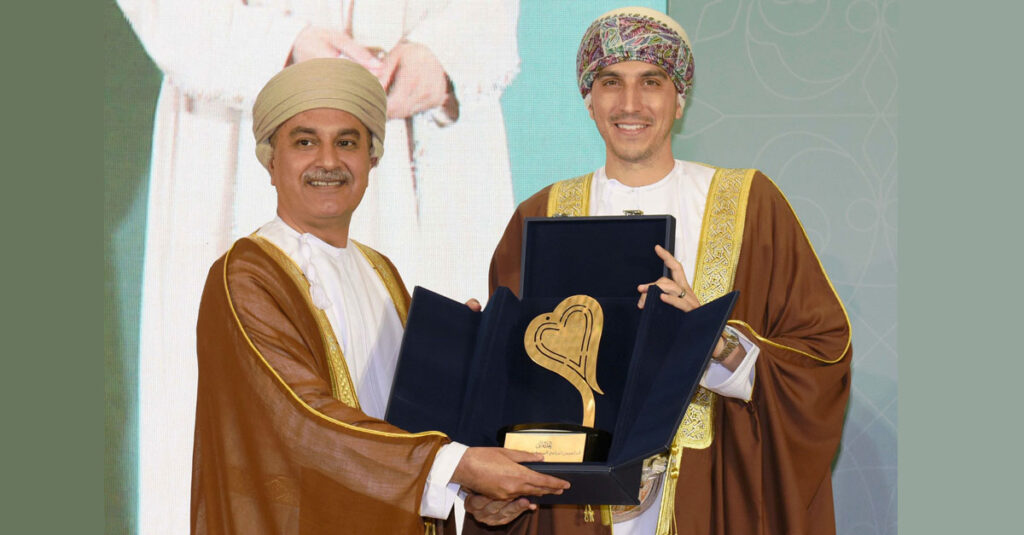 MUSCAT – Bank Muscat was recently honoured by the Ministry of Social Development at a grand event held under the patronage of H.H. Sayyid Kamil bin Fahd bin Mahmoud Al Said, Assistant Secretary General of the Office of the Deputy Prime Minister for Cabinet Affairs, in recognition of its pioneering role in the field of Corporate Social Responsibility (CSR). The accolade was received by Sheikh Waleed K. Al Hashar, Chief Executive Officer of Bank Muscat at the ceremony, which was attended by a number of Ministers, Undersecretaries and senior officials from public and private sectors.

On this occasion, Sheikh Waleed K. Al Hashar, Chief Executive Officer, Bank Muscat, said: "Bank Muscat's programmes and social initiatives are aligned to Oman's development goals, especially the pillar of CSR and Partnership in Oman Vision 2040, and this award is a great honour and inspiration to drive forward the Bank's pioneering role in social responsibility. We thank the Ministry of Social Development for this accolade, and for enabling Public-Private Partnership in a manner that benefits our society and the nation. Bank Muscat always pays great attention to occasions of national importance, community-based activities and social responsibility programmes including those that aim to develop facilities and services for persons with disabilities. It is our privilege to continue to work tirelessly to serve everyone better, every day, through a number of sustainable initiatives and programmes."

Every year, as part of its commitment, Bank Muscat implements different CSR and sustainability programmes that serve various segments of society including the youth and children, people with special needs, social welfare families, entrepreneurs, students and communities across the country. It is a matter of great pride that Bank Muscat works in partnership closely with the Ministry of Social Development on a number of programmes including the Tadhamun programme, which has benefitted over 1,690 families since it was first launched in 2013. Earlier in 2021, the Bank provided laptops and tablets to 1,240 students from low-income families with the aim of supporting the government's efforts to make online education available for all students in the aftermath of the COVID-19 pandemic. Through its partnership with the ministry, the Bank has supported a number of students facing financial constraints in completing their higher education.In line with its commitment to helping persons with disabilities integrate into mainstream society, the Bank previously partnered with the Ministry for a number of activities including the construction of a playground at the Al Aman Rehabilitation Centre for children with severe disabilities and a sports field at the Al Wafa Centre for the Rehabilitation of Persons with Disabilities. The Bank has also provided an agricultural Greenhouse at the Vocational Rehabilitation and Evaluation Center in Al Khoudh to help in the rehabilitation of persons with disabilities.
In 2022, Bank Muscat partnered with the Omani Association of the Hearing Impaired to provide a number of hearing aids to school and university students in Oman while training a number of its employees at different branches across the Sultanate in Arabic Sign Language so as to improve financial inclusion for all. For the past five years, the Bank has extended its strong support to the Fak Kurba initiative launched by the Oman Lawyers Association to help secure the release of over 1,000 people, especially from lower income groups, who have been jailed for failing to clear financial obligations. Previously in 2020, the Bank joined hands with the Ministry of Tourism and Heritage to develop the old village of Misfat al Abriyeen in Al Hamra to boost heritage tourism in Oman. It also partnered Muscat Municipality to complete a 15,000 square metre Al Khoudh Park project in Seeb to promote domestic tourism and the quality of life for the local community.
Bank Muscat, which is Oman's leading financial services provider, runs over 10 long-term social responsibility projects including Green Sports, Al Wathbah SME Academy, the Maliyat financial literacy programme and Irshad financial coaching, which are aimed at supporting different segments of Omani society. As part of its strong commitment to Public-Private Partnership, the Bank works closely with both government institutions and a number of civil society organisations to support programmes targeting different sections of society with the aim of creating sustainable, positive changes in communities across the Sultanate.