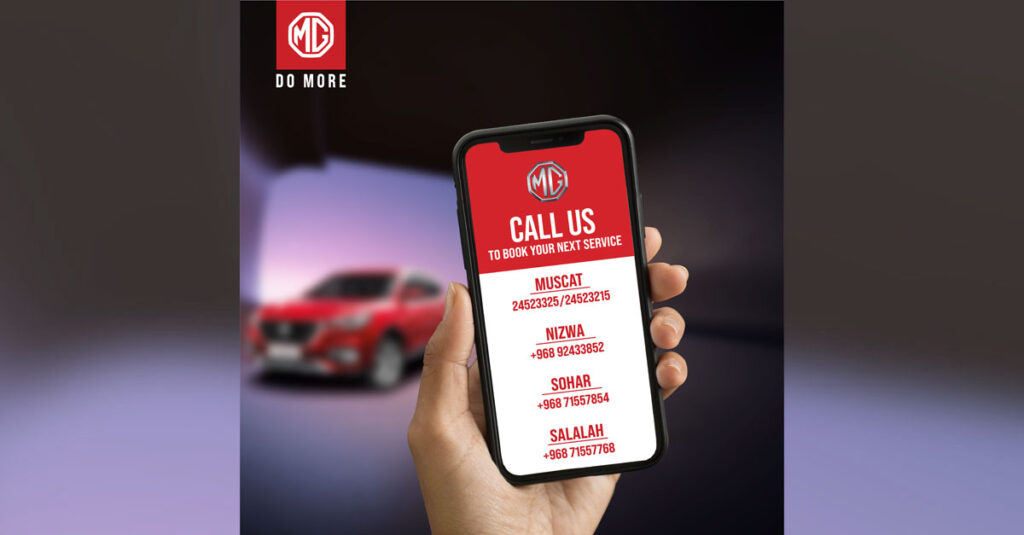 MUSCAT – MG Motor has taken some new initiatives to cater to their customers and to ensure their utmost comfort and peace of mind. The MG Motor customers can now book their car service simply over a phone call. They can also send their detailed feedbacks and requirements through an email to [email protected].

The MG customer service team will respond to the customer as soon as possible and identify any areas of concern and detail any work that is required in their cars. This way the customer will be able to identify and resolve any issue with much convenience and little fuss.

MG Motor vehicles are renowned the world over for their quality and reliability. Getting behind the wheel of one of these exceptional models brings with it a level of peace of mind that you are investing in a vehicle that is durable and sturdy. Hence, it will only be reasonable that your MG car is maintained in its best condition through quality servicing by an official distributor.

MG Motor service is known for its value for money. Whether customers choose to take a service package to ensure that the costs of servicing remain affordable or simply choose to pay on a service-by-service basis, they can be rest assured that value for their money is guaranteed. After all, MG as a brand understands and cares about the needs of the cars owners and nothing is more important than their satisfaction.

A senior spokesperson of MHD ACERE, the sole distributor of MG Motor in Oman comments: "We are very confident of the quality of MG cars and that's why we recommend servicing your MG vehicle every 10,000km or 6 months, whichever comes sooner. We also recommend getting the cars serviced from an authorized service centre as MG Motor has an experienced team of technicians that will carefully analyse and resolve vehicle performance according to a rigorous checklist".

"While regular servicing is critical to the continued performance and enjoyment of your MG vehicle, there are a number of additional benefits of having your services completed by your local MG distributor. For example, not only do we have a highly skilled team of technicians on hand, but our facilities are some of the finest available. Featuring state-of-art equipments, industry-leading diagnostic technology and all authentic MG repair tools necessary for any job, you can be certain we will be able to find and resolve any issues. In addition, regular servicing ensures you are getting the best fuel economy from your MG", the spokesperson added.

For more details or to book a service appointment, call Muscat Service Centre Call Centre at 24523325 and 24523215, Nizwa Centre at 92433852, Sohar Call Centre 71557854 and Salalah Centre at 71557768.