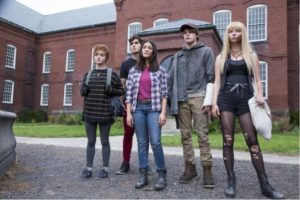 DUBAI – Twentieth Century Studios in association with Marvel Entertainment presents "The New Mutants," an original horror thriller directed by Josh Boone and written by Boone and Knate Lee.  The film releases in the UAE on 10th September.
"The New Mutants" stars Maisie Williams (Game of Thrones; Early Man; Then Came You), Anya Taylor-Joy (Peaky Blinders; Split; Glass; Emma), Charlie Heaton (Stranger Things), Alice Braga (The Shack), Blu Hunt (The Originals) and Henry Zaga (13 Reasons Why).
Marvel's first ever horror film, the five new mutants must battle the dangers of their powers, as well as the sins of their pasts, when they find themselves hunted by a supernatural evil, causing all their worst fears to become real.
The film is produced by Simon Kinberg, best known for his work on the X-Men film franchise, and has also written such films as Mr. & Mrs. Smith and Sherlock Holmes; Karen Rosenfelt of Twilight and Twilight Saga, and Lauren Shuler Donner of Deadpool and Dark Phoenix.  American comic book writer, editor, publisher, and producer Stan Lee alongside Michele Imperato Stabile served as executive producers.
Twentieth Century Studios' history with the "X-Men" franchise dates back to 2000 and the release of the first "X-Men" film. Producer Simon Kinberg produced six of the titles in the franchise, and Boone knew he was the key to getting a New Mutants project off the ground.
"We wanted it to be a horror story, one that relayed the true horrors of being a teenager in search of themselves," says Boone, "and he – above all  people – understands  how much we have to push these movies to make them their own unique thing and to have their own unique identity."
The movie releases throughout UAE 10th September 2020. The official trailer can be viewed here