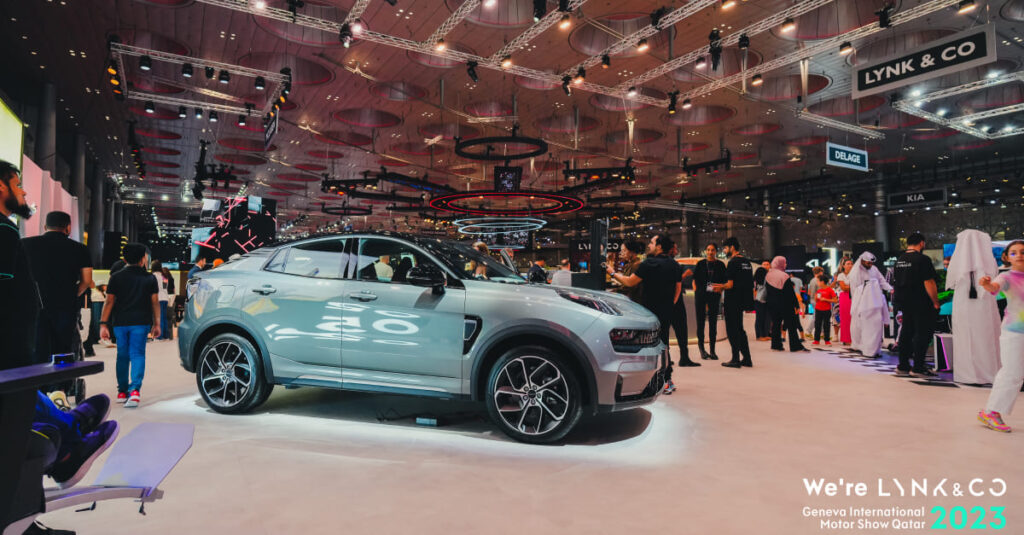 At the Geneva International Motor Show held in Doha, Qatar, Lynk & Co determined to provide an unforgettable moment for car enthusiasts and those seeking a stylish lifestyle. CO: STORE showcases four Lynk & Co models in the exhibition space: Lynk & Co 01, Lynk & Co 03+, Lynk & Co 05, Lynk & Co 09. Exclusive Lynk & Co branded products are available for purchase here. This exhibition space is not just a place to display cars; it is a gathering point that sets the tone for the future of automotive culture and lifestyle.
The Lynk & Co exhibition area is located in the D5-E7 of the Doha Exhibition and Convention Center (DECC). Within this 644-square-meter space, visitors can enjoy a range of exciting interactive and entertainment experiences across four main themed zones. Lynk & Co 01 area features a vinyl record player and a camping setup, creating a cozy and relaxed atmosphere reminiscent of family vacations. Lynk & Co 03+ area is equipped with racing simulators, allowing visitors to immerse themselves in the excitement and prestige of a racing club-like environment. Lynk & Co 05 offers VR driving equipment designed to blend the aesthetics of Mega-city Contrast with driving innovation. In Lynk & Co 09's opulent lounge area, visitors will be enchanted by the luxurious, comfortable sofas and the generous space available. It's designed to provide a lavish seating experience and ample room for relaxation, allowing you to unwind and indulge in a tranquil environment. Each of the four exhibition areas is equipped with music experience installations and Harman Kardon audio systems, providing a delightful music experience. The CO:FFEE offers customized beverages tailored to the car models, as well as delicious desserts, coffee, signature cocktails, and meals.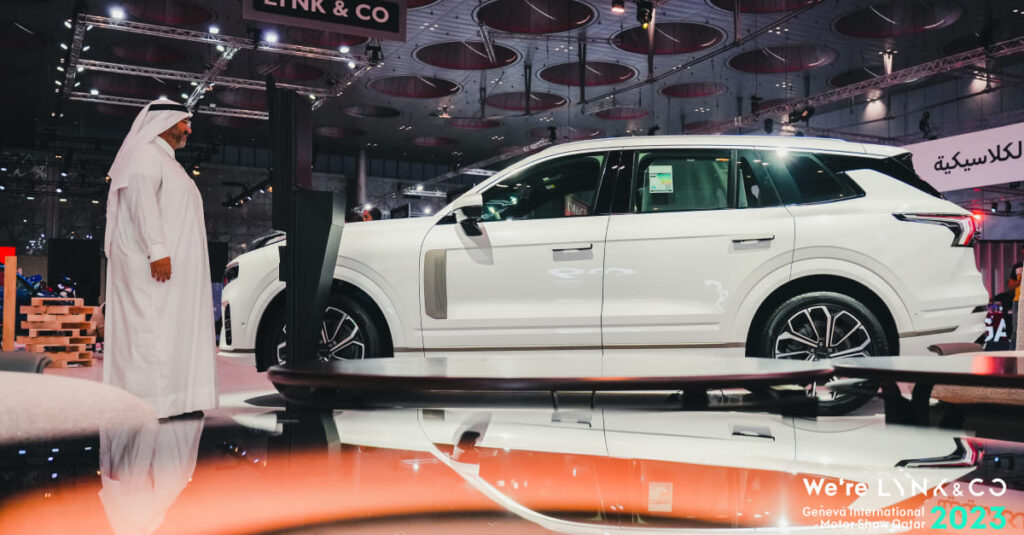 Lynk & Co has officially unveiled its presence in Qatar on October 6th at the Geneva International Motor Show Qatar. This launch is facilitated by Auto Class Cars, the official distributor for Lynk & Co under the NBK Group, which will take full responsibility for Lynk & Co's sales and services in Qatar. Nasser Bin Khaled Group, abbreviated as NBK, was founded in 1950. In the automotive sector, it serves as the official agent for several renowned brands in Qatar, including Mercedes-Benz, Mitsubishi, MG (Morris Garages), Maxus (SAIC), FUSO, Harley-Davidson, Michelin Tires, and Bosch. In addition, NBK also operates across construction, real estate, and tourism.
Lynk & Co's showroom in Qatar is located on Salwa Road in Doha, amidst a bustling automotive district with numerous car brands, making it a primary destination for consumers looking to purchase vehicles. Following the Geneva International Motor Show Qatar, Lynk & Co's showroom will commence its official operations soon, gradually enhancing the overall development of Lynk & Co's presence in Qatar and other Middle East countries like Oman.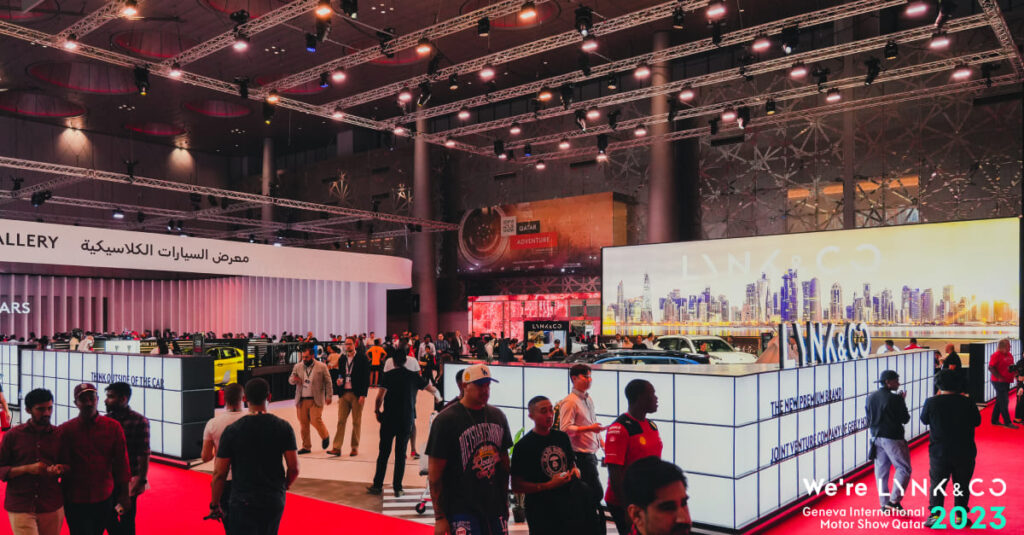 In Oman, Lynk & Co vehicles are brought to you by a new line of auto business 'Mobility Auto LLC' from Towell Group. So, the people in the Sultanate of Oman can be assured of the best-in-class automobile experience. To know more about Lynk & Co offers in Oman or to buy a car in Oman, visit www.lynkcooman.com or the Lynk & Co showroom at Ghala Heights in Muscat, Oman. For any queries or to book a test drive, contact at Ph: 71611137.