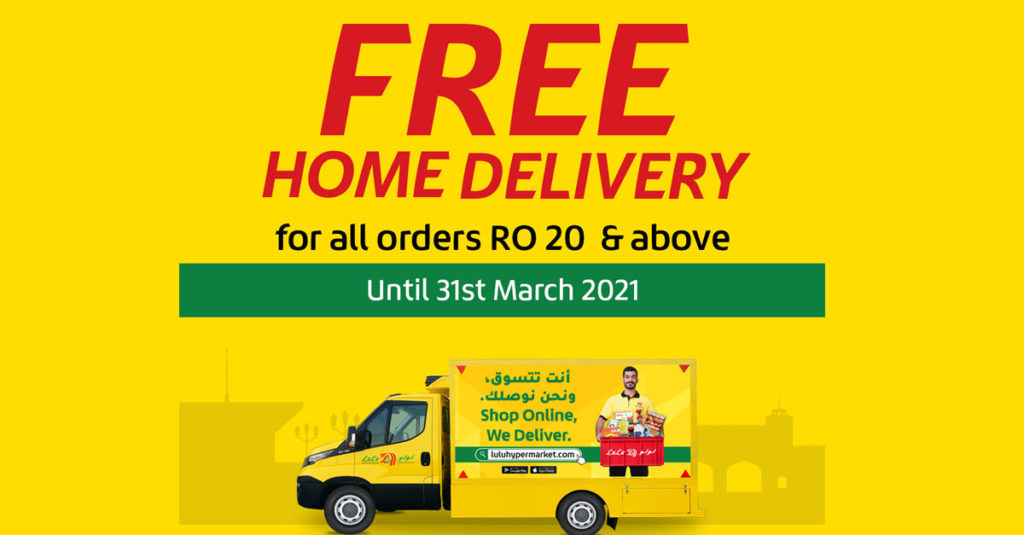 Lulu woos online shoppers with free delivery offer, launches online delivery in Salalah

MUSCAT – Lulu Hypermarket has launched its online delivery services in Salalah. This initiative comes after the successful online delivery services in Muscat, Nizwa and Sohar.

Lulu's online service enables customers to order anything from grocery and household items, fresh produce, meat, seafood, deli and bakery products, to quick and easy meals, healthy natural and organicfood products, and so much more – all at a great value delivered right at their doorsteps. Customers can also avail home delivery services free of cost till 31st March 2021 by ordering products worth 20 rials and above from the online stores.

Speaking on the launch of Salalah online delivery services, Ananth A V, Director of Lulu Hypermarkets Oman, India and Sri Lanka said "This strategic move will further strengthen our distribution footprint in Oman due to a growth in online retailing, allowing better delivery of products to our customers swiftly and efficiently. Our goal is to deliver excellent service to all our customers and, most importantly, to support the communities in which we operate. We are aware of the importance of speedy delivery of essential items to our customers, and we have a team of highly efficient Omani staff to achieve this."

Shabeer K.A, Regional Director of Lulu Oman, remarked "There is an upsurge in demand for online services, as more people switch to a mixture of shopping online and in stores. The online delivery service in Salalah was launched to ensure that we reach out to the customers of the digital world across the country. We regularly follow public health guidelines with safety regulations and encourage and facilitate online services to suit this critical period the world is going through."

Lulu's state-of-the-art, temperature-controlled fulfilment centre in Muscat is fully operational and stocked up at all times. It is purpose-built for online fulfilment, complete with long aisles stocking up dozens of products. The centre, with its cutting edge technology, enables the handling of exceptional volumes of goods at high speed and distribution to the customers. In each location, including Salalah, there is a locally based fleet of vehicles and efficient Omani drivers to ensure timely delivery.