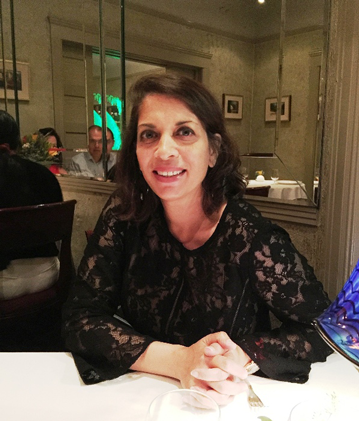 Anupama Badida
Homemaker, San Ramon (USA)
"The air is fresh, but we are careful not to step out.
Our hearts are full of love, but we are wary of hugging one another.
We are cooking more than we ever have, but are reluctant to share."
These paradoxical sentiments epitomise the unprecedented and cataclysmic nature of the current global pandemic.  The "unseen enemy" has mercilessly upended lives, businesses and livelihoods.
Last vacation for a while
When we returned home from a memorable vacation in January, little did I realise that it would be our last for a while.  After quickly settling in, we excitedly awaited my mother's arrival from India.  She was travelling to the USA to attend a momentous occasion in my son's life: his high school graduation. 

Why do grandmas worry so much?
Who knew that the unceasing euphoria of seeing her only grandchild head to college would be short-lived, and the very event she was here to savour would consume her with dread. Today, in the safety of my home, she is devoured by angst wishing that my son would acquiesce to online learning.  "In-person lectures have too much exposure, there are too many unknowns…teenagers can be foolhardy and unwise.  Talk him into taking online lessons," she says.  "Why do grandmas worry so much?" my son innocently wonders, and proceeds to cajole her and dispel her fears. 

Unique milestones robbed
This was supposed to be a glorious year for my child, a high school senior, a culmination of years of unwavering perseverance and unyielding dedication.  Life and fate, however, had sinister ideas and mercilessly stymied all the prodigious and outstanding moments that are characteristic of senior life.  So many exceptional and unique milestones not just egregiously denied and missed, but robbed. Social distancing superseded the unparalleled thrill of prom, isolation replaced the unfettered warmth of friendship and association, "shelter at home" callously usurped the excitement of the senior trip to Disneyland and the customary graduation walk was confined to a video.  As regrettable as the last few months have been, it was time to stop feeling sorry and seek out a hobby that would alleviate the unforeseen misfortune.  So, what did he do?

Master chef in the making
 He took over my kitchen, and embarked into the hitherto unknown world of gourmet cuisine.  Every day he spent countless hours in "my space" perfecting his new found passion.  His penchant for flawless taste and immaculate presentation is inspiring, and his methodical and painstaking execution is a sight to behold.  To see such enthusiasm and ebullience is heartening to say the least, and while I know it does not make up for all the distinctive moments missed, it ensures that he is home…happy, contented and out of harm's way.  
I have, with utmost pride, shared his gastronomic exploits with friends and loved ones, all of whom wholeheartedly agree that he should try out for "Masterchef," or at the very least showcase his accomplishments on a food Instagram account but my son pooh-poohs the idea and is embarrassed at the suggestion.  His crowning glory has been the quintessential Italian dessert, Tiramisu. My neighbour called it "a monumental triumph."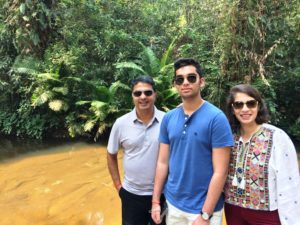 Everything is virtual now
It just so happens that Tiramisu is my husband's favourite dessert.  Much has changed for him in the past few months, including a haircut (with a few bald patches) at home, but he has finally settled into the sudden and unanticipated transition of "working from home" (in his pajamas)…shaving optional.  It is not an ideal arrangement.
Slow internet speeds, dropped calls, demonstrating and elucidating proposals electronically have been a monstrous struggle.  But, over time he has come to terms with the "new reality" that requires him, like several others, to deftly run and manage a business from home.  The everyday commute to work, the engaging water-cooler talk with peers, the impromptu lunch meetings, the celebratory moments to commemorate the successful conclusion of a project, the extravagant dinners to mark the signing of a prime customer seem like part of a distant memory. Everything today is virtual.  

Waiting for safer times
Just the other day, my umpteenth grocery order got delivered to my doorstep.  Too nervous and petrified to step out, I spend hours every week scheduling online delivery times. What then follows is a taxing and exhausting ritual of thorough sanitising and disinfecting. Today, packages and mail have to be meticulously dealt with outside the home, all non-essential services have been put off till times are "safer".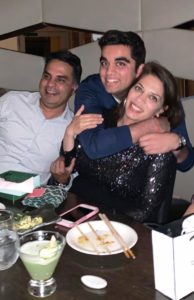 Reading is my sanctuary
I used to be a voracious reader, the "nerd" in college that teachers unconditionally adored and fellow students oddly wanted to hang out with.  My love of reading was necessitated, in part, by the demands of an exacting academic curriculum and also due to the fact that I relished it.  But, somewhere along the way, life, people and things got in the way and reading and I unceremoniously parted ways, something I regret to this day.  Now, several years later while in the inexorable grasp of a debilitating virus, reading has become my refuge. It keeps me calm and gives me joy.

Salute the frontline workers
When I reflect upon the infelicitous horror that has unfolded upon us, I cannot help but think of the vast number of selfless and altruistic frontline workers who have put our lives above theirs, have relinquished their needs so that ours are met, have made sacrifices so that we could live unscathed. The world will forever remain in their debt. 

Normal is a thing of the past
Never have I felt more gratitude for the critical and indispensable resources I have at my disposal. It will greatly mitigate any obstacle that might come my way.  We all know how enervating and crippling worry and stress can be, but being one of the fortuitous ones I have the means, ability and freedom to devote time to meaningful pursuits that help me escape to a "happy place."  There are a number of exemplary and assiduous people I know who have not been as lucky. Their dreams have been decimated, ambition wrecked and aspirations summarily eclipsed by the uncertainty of tomorrow. 
Tethered to their fading hope, plagued by precariousness and unpredictability, they valiantly attempt to navigate through unchartered territory. The challenges seem Herculean and insurmountable.  "Normal," as they knew it, is a thing of the past.  Gone are the carefree, nonchalant days when they excitedly looked forward to working purposefully toward achieving a better life.  Their days now begin with doubt and apprehension not knowing where they are headed and how it will end.

Light at the end of the tunnel
Life is ephemeral, live in the moment, count your blessings…these are no longer shallow or trifling sentiments.  They ring true today more than ever and as distressed and hopeless as people may feel, given the disquieting nature of things, we have to continue to believe that there is light at the end of the tunnel.  Yes it is difficult to feel hopeful and think positive, but life was never meant to be easy. 
 We have prevailed over paralysing adversity in the past; this time is no different… Our peerless ingenuity, indomitable spirit, steely resolve and relentless grit will not only help us carry the day but will guarantee that we are better equipped and prepared to face any unexpected and dire hardship the future might bring.