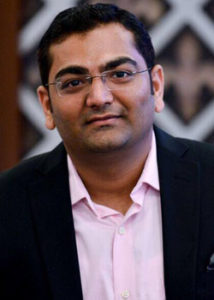 Keyurkumar Hargovind Gohel
Businessman – textiles and cosmetics, Muttrah (OMAN)

Death visited a peaceful family of a businessman in Muttrah, in the form of the dreaded COVID-19, not only wreaking havoc in their lives but also taking away a beloved member.
Black & White's Corona Diaries series here features Keyurkumar Hargovind Gohel who survived the ordeal and escaped from the tentacles of the virus. Here he narrates how he and his family are trying to pick up the pieces and unveils the ordeal they recently faced.
Alive but heartbroken
Today Keyurkumar Gohel, 33, is alive and well physically, but unfortunately nurses a wounded heart.  He is heartbroken that he lost the most valued person in his life – his beloved father Hargovind Gohel– to this killer virus. His happiness on surviving from the disease is drowned in the sorrow of the terrible loss.
Excerpts:
What exactly happened?
I run my business in one of the busiest and bustling tourism spots in town — the Muttrah souq!  Nothing unusual or untoward happened though I remember some cruise ships docking at the port. There were a lot of tourists on these vessels and some of them were my customers too.
I basically handle the public relations and also the cash register of my shops and therefore the only way I would have contracted the virus would have been whilst dealing with my customers; maybe when I shook hands with them, I really don't know and I guess I don't want to know for it does not matter now. When you are in a busy market like this, it is difficult to say how you contracted a disease like this.
This happened in mid March (March 16/17).  How my sickness began: I started to feel a bit down under the weather. And in a matter of days I had fever and cough… but then, who would have thought that it was some deadly virus? Just like any other person, I assumed it to be a viral flu or something of that order and let it pass.
After a night's fever, I went to a pharmacy and they gave me a three-day course of antibiotics. But that did not seem to work. So I went to a nearby clinic in Muttrah, to check with the doctor there who also gave me another three-day' antibiotics course. But, when these three days too passed without my getting any better, I approached the clinic again.
This time the clinic doctor advised me to go to the Muttrah Health Center and by the time I reached there, the officials there were already informed about my case (by the doctor in Muttrah).
At the center, they took an X-ray of my chest and also did the swab test. Within some time they had the X-ray result. I only knew I was not well, but I didn't know with what. I was told that I was to be admitted to Al Nahda hospital and within no time, I was whisked there in an ambulance. At that time my mind was only focused on getting better, nothing else. I did not ask any questions, just followed the doctors' advice. Even then I was not thinking something serious had happened!
It is reported that your father got the virus and sadly he did not survive; was he suffering from any other ailments?  Also, how many members are there in your family and who got the virus first?
My family comprise of five members: my parents (Hargovind and Nalini), my wife Neha and my two-year old daughter Vedanshi. We all stay together. I was the first one to contract the virus.
After two days of being admitted to the hospital, I felt better and it was only then I tried to find what exactly happened to me. It was like a bolt of lightning hitting me when the doctor informed that I had COVID-19.  But the doctor kindly assured me that I was going to be fine and I need not worry. After some more tests, I was shifted to the isolation ward.
After sometime, the nurse provided me with a phone and informed me that there was a possibility that all of my family members could have contracted the disease and it was imperative that they are tested. That was the most terrifying moment of my life! It was like something straight out of a nightmare – a nightmare where a silent, invisible monster was stalking your family!
Without wasting time and controlling the rising inflection in my voice, I somehow managed to speak to my family members and convinced them to get tested as soon as possible.
The very next day my family members rushed to the Muttrah Health Center and got tested. Soon after the results, my father, who was tested positive, was admitted in a similar ward as I was, at Al Nahda, while my mother and wife were told to self-isolate themselves at home. Both my wife and mother were tested positive though they did not display any such signs.
Save for my two-year old daughter all of my family members were tested. It was a very distressing time, and my wife was quite worried and hoped and prayed that she would recover soon so that she would be able to take care of our child and my mother.
And as for my father, he was 66 years old; he had some ailments: diabetes and blood pressure, common in people of that age. At no point did I think I would lose him. He seemed quite normal when I saw him at the hospital after he was tested positive and brought there. In fact, he was prescribed similar medications.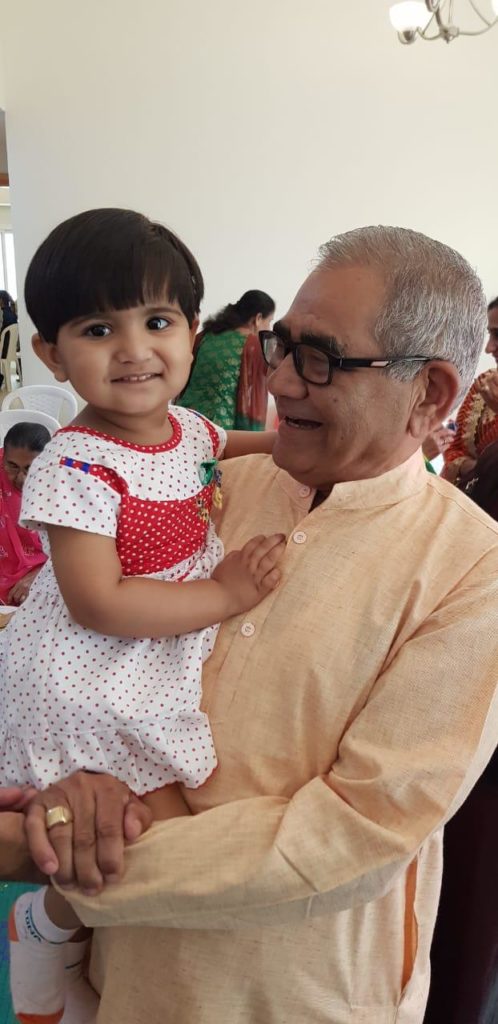 How many days did you spend at Al Nahda? Were you in the isolation ward/cell?
I was in Al Nahda Hospital for 11 days.  I was initially put in an isolation ward and then shifted to a normal ward in another building.
Were you a 'severe' case, or a 'mild' one? Could you explain what you experienced, physically, mentally and spiritually?
I think I was a 'severe case' as I had difficulty in breathing, plus cough and also fever.  And physically, I was quite drained. But, mentally, I tried to stay positive by turning to prayer. I am a firm believer of God and karma, so I spent the entire time chanting and meditating, which kept me on a positive mien plus spiritually elevated throughout the period.
Do you suffer from any other ailments and were these aggravated at the time of your COVID-19 state? What treatment did you undergo? What really helped you? You had mentioned that meditation played a part… Also, did you despair at any point of time?
No, I don't have any other ailments. And during the time I was affected with COVID also I didn't develop any other ailments. I had continuous oxygen supply during my treatment and even then, I had difficulty in breathing. I remembered the words of my parents who always advocated yoga and stressed on its powers to calm one down during times of stress and strain. So as much as I could, I tried doing pranayama (*) and constantly prayed for the safety of my family and their overall wellbeing.
I firmly believe that if you shift your thoughts and your mind and chant God's name, it can relax you and you will exude positivity.
It is important that during moments like this one should simply rest your fears in a supreme power and allow it to take care of you. This will give you a new vitality and spread hope and give much strength.
And to overcome such an illness as COVID-19, one needs to fight it physically, mentally and spiritually. I believe if you are mentally strong and positive, all the medications will work and you will succeed in beating the virus, like I did.
Members of a well-known meditation and spiritual organisation claim that their type of special kriya has helped them stave off the virus; in the sense it developed immunity in them from the virus. Are you part of any organisation or it is just an ingrained belief that meditation helps?
I am not part of any such organisation here in Oman or in India. I was imbibed in true and authentic Indian culture.  And from a very small age, my parents had instilled in me, and my siblings, certain intrinsic values, which we all follow. And this includes yoga and also maintaining a positive attitude in life. I believe yoga is an apt tool to use in the fight against COVID-19.
My belief is that if you practice yoga, it will expedite the healing process from the illnesses caused by the COVID-19 virus. Other items that serve in building immunity include homemade herbal teas like turmeric tea or tulsi (basil) water or tea. Such items are common in most Indian households. So again, all of this is strictly my belief and I am not asking anyone to follow.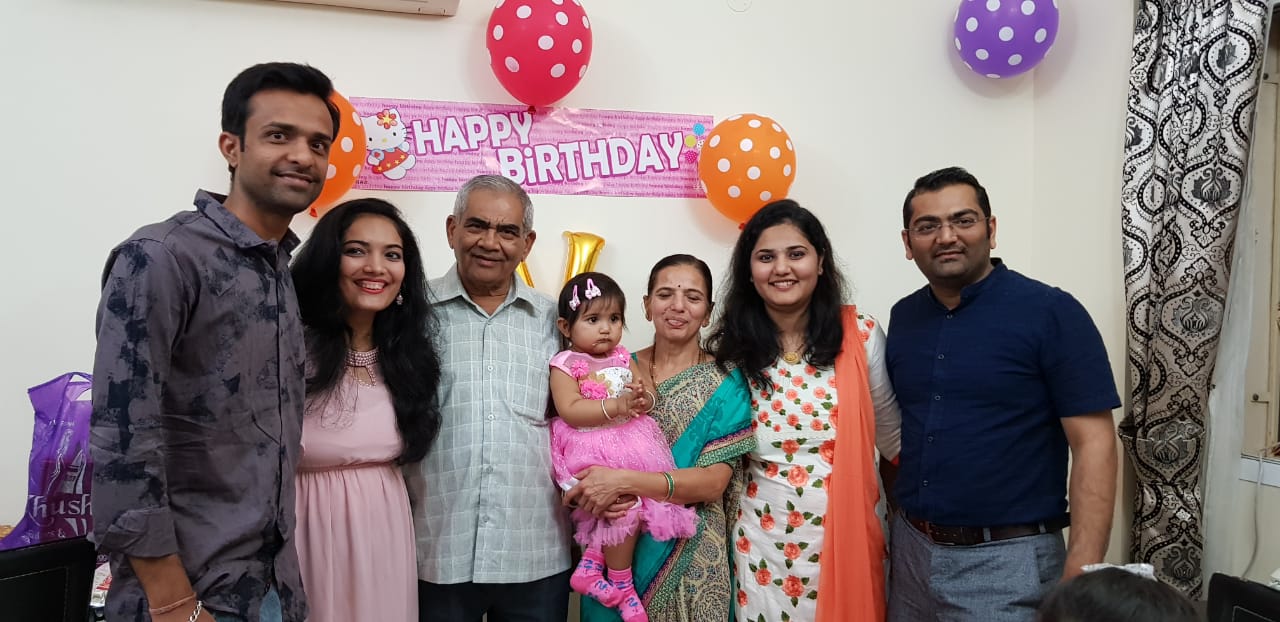 At the hospital, did they allow you to make calls to your family etc; did you have any contact with them at all?
The doctors and nurses at the hospital were extremely good, helpful and considerate. They created a very positive atmosphere for all the patients that were admitted there. Yes, I was given a mobile by means of which I stayed in touch with my family and also some friends. I kept them all informed about my health and asked them to take care, follow all the lockdown procedures and remain calm if confronted with any symptoms. I also kept advising my wife and mother and tried to infuse them with positivity. I wanted all of us to recover at the earliest and then live our normal lives. But then on a personal note, the tragedy is that after the loss of my father, our lives are currently not normal. Things will never be the same again.
Some words about the treatment you received? What do you have to say about Oman's efforts in battling this virus?
The treatment provided by hospitals in Oman is world class. The doctors and nurses are very competent and efficient to handle this health crisis. I felt safe in their hands!  The government is really taking all the precautions they can and we as citizens and residents should commend their efforts. My humble advice to all citizens and residents of Oman is to strictly follow the lockdown procedures and even post lockdown they should continue to maintain all safety measures. Believe me, I have survived this disease, but I wouldn't want to go through it ever again! The COVID-19 is surely going to bring about changes in our lifestyle. And until a vaccine is found, we must take all the necessary precautions, including wearing gloves and masks when we step out of our homes.
 Did your father succumb to the illness when you were in hospital? How long was he hospitalised?
My father was hospitalised for 18 days. So while I was there my father was trying to recover. Once I got discharged I was constantly in touch with hospital staff to know about his status. But then fate was unkind to us. Due to his other ailments, like BP and diabetes, my father's recovery turned out to be quite slow and sadly, in the end, he never made it.
 Are you fully cured and have you completed the period of isolation etc?
Yes, at this moment I am completely cured and I have also completed my isolation period.
In spite of this, my family and I still continue to stay at home, in isolation. We just step out only to get our basic needs from the market, that too only when it can't be delivered online.
How do you feel now and what would be your message to the world, which is still under the grip of this deadly virus?
Currently now being at home, I feel the loss of my father more acutely; he has left a big vacuum in our life. I know it is foolish, but really wish things could have been better for my family at least and they didn't have to undergo this ordeal. But what to do?! I also pray that nobody has to experience what we did or endure this terrible pain of losing a loved one to such a virus. This virus has and will bring about a lot of changes now and in the future. Masks and gloves are going to be a necessity and my simple advice is: we have to fight this together! And most importantly, we must strictly follow all the procedures for lockdown as and when imposed. We must also take precautions whenever we travel or step out of the house. Building our immunity during our stay at home is something that would help us all in the long run. Eating right and living healthily – that should be our priority and that should be the way ahead.
Have your perspective to life changed after being affected by the virus?
Yes, definitely my perspective has undergone a sea change… I totally cherish my time with my family much more after this virus entered our lives and especially after losing my beloved father. I want to spend more time with my daughter and not just be concerned only about business and its aspects. And honestly, I just wish that we all could go back to our normal life!
(*) Yogic breath control or a technique used in yogic breath control.