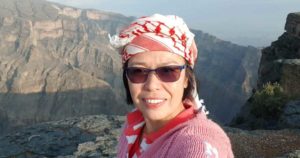 Mia Ventura
Seeking new work opportunities
(Formerly sales manager in the hotel industry) (OMAN)
It is half past 10 in the night and I suddenly realize that I am very thirsty and I don't have any bottled drinking water. Okay, there is a supermarket that would be still open and is located just 10 minutes away from my home so I will quickly get the water bottles from there.

Threat lurking even in bright spaces  
As a lady, when you walk out of your home in the night, you have to worry about your safety.
But, when you are in one of the safest countries in the world you really don't have to worry about these things. However, these days you have to worry about a bigger threat lurking out there not just in the dark, but in the bright open spaces: on the shelves of the supermarkets; in the breath of the person standing behind you in the queue; on the bottles of water that were just handed down to you; on the plastic bag that you are carrying some purchases…

Anxious about the future
Of course, I am an adult and I shouldn't be afraid of these things but I confess I am. I am really scared of getting infected. I worry myself sick over these things and ever since I have lost my job, my worries have blown up into anxieties. I am very anxious about my future. Will I get a job? When will everything become all right? What next?

Riddled with anxieties
And there are many out there who feel the same way as I do. We are riddled with anxieties – about getting infected; about our loved ones getting infected; about us infecting our loved ones; about our jobs; about finding new jobs; about paying our rents; paying off our loans; sending money to our families who are depending solely on this in our homeland, and getting anxiety about even getting out of our homes.

Don't cry over spilled milk
Just a few months back what a wonderful existence we all had. I'd give anything to get back to that life; the way we were. What happened; why do we have to suffer this pandemic? Did we do something wrong? Are we at fault in some way? For some questions, I am almost forced to nod my head in the affirmative, but I desist. 
Why cry over spilled milk? What is done is done. We have to move on.

Lives changed
To say that our lives have been changed would be an understatement. Changed lives because of COVID, is the new normal!
Everywhere we go, we will stand mute witnesses to the devastating effects of COVID.

Expatriates number will be reduced
What we are going to face are lesser opportunities on the job front and more unemployment. We are expected to see a reduction in the number of expatriates from all countries that they are currently in. Here in Oman, we have seen the existence of a large number of expatriates on the real estate, travel, and tourism front.
Sadly, the reverberations of what is happening across the world will have its ripples here too. My understanding is that when there is a big drop in these areas, even telecommunication subscribers will be reduced.

Economies will shrink
The challenges for governments across the world will be on how to rebuild sectors that have been greatly affected. 
For example, take the tourism sector. It will take a lot of time for tourists to start traveling again; for airlines to have passengers; for hotels to fill up their rooms and for transporters to have clients. Related industries will also be affected. Overall, economies will shrink; pay packages will be cut down and other sectors will also suffer because people will end up spending much lesser than before. But I am no one to predict the future.

Splintered, but will be whole again
Currently, we must be thankful for what we have. The party is over. We must clear the deck for a new way of life. Yes, some of us have constantly put our legs up and enjoyed the scenery, while life moved on. Some of us have become couch potatoes in the run-up to life and living. This terrible virus changed all that.  No longer will we be lazy and indolent. We will rise to this occasion and push the virus back where it came from. We will not be defeated. We have splintered, but we will become whole again.