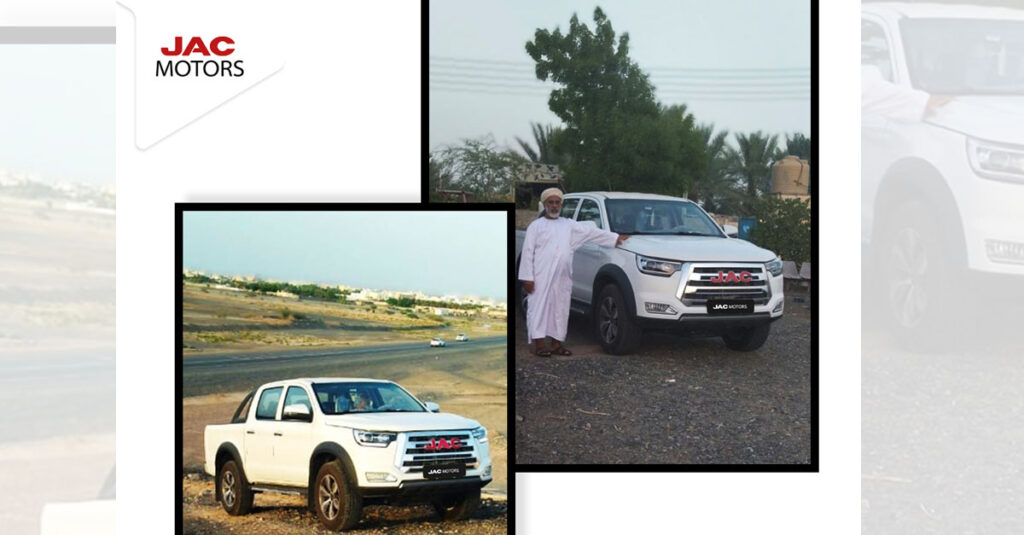 MUSCAT – Ever wondered what it feels like to feel limitless? To hit the roads like there is no home and to go on a drive that is never-ending, a journey that is full of mind captivating views from massive mountains to the plain blue oasis that reminds you of your long-hidden adventurous spirit. But to experience this, you need an equally adventurous companion who is strong, rigid with beautiful looks, and an interior so comforting that it can take your trip to a whole new level. These are the thoughts of our happy customer Muslem Al Mahrouqi about his new adventure partner JAC T8.

Muslem bought the JAC T8 two months ago from our Nizwa showroom. He has always been a fan of masculine vehicles like JAC T8. While on his next hunt for big cars, he found the T8 to be the most feature-rich Pickup with a significantly low price tag. Muslem also talked about the comfortable interiors that give him a luxurious and royal feel.

While sharing his experience, the one thing that Muslem loved about the JAC T8 is its Turbocharged engine and the extremely efficient air conditioner. He says, with JAC T8, you experience uninterrupted power even on the rugged roads. Mr. Muslem also took this moment to share his joyful experience with the Towell Auto Centre sales team, which guided him at every step throughout the buying process of the vehicle.

JAC T8 is a turbocharged pickup designed to tackle all the terrains. Be it business or leisure, JAC T8 will always live up to the occasion. The sporty pickup is equipped with a Turbocharged engine generating 290Nm of Torque. With leather seats and soft-touch interiors, the T8 offers elegant comfort and a dash of luxury. Being an arsenal of features such as cruise control, alloy wheels, rear parking sensors, power steering followed by an aesthetic design that Screams toughness, the T8 holds everything to be a luxurious, off-road, work-hauling machine!