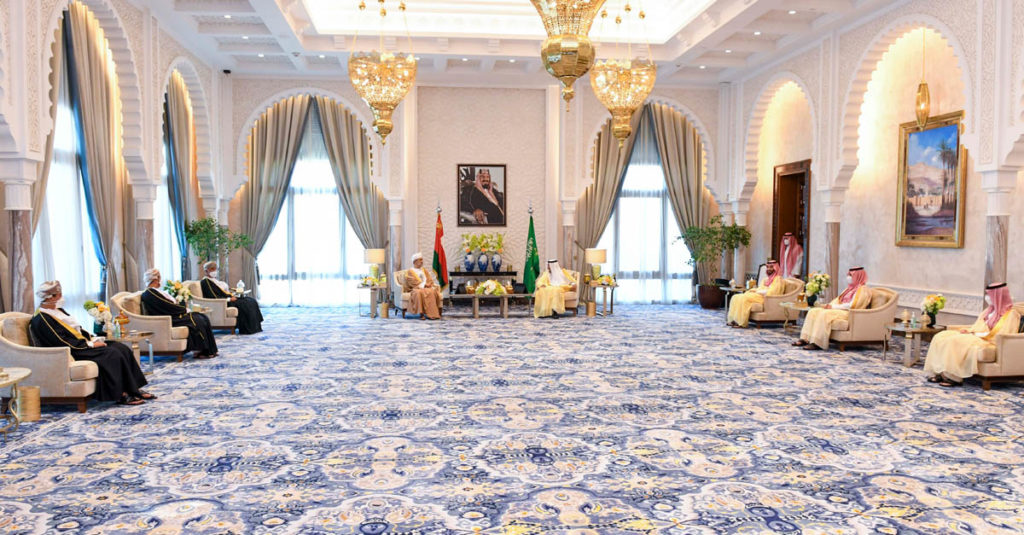 NEOM – His Majesty Sultan Haitham Bin Tarik and the Custodian of the Two Holy Mosques, King Salman bin Abdulaziz al-Saud of the Kingdom of Saudi Arabia (KSA) held a round of official talks at Neom Palace here today (July11).

At the outset of the talks, the Saudi monarch expressed his warm welcome to His Majesty the Sultan and commended the solid foundation of bilateral relations and the strong ties between the two countries. King Salman lauded the progress made in all spheres, noting that this visit will give impetus to bilateral cooperation and joint coordination.

In turn, His Majesty the Sultan affirmed that Saudi Arabia, under the leadership of the Custodian of the Two Holy Mosques, is progressing with firm confidence and shaping a brighter future. His Majesty the Sultan pointed out that relations between the Sultanate and Saudi Arabia are based on strong bonds of history and affinity. Various aspects of bilateral cooperation continue to gain grounds, which opens wider horizons towards the realization of aspirations of Omani and Saudi peoples, His Majesty the Sultan said.

The two leaders expressed their full satisfaction with joint coordination and understanding about issues of common concern, notably recent developments in the regional and international arenas in light of global events.

The talks session was attended from the Omani side by HH Sayyid Shihab bin Tarik al-Said, Deputy Prime Minister for Defence Affairs, Sayyid Khalid bin Hilal al-Busaidi, Minister of the Diwan of Royal Court, Gen. Sultan bin Mohammed al-Nu'amani, Minister of Royal Office, Sayyid Hamoud bin Faisal al-Busaidi, Minister of Interior, and Sayyid Badr bin Hamad al-Busaidi, Foreign Minister.

It was attended from the Saudi side by Prince Mohammed bin Salman al-Saud, Crown Prince, Deputy Prime Minister and Minister of Defence, Prince Abdulaziz bin Saud al-Saud, Minister of Interior (Head of Mission of Honour), Prince Faisal bin Farhan al-Saud, Foreign Minister, Dr Musaad bin Mohammed Al Aiban, Minister of State and member of the Council of Ministers, and Dr Majid bin Abdullah al-Qasabi, Minister of Commerce.
(Source: Oman News Agency)