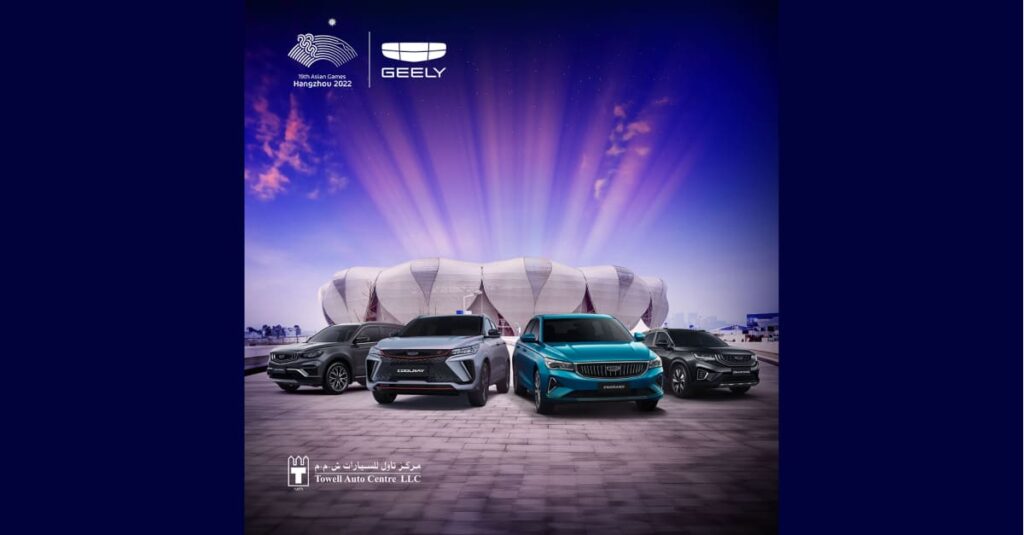 Geely, the renowned automotive brand, is pleased to announce its exciting "Test Drive and Win" campaign, offering car enthusiasts a unique opportunity to experience the thrill of a Geely car.

Geely's "Test Drive and Win" campaign, valid from August 15 to September 7, 2023, invites all individuals to test drive a Geely vehicle in the Sultanate of Oman to participate in the raffle and stand a chance to win an unforgettable trip to witness the 19th Asian Games in Hangzhou city. As part of the prize package, two lucky winners will receive two air tickets (economy class) and enjoy a two-night stay at a luxurious hotel in Hangzhou city. Geely Auto will ensure an unforgettable experience during the trip, with a one-day guided tour of Hangzhou city, including a visit to the iconic Geely HQ, where innovation and automotive excellence converge. The winners will also be provided with transportation by Geely throughout their stay for a hassle-free and enjoyable visit.

The raffle for the "Test Drive and Win" campaign will be conducted on 1September 10, 2023, and Geely Auto eagerly awaits the announcement of the two lucky winners who will embark on a once-in-a-lifetime journey to experience the 19th Asian Games.

Geely Auto is proud to sponsor this remarkable campaign which aims to reward Geely's valued customers and showcase the brand's commitment to providing exceptional experiences. The campaign aligns with Geely's vision of being at the forefront of innovation, offering top-of-the-line vehicles that epitomize style, performance, and cutting-edge technology.

Geely's current lineup of cars features the All New Azkarra, All New Emgrand, All New Okavango, and All New 2024 Coolray. Each variant boasts sophisticated design elements, superior comfort, advanced safety features, and powerful performance, making every Geely driving experience truly special.

All-New CoolRay
The All-new Coolray is a car that combines advanced safety features, stylish design, and a wealth of cutting-edge technology. With intelligent cruise control, blind spot detection, and lane departure warning, the Coolray prioritizes driver and passenger safety. Its sleek and sporty exterior, featuring a unique grille, spoiler, rear quad exhaust, and a powerful 1.5 turbo engine, exudes energy and dynamism. Step inside, and you'll be greeted by a 540° HD panoramic view, auto parking assist, and a host of other features that enhance the convenience and add a touch of luxury. With its impressive powertrain, eye-catching design, tech-savvy features, and unwavering commitment to safety, the All-new Coolray sets a new standard in the SUV market, making it a top choice for drivers seeking both excitement and peace of mind.

All-New Emgrand
The All-new Emgrand Sedan by Geely is a stylish and affordable car that exceeds the expectations of Omani drivers. It showcases a captivating design that is truly a work of art. From its bold curves and sleek lines to its elegant details, the Emgrand Sedan stands out with its modern and dynamic appearance. Inside, the cabin offers spaciousness and luxury, featuring high-quality materials and comfortable seating. But it's not just about looks—the Emgrand Sedan also prioritizes safety with advanced features like ABS, EBD, Electronic Stability Program, and six airbags. With its exceptional performance, intelligent design, and trusted brand reputation, the Geely Emgrand Sedan provides both peace of mind and a delightful driving experience.

All-New Okavango
Geely Auto's All-New Okavango is making waves as the automaker's largest multi-utility vehicle (MUV) to date, marking its entry into the competitive D-segment MUV market. With its spacious seven-seater capacity and a suite of Geely's latest technologies, the Okavango sets new standards in this segment. The MUV offers three driving modes, a 360-degree HD panorama image, and features like HDC HHC for adventurous drives. Geely's commitment to design and functionality shines through with the Okavango's broad and muscular exterior, providing a perfect balance of space and functionality. With a focus on sustainability, the Okavango boasts an odourless and environmentally friendly interior, along with advanced air purification systems. The All-New Okavango is a compelling choice for those seeking a spacious, versatile, and environmentally friendly MUV.

All-New Azakarra 4WD
Experience the ultimate in luxury and performance with the All-new Azkarra, a lifestyle-inspired premium SUV. This premium vehicle offers an array of standout features, including premium Nappa leather seats, a 7-inch HD Cluster, and a spacious yet eco-friendly cockpit. Capture every angle with the 360° camera and enjoy the convenience of wireless smartphone charging on the go. The Azkarra combines power and efficiency with its 1.5-liter turbo engine and 48V Electric Motor Synergy mild hybrid system. Its sleek exterior design, featuring LED headlights and a unique front grille design, will turn heads wherever you go. Stay safe and confident on the road with the Advanced Driver Assistance System, while customizable driving modes allow you to tailor your driving experience. Luxury meets practicality with the panoramic sunroof and a 12.3-inch entertainment screen. Elevate your driving experience with the

All-new Azkarra SUV.
Don't miss out on this incredible opportunity to test drive a Geely vehicle and win a memorable trip to the prestigious 19th Asian Games. Visit your nearest Geely-operated location in the Sultanate of Oman and be a part of Geely's "Test Drive and Win" campaign today!

In Oman, Geely vehicles are brought to you by Towell Auto Centre LLC. So, the people in the Sultanate of Oman can be assured of the best-in-class automobile experience. To know more about the offer in Geely Oman or to buy a car in Oman, visit www.geelyoman.com or the nearest Geely Oman showroom.
For any queries or to book a test drive, contact at ph: +968 94440666 or send an email to [email protected]. We're always happy to answer any questions you may have and help you find the perfect car to fit your needs and budget. Be a proud owner of a Geely car in Oman today!