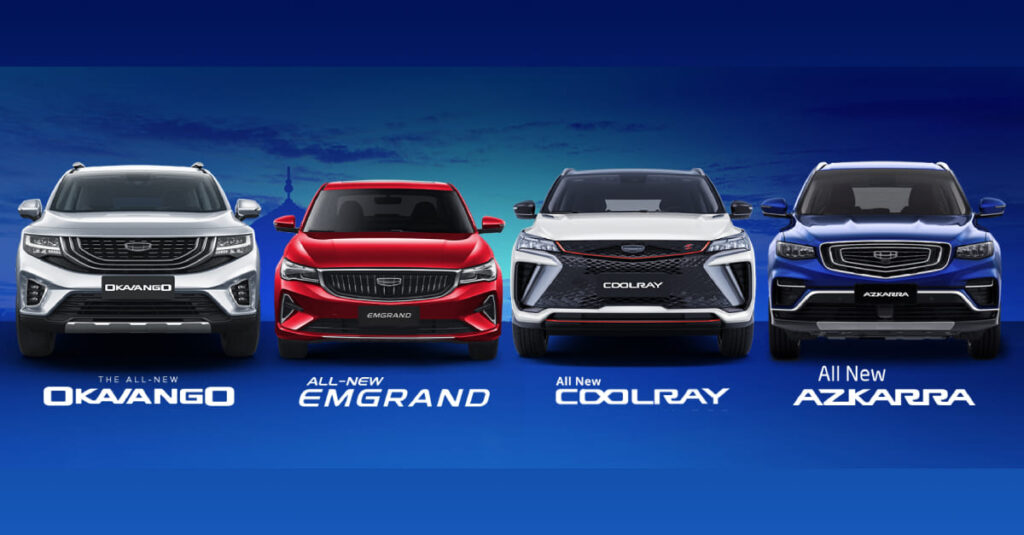 MUSCAT – Geely Motors and Towell Auto Center (TAC) have joined forces to deliver a remarkable range of new vehicles that perfectly combine style, performance, and affordability. As the 'Season to Explore', offer approaches its conclusion. The car enthusiasts in Oman looking forward to owning Geely's revolutionary models, including the All-New CoolRay, All-New Emgrand, All-New Okavango, and All-New Azkarra can visit any Geely showroom and make the most of the Season to Explore campaign before it ends on  June 29, 2023.

Discover the amazing benefits that come with these All-New vehicles by Geely, including cash gifts, registration, a comprehensive service package, a manufacturer's warranty, and free roadside assistance. Take advantage of these exceptional offerings and visit the showroom for precise details tailored to your chosen model variant and manufacturing year. Please note that benefits may vary based on model variants, model year, and manufacturing year. Conditions apply. Visit the showroom for exact details.

All-New CoolRay
The All-new Coolray is a car that combines advanced safety features, stylish design, and a wealth of cutting-edge technology. With intelligent cruise control, blind spot detection, and lane departure warning, the Coolray prioritizes driver and passenger safety. Its sleek and sporty exterior, featuring a unique grille, spoiler, rear quad exhaust, and a powerful 1.5 turbo engine, exudes energy and dynamism. Step inside, and you'll be greeted by a 540° HD panoramic view, auto parking assist, and a host of other features that enhance the convenience and add a touch of luxury. With its impressive powertrain, eye-catching design, tech-savvy features, and unwavering commitment to safety, the All-new Coolray sets a new standard in the SUV market, making it a top choice for drivers seeking both excitement and peace of mind.

All-New Emgrand
The All-new Emgrand Sedan by Geely is a stylish and affordable car that exceeds the expectations of Omani drivers. It showcases a captivating design that is truly a work of art. From its bold curves and sleek lines to its elegant details, the Emgrand Sedan stands out with its modern and dynamic appearance. Inside, the cabin offers spaciousness and luxury, featuring high-quality materials and comfortable seating. But it's not just about looks—the Emgrand Sedan also prioritizes safety with advanced features like ABS, EBD, Electronic Stability Program, and six airbags. With its exceptional performance, intelligent design, and trusted brand reputation, the Geely Emgrand Sedan provides both peace of mind and a delightful driving experience.

All-New Okavango
Geely Auto's All-New Okavango is making waves as the automaker's largest multi-utility vehicle (MUV) to date, marking its entry into the competitive D-segment MUV market. With its spacious seven-seater capacity and a suite of Geely's latest technologies, the Okavango sets new standards in this segment. The MUV offers three driving modes, a 360-degree HD panorama image, and features like HDC HHC for adventurous drives. Geely's commitment to design and functionality shines through with the Okavango's broad and muscular exterior, providing a perfect balance of space and functionality. With a focus on sustainability, the Okavango boasts an odourless and environmentally friendly interior, along with advanced air purification systems. The All-New Okavango is a compelling choice for those seeking a spacious, versatile, and environmentally friendly MUV.

All-New Azakarra 4WD
Experience the ultimate in luxury and performance with the All-new Azkarra, a lifestyle-inspired premium SUV. This premium vehicle offers an array of standout features, including premium Nappa leather seats, a 7-inch HD Cluster, and a spacious yet eco-friendly cockpit. Capture every angle with the 360° camera and enjoy the convenience of wireless smartphone charging on the go. The Azkarra combines power and efficiency with its 1.5-liter turbo engine and 48V Electric Motor Synergy mild hybrid system. Its sleek exterior design, featuring LED headlights and a unique front grille design, will turn heads wherever you go. Stay safe and confident on the road with the Advanced Driver Assistance System, while customizable driving modes allow you to tailor your driving experience. Luxury meets practicality with the panoramic sunroof and a 12.3-inch entertainment screen. Elevate your driving experience with the All-new Azkarra SUV.

As the 'Season to Explore' offer is ending soon, now is the perfect opportunity for car enthusiasts to become proud owners of a Geely car in Oman. In Oman, Geely vehicles are brought to you by Towell Auto Centre LLC. To buy a car in Oman or book a test drive and get unbelievable offers, visit the nearest Geely Oman showroom or visit www.geelyoman.com.