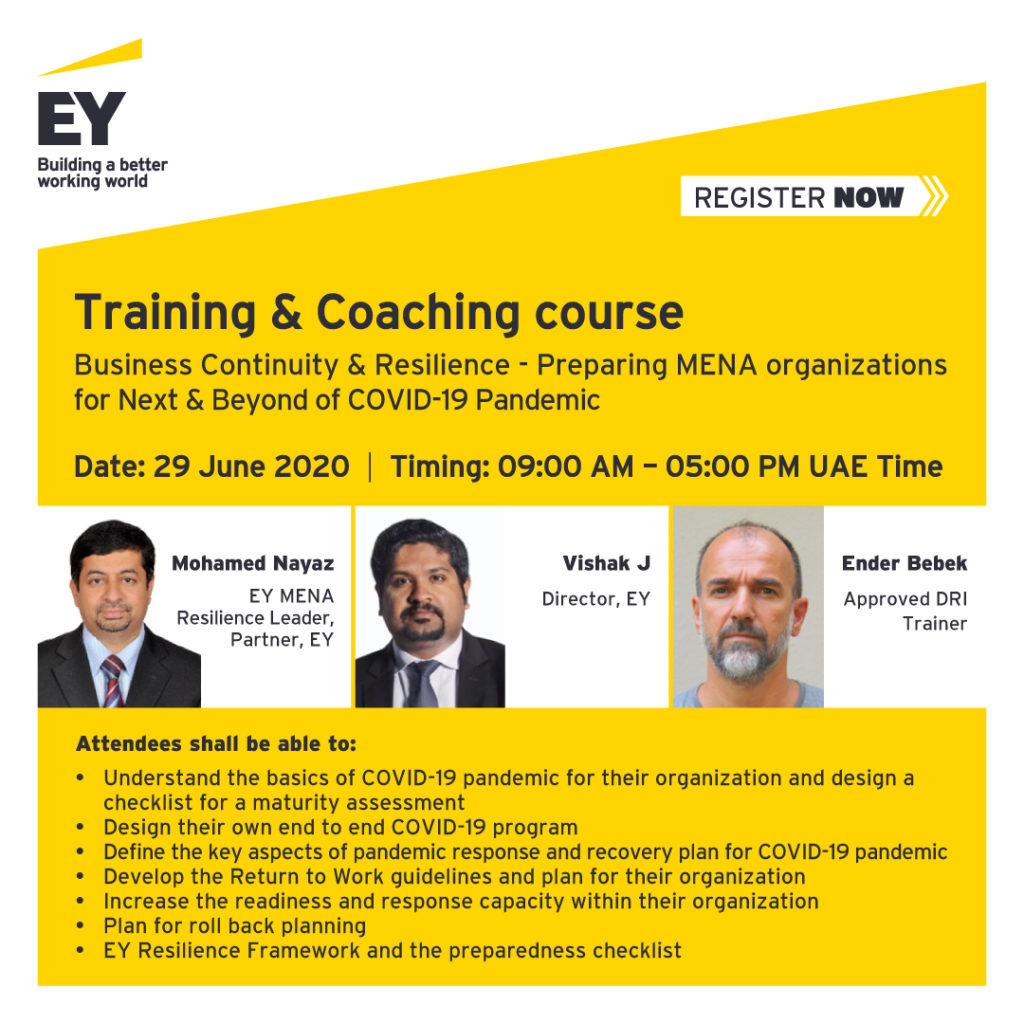 Muscat, Oman – 21 June 2020: Ernst & Young (EY) has opened the registration for its Business Continuity and Resilience online training course and coaching session, taking place on 29 June 2020. The full-day webinar, managed by Omanexpo, will focus on preparing organizations for the phases beyond the COVID-19 pandemic.
The online course and coaching will advise participants on how to design their own end-to-end COVID-19 program, define key aspects of their pandemic response and recovery plan, develop appropriate 'return to work' guidelines, increase the readiness and response capacity within their organization, and go over roll-back planning.
Participants will also be able to leverage for their organizations the EY COVID-19 Enterprise Resilience Assessment Tool, an easy and pragmatic way to understand the resilience of an enterprise and enable a clear prioritization of actions. In addition, participants will benefit from the EY Resilience Framework and preparedness checklist, a holistic COVID-19 pandemic resilience management approach, as well as EY thought leadership material on resuming work after the pandemic.
Mohamed Nayaz, MENA Resilience Leader, EY says: "Many businesses found themselves unprepared to manage the challenges of the COVID-19 pandemic and are greatly concerned with how to rework their business model to address the immediate impact, as well as how to remain resilient in the face of future adversities. The attendees of this webinar will be introduced to a tailored methodology that will help them ensure business continuity and resilience during this pandemic and for years to come."
The course, aimed at chief risk officers, chief resilience officers, and heads of business continuity, will support enterprises from across all sectors in developing robust resilience capabilities and preparedness across all business functions.
To learn more about the webinar program and enroll, please visit: http://www.omanexpo.com/Business-Continuity-and-Resilience-course-EY.php