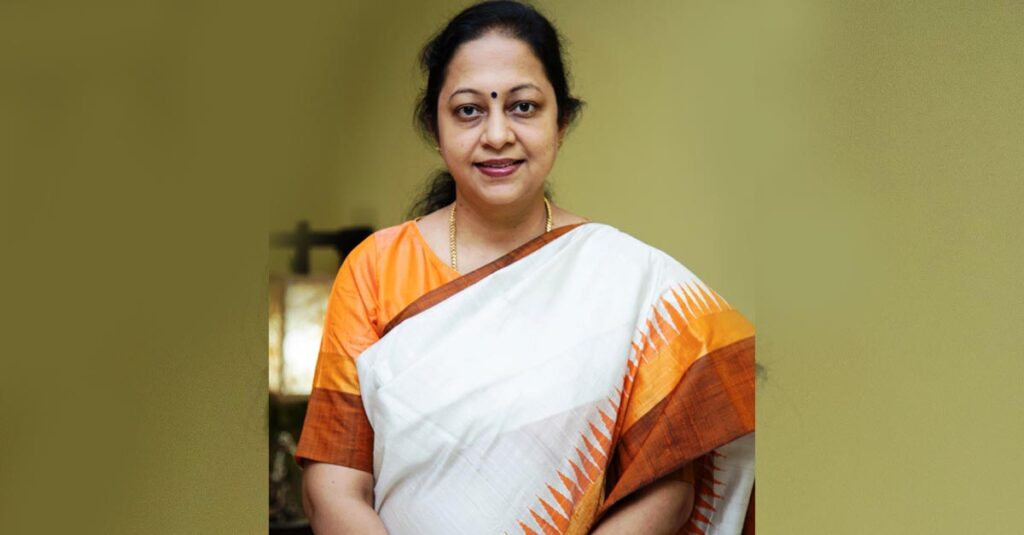 MUSCAT – Noted yoga expert and Tanjore artist Dr Kavitha Ramakrishna has embarked on a special journey to promote a unique therapy by combining the benefits of yoga and art (painting). Blending her proficiency in yoga and expertise in Tanjore painting, she is helping participants in her class enhance their overall wellbeing by practicing the two forms together.

A blend of art and yoga
At her sessions, Tanjore painting is practiced after a yoga class. Students enter the creative process after performing savasana, the final resting yoga pose. The aim is to stay connected with yoga while starting the painting process. At times, she also encourages the students to place the canvas on the yoga mat and create the Tanjore artwork as they practice the asanas using art materials such as gold foils, precious stones, and others. After having understood the advantages of integrating yoga practice with art forms, such as Tanjore painting, Dr Kavitha started her art-yoga therapy classes. She realised that it positively influences the creative process and increases overall wellbeing in practitioners.

Artistic expression
"When we mix yoga with art, we make room for artistic expression and create space for acceptance, creativity and wellness. When in the artistic state, one enters a state of mediation, which, according to yogic principles, helps one attain wellbeing of the body, mind and spirit," she said.

Positive response"While yoga has been used to find ease, calm the mind, and build awareness in the body, Tanjore painting is a powerful tool for self-realisation and for exploring an alternative path to healing," she explained, adding that she has received positive response to it because of the accrued benefits.
Powerful connection
"My connection to yoga and art is a powerful, personal one, and I want to share its benefits with others," she said. Kavitha has been sharing her unique yoga knowledge, free, for those interested in learning the practice that involves the combination of asanas (postures and poses), pranayama (regulated breathing), and samyana (meditation and relaxation). Recently, she incorporated the element of Tanjore paintings too. Kavitha has also been popularising the ancient art form Tanjore by offering free training and teaching on offline and e-learning platforms.
Honorary doctorate
Dr Kavitha has also penned a book, Tamoghna, on the therapeutic technique of surya namaskar (salutations to the sun). She was awarded a honorary doctorate from the Yoga University of the Americas in Florida and recognised by the Yoga University of the Americas, an institution of higher learning incorporated in the USA and authorised by the commission for independent education under Florida Statute, to conduct education programmes and award doctoral masters and other degrees, for her service in the field of yoga and social services.