By Adarsh Madhavan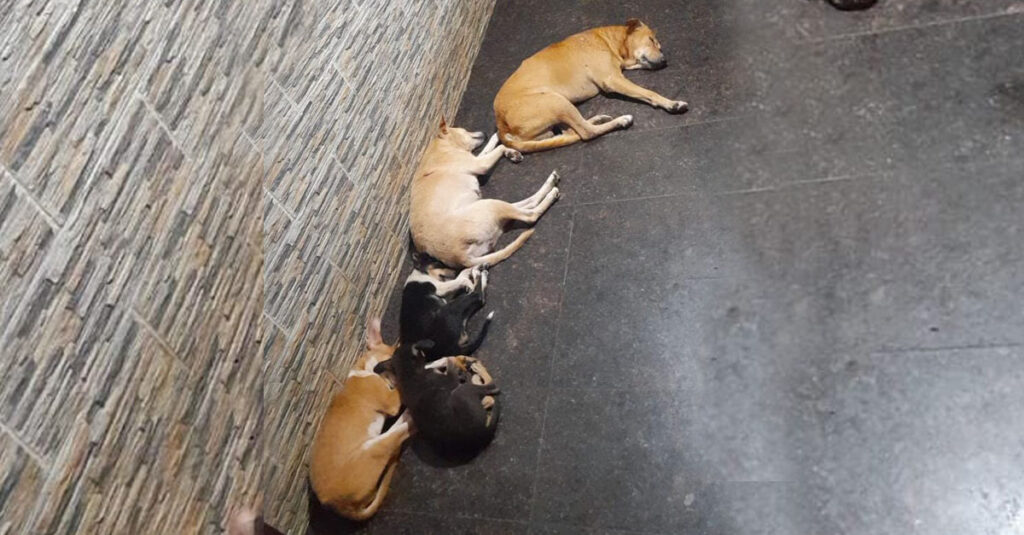 Kerala is in the grip of a stray 'dog' fever. After the COVID-19 pandemic fear, this stray dog fever has taken the state by storm – this seems to be the topic on every lips; this is the biggest 'happening' thing in 'God's Own Country'. And everyone wants to have a say in it, but then some are having a field day as they are looking forward to the moment when an order will be out where they can go and 'legally' kill every stray dog in sight, that is if they are not doing so already.

Voices drowned
The voices of animal lovers and rights' activists are drowning in the sea of this cacophony, which has risen to a crescendo. And it is rising further.
But, this time there are too many points against the streeties out there, especially the rabid and violent ones, or at least, so say the media.The points to consider are simple: there is an increase in stray dog bite cases. It is indeed not the imagination of the usually rabble-rousing segment of the public. Mounting dog bite cases have forced the authorities concerned in the state to approach the Supreme Court seeking its permission to kill the violent ones among the streeties.
Bite cases increasing
The state had no option but to press the emergency button as the stray bite cases increased manifold. Recent reports also revealed some statistics that have clearly put street dogs in a bad light.
"More than 95,000 people received dog bites in the last eight months and 14 deaths compared to 11 last year. Out of 14 deaths, five of them have taken the Intra Venal Rabies Vaccine. Statistics in the last five years show cases are going up steadily — in 2018 1,48,899, 2019 1,61,055, 2020 1,60,483, 2021 2,21, 379 and in 2022 till August 1,21, 529 cases. Rabies' deaths are also on the rise: in 2018 9 cases, 2019 8, 2020 5, 2021 11 and 2022 till August 14 deaths," a report in The Hindustan Times said.

Panic button
Is this enough to press the panic button? Well, that depends, but since the choice is between human lives against unwanted street dogs, there is not much choice.
"Well, either you or your family member need to be bitten for you to clearly understand what it feels like when a street dog suddenly pounces on you and bite you," a morning walker commented when asked about his opinion on the current streets' dog scene. He also dismissed the query whether this frenzy about street dogs in Kerala was something unusual. "Take a walk on Kannur's beautiful Payyambalam beach walk area – the place is teeming with stray dogs," he said in an obvious distaste for the furry creatures, which he claims obstructs the path of his and other walkers, joggers and exercise enthusiasts.

Not dangerous as claimed
But, vendors on the beach note that while they certainly don't entertain the dogs, the latter clearly were neither dangerous nor do they ever obstruct anyone's path. "They are all well behaved and moreover, they are clearly scared of the beach visitors as most of them don't allow them to come near and are quite often shooed away." In other words, these dogs are harmless, but in the current context, they are street dogs and many of them across the state are turning rabid.
Who will console the victims' families?
As the seesaw arguments continue, one cannot but forget the ones who are the real and unfortunate victims of the rabid and violent dogs. The silence from their end is deafening as the loved ones of the victims are yet to recover from the shock of their tragic loss. In a day and age like this, is this the way to die? Should we die of a dog bite? And what words or actions will ever console the families of these poor victims?

What logic, asks bitten person
Also, as one bitten person, who thankfully is still alive to tell the tale, notes angrily: "There are laws to kill boars and pigs that harm small farms or when hit by swine flu; there are laws to cull birds when bird flu happens; people have no issue in killing and eating chicken (hens), mutton (goats) and beef (cows). But, there is a huge protest (from animal activists) when dogs that bite innocent people, especially the elderly and young children, are demanded to be put down. What kind of logic is this?"

Something wrong, somewhere…
However, there is logic and not as mentioned in the above angry outburst of a living victim, who by the way has every right to express that sentiment.
But mind you, the street dogs did not come from our backyards. They were not some monsters created in a secret lab. They did not appear out of thin air. They – especially the rabid and violent dogs – are a part of a failed system. A system that allows garbage to be randomly thrown in any vacant spot… Why? Because there is no place where garbage can be officially dumped; a system that does not rigidly implement an ABC (animal birth control) or a TNR (trap, neuter and release) programme to reduce the ever-growing population of the street dogs; a system where the medical means provided to protect the bitten person sometimes even fails to prevent them from succumbing to their bite wounds; a system that does not provide shelters to house the dogs and give them some well-deserved food; a system that has turned a blind eye to the problem until it became too late; a system that does not bother to team up with animal lovers and provide space and provisions to take care of these dogs, which are also beings emanating from the same divine force that is said to have created all of us.
If my child got bitten…
And here is also a question to ponder: Who are we to take another's life? Of course, if it happened to my child, to my family member, to me, would I be sitting here and pontificating thus? Would I be penning this note in a tone that almost sounds like a defence to the rabid and dangerous dogs? No, I would be taking the same stance as the families of the victims if the rabid creatures harmed a member of my family. There is no doubt about that.

An eye for an eye…
But then a wise old man's words gently ring in our ears. Amidst this noise pollution, this baying for blood, a former great leader's soft and gentle voice cuts a scythe through these noisy twitters: "An eye for an eye will make the whole world blind."

Can you allow it to pass?
But, how can you equate these rabid, four-legged mutts with the two-legged ones, who — of course, we do not deny — may also indulge in rape, mutilation, killing and destroying of innocent people? However, we cannot weigh them both with the same scale, they argue.
As we grudgingly listen to these rants and raves, the question still remains whether we are driven to act in the same manner and with the same anger and passion when our loved ones are harmed by our own fellowmen? Will we just sit still and allow it to pass?

You can't play with the law
Will we pass laws to immediately destroy the ones who harm and kill the ones among us? No. We will not. For, there is already a law. And that law does not allow us to take it for granted or allow us to use it to our own whims and fancies, nor, does it say, you may destroy the ones that destroyed your family member or your loved ones. No law will state that.
Must be contained, but…
Of course, the problem has to be solved; these rabid and violent dogs must be contained. But, the question here is how are we going to distinguish the good ones from the bad? Will the ones who may physically implement these laws — that the media claims are going to be passed soon — know the difference between a rabid, violent dog and an innocent, harmless, tired, hungry and helpless creature that is there on the street for no fault of its own?
Barking up the wrong tree?
And therein lurks the thought worming up in our brain: are we barking up the wrong tree?