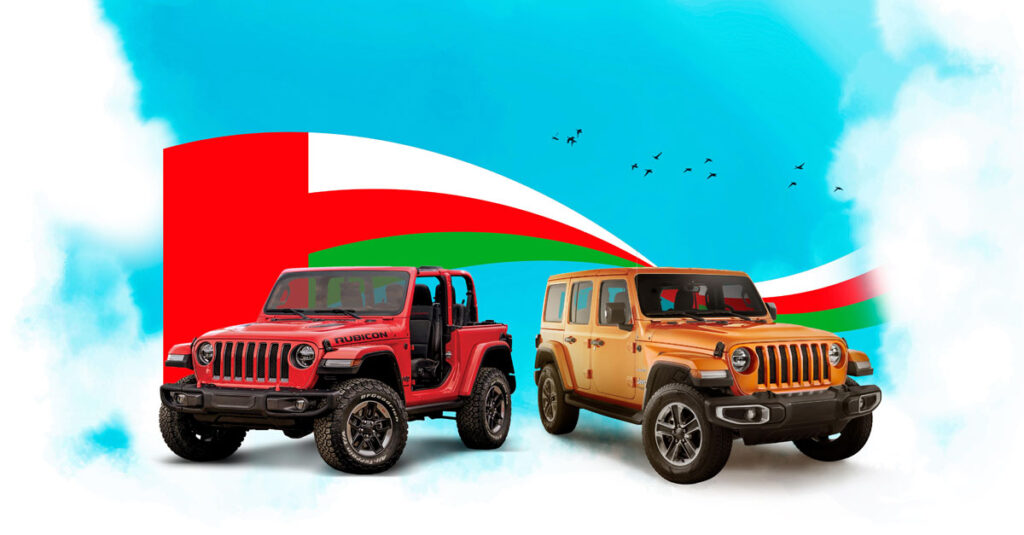 MUSCAT – Dhofar Automotive, the official distributor of Chrysler, Jeep, Dodge, Fiat, Ram, Alfa Romeo vehicles in the Sultanate of Oman, announced the beginning of its 51st National Day celebrations. On this glorious occasion, Dhofar Automotive showrooms welcome their valued customers to take advantage of the valuable offers that were launched at the beginning of November and will continue until December 31.

The offer host several incredible benefits on select Jeep models, including the Wrangler Unlimited Sport 4-door, which is available in monthly installments starting from OMR 218, as well as the Wrangler Sport 2-door, available with monthly installments starting from OMR 196. In addition, it will also see cash prizes of OMR 501 for the first 51 customers who purchase any of the models included in the offers during November and December. Customers will also receive free insurance and registration for the first year, warranty and roadside assistance for 5 years, a service package for 3 years/60,000 km, 501 liters of free fuel alongside other benefits that guarantee a unique ownership experience from Dhofar Automotive.

Commenting on the National Day offers and celebrations, Hatem El-Naggar, General Manager at Dhofar Automotive, said, "Dhofar Automotive has always sought to share joyous occasions with its valued customers and the commemoration of this glorious event holds immense importance to everyone at Dhofar Automotive. We are all proud of the Sultanate's achievements and the milestones attained over the years and it is our honor to be able to observe Oman's rich history and heritage on this day. Moreover, apart from holding this special occasion, our showrooms will be decorated with the Omani flag. During this time, we will be presenting incredible offers on our renowned brands and selected models that are favoured by everyone here in Oman."
The range of distinctive models of the Jeep brand included in the National Day offers include the Wrangler Unlimited Sport 4-door, available through monthly installments starting from OMR 218, and the Wrangler Sport 2-door available with monthly installments starting from OMR 196. These models have seen widespread interest and popularity within Oman and are well-known for their superior capabilities and performance in various conditions, surpassing other vehicles in their class.

"The offers and discounts at Dhofar Automotive in celebration of the 51st National Day will be valid until December 31. We invite our valued customers to visit our showrooms and take advantage of the benefits of the offer available on the select Jeep vehicles," he added.

In the Sultanate, Chrysler, Jeep, Dodge, Fiat, Ram, Alfa Romeo models are available at Dhofar Automotive showrooms with different equipment classes. For more information visit www.dhofarautomotive.com or call +96824500530.