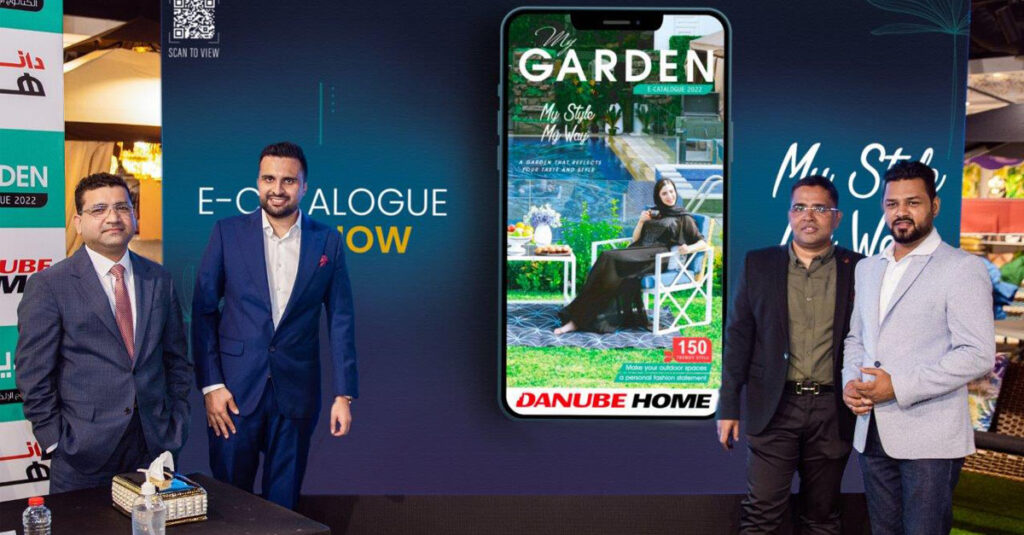 MUSCAT – Danube Home invites everyone to live a little bigger outdoors, to weave a little piece of heaven in the urban jungle, with the launch of its new Garden Collection in stores in Oman, the UAE, Bahrain and online at www.danubehome.com.

With over 2500 outdoor furnishings, themed furniture pieces, and garden accessories – Danube Home is the ultimate winter weather destination for your front-yard, back-yard, terrace, and balcony needs.

Whether you wish to cover your outdoor space with emerald-green, silky, fine grass dotted with geometrically aligned pebbles, in the midst of which squats a fountain elegantly squirting water into a basin, while a golden lamp accentuates your themed outdoor furniture, where in the winter-time you can share a hearty laughter with your loved ones, Danube Home gives you a luxurious opportunity to reconnect with nature through its "My Style, My Way" garden collection. Artistically incorporating the vision for simplicity, sophistication, and functionality of design into this year's Garden Collection, customers are offered an eclectic choice of popular colour pallets, hard and soft top gazebos, quirky and fun kids play items, outdoor furniture, BBQ sets, camping equipment, décor pieces and fountains, grass carpets, and everything that can elevate any outdoor space into a family retreat.

Speaking on the occasion, Adel Sajan, Managing Director Danube Group, commented: "With special attention paid to aesthetically combining comfort, craft, and functionality, Danube Home's My Style My Way themed Garden collection stands a cut above the rest because it offers our valued customers a bewildering array of choices, exceptional value, great comfort, and functionality without compromising on style. With winter arriving soon, Danube Home's My Garden Collection ensures that your outdoors could be the most emphatic statement of self-expression."

The new Family Collection includes larger lounge sets that fit the whole family to smaller lounge sets that most elegantly fit into your space. Whether you have a large outdoor space or relatively small, My Style My Way themed gazebos, umbrellas, sofas, and dining collection ensure consistency of style and colour and comfort. On top of that, you can take your outdoor game up a notch by customizing your pillows to perfectly match your furniture. With the bewildering selection of pieces perfect for even the smallest of space, your balcony or terrace could be a perfect statement of style.

Imbibing the spirit of space travel and mimicking candy-land, the themed garden collection for kids includes a selection of swings, slides, & trampolines to create a perfect setting for mischief and play. Focused on elevating your backyard game to chime in perfectly with your dreams, Danube Home has put together a highly experienced team of designers to transform your outdoor into a scrumptious piece of visual delight.

Shubhojit Mahalanobis, Director Retail & Danube Hospitality Solutions, was quoted as saying, "anticipating a hike in spending on outdoor furniture in preparation for the start of winter season in the Gulf Region in the coming weeks, we have launched our much-awaited Garden e-Catalogue boasting an incredible array of choices and unbelievable product depth, so much so that consumers can make their outdoors spaces as fun and relaxing as possible. As a customer-focused retailer we understand that, with the advent of cooler weather, people are gearing up to spend more time with friends and families in their back-yards, front-yards, patios, terraces, and balconies, therefore we want to have those things that make their stay meaningful, exciting, and pleasing. There is an increased interest right now in improving and enjoying the outdoors of homes. That is why we have strategically shifted our focus on ways to make outdoor spaces into staycation destinations."

Syed Habib, Director Business Development Franchise and e-Commerce, speaking candidly on the occasion said, "The Pandemic has had a profound effect on the concept of outdoor spaces and garden furniture. The search for safer outdoor hangouts became a hot trend among homebound people and that explains the increased focus on sprucing up the outdoor living spaces. This trend has attained permanence. Keeping tabs on the pulse of market and changing consumer preferences, Danube Home has launched My Style My Way Garden. We believe that every single person is different. People have experiences, opinions, emotions, and sense of style that are unique to them. And people like their clothing, homes, and immediate environments to be representative of what makes them unique. So, why our outdoors should be left behind? We, at Danube Home, clearly understand this. That is why this year's My Style My Way Garden e-Catalogue sets out to achieve just that, helping our customers in transforming their outdoors to be a statement of their uniqueness. On the basis of our years of exhaustive research and through a year-long meticulous planning, we have put together a garden collection of the highest quality, incomparable range, and ready availability that would allow you to set up your outdoors in innumerable number of ways, and each of them will be a hit."

The new collection is exciting, ingenious, and fun in aesthetically pleasing ways. The richness of designs and the incredible depth of the collection will allow customers to create countless arrangements that will enhance your outdoors, giving it a distinctive personality.