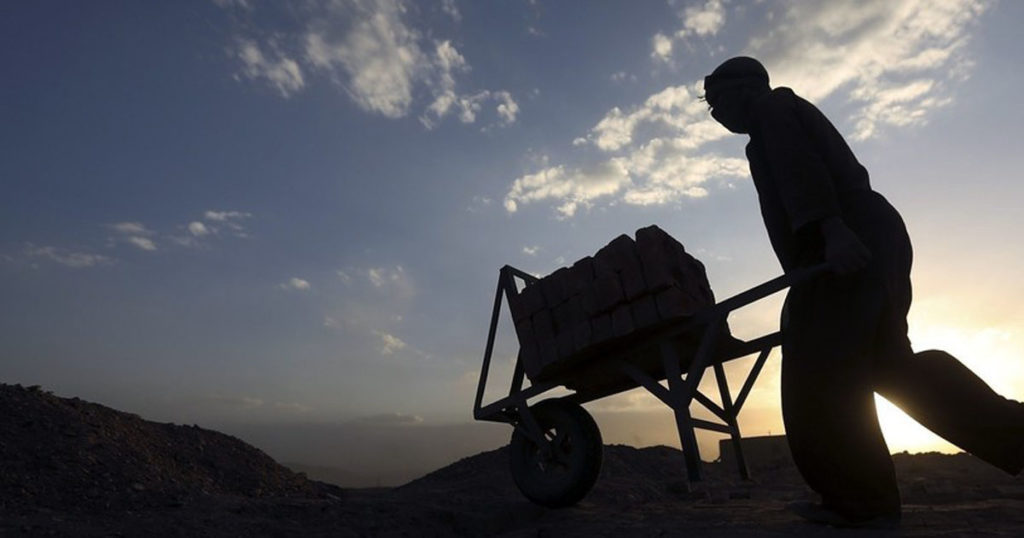 Labourers reveal the trials and tribulations they face due to the health crisis
The COVID-19 crisis has pushed migrant labourers to the very edge. While world over migrant labourers have endured a history of suffering, the current Corona virus crisis has deepened the inequalities too, making them suffer perhaps one of the harshest periods in their lives.
Governments of the countries where these migrant labourers are currently stuck in are doing all that they can to ameliorate the latter's situation, still, it is an uphill task as battling the corona virus alone have had their hands full. Thereby, guest workers in their host countries are often seen fending for themselves.
And like elsewhere, in Oman too, the authorities concerned, the various embassies of these migrant workers and the countries from where they originate are all engaged in attempts to help the migrant labourers concerned, but yet they undergo various difficulties, ranging from lack of work, money, food and even a roof above their heads.
A cursory look into their plight could prove to be reality check for many.
Black & White, with their current 'Corona Diaries' drive takes a peek into the lives of the migrant labourers here.  Featuring the word bites of six migrant labourers from Pakistan, who not only opened their doors, but also their hearts out to the world on how they are facing the current crisis.
"How do we fill our stomachs?"
Sajjid (Pakistan)
I am a resident of Oman for nearly a decade now. Never before have I ever experienced what I am currently undergoing. It is scary and I am yet to come to terms with it. Our lives have been shattered.
First, there was a standstill and it has continued for over two months now. I pray. I pray with all my might to the Almighty to deliver me from this crisis. We can only pray. I don't know what else to do.
No, neither I, nor the people I have been with have come into contact with anyone who is affected by the corona virus. Yet, that has not made us careless. In fact, we are even more vigilant. All of us wear gloves, masks, and use hand sanitisers.
Our brothers, the members of the Royal Oman Police (ROP), have been quite helpful. Whenever we come in front of them, they give us proper advice, tell us to not roam about and ask us maintain social distancing.
But, our problems are not in obeying orders; our problem is trying to fill our stomachs. There is no food. I survive, thanks to the help rendered by my friends.
Despite all this, I try to be positive. I try to tell myself that this will end and things will get better. But, time is running out. I have to go back because my visa will soon expire. If I have to renew my visa, I need funds. Where will I go for funds? I have not been able to send money home. My family, my children, need to be taken care of and there are other expenses…what will I do?
I just pray to the Almighty to get us out of this situation.
"Very down and depressed"
Mohamed Makthi (Lahore)
I am living in Muscat for some time now. Never have we witnessed such a situation as we are in now. The conditions are very difficult now. I am unable to earn anything due to the lockdown and for the work I did, I was not able to get my wages. The lockdown has been very hard on me. Without an earning and money, there is hardly anything to eat. I haven't been able to pay the rent. My mind is in turmoil right now. I pray to Almighty Allah to save us all from the corona virus, that it vanishes from the world forever so that this lockdown ends and there is peace everywhere.  I am very depressed and down, as I see no end in sight. I don't know why, I feel it is all over. I think it is all over for me.
"I was supposed to get married!"
Ghiyasuddin (Okara)
I have been working in Oman for the past two years in the fruit and vegetable market. The corona virus crisis has disrupted the workings of the entire market. Businesses are either unwell or totally down. Due to the lockdown, people cannot go out. All the restaurants and eateries are closed. Most people now buy food from supermarkets. However, people who depend on restaurants for food have nowhere else to go. We are at a loss as what to do.
Companies are cutting off staff and labours that were newly hired; they cannot find any work now. For the time being, our company is paying us, and I am still surviving. But for how long? If the crisis continues unabated, we will be pushed off the edge. There are many amongst us who want to go back home, but as of now there are no flights.
I was supposed to get married, but I couldn't fly back home for my own wedding, which was supposed to take place back home in Pakistan, as there aren't any flights. And there is no point in going back now, as I am not sure if I would be able to come back or not. That was the hardest part for me. I would like to request the government of Oman to relax the restrictions a bit as there is still a lot of uncertainty around us because of the crisis. Thank God, so far none of us have contracted the virus.
"Have put my family in trouble too"
Faisal (Sialkot)
Since the last three months, work has come to a standstill. I have also spent all my savings.   Now, there is no job and no money.
I live in Ruwi high street. Because of the crisis, we are unable to go out or get any other temporary jobs, so that we can earn something and help get us food, pay our rent.
And I am putting my folks back home in trouble too. My parents and my siblings back home are all dependant on me and we no longer have any money to live or subsist on.
"Can't survive without daily work"
Javed Iqbal (Okara)
The corona virus crisis has hit us hard. We have no work and for the last three months now, we have been stuck in our rooms. If that was the only issue, it would have been fine, but we have little or no money for our basic necessities or even food.
Whatever money we earned and saved is all over. We have neither work nor money. I know that the corona virus crisis has hit everyone, but for us labourers, it is far more difficult than anyone can imagine. For us, we totally depend on the daily work that we do and the daily wages we get. Without that, we will not be able to survive.
"I just want to fly back!"
Imran Ali (Faisalabad)
Almost every business is shut down because of the corona virus crisis. With it, our work and with it, our survival!  What is going to happen to us? What is our future?
Everything is unreal and we can hardly cope with this situation. I would like to humbly implore all of you out there to please understand our plight and give us some support. God, have mercy on us!
I am dying to go back to Pakistan but there no flights available.
I would like to plead to all out there to help me fly back to my country.