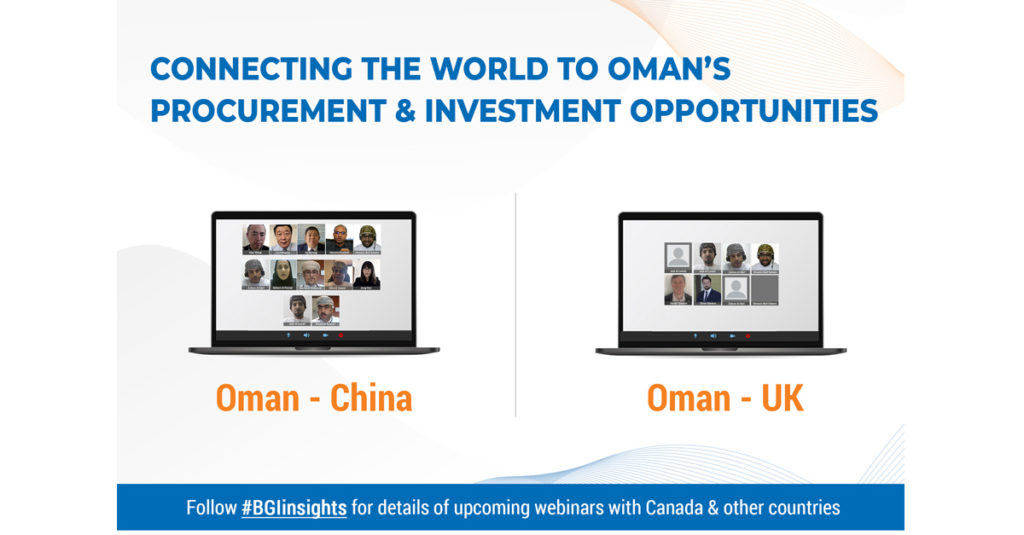 MUSCAT – Business Gateways recently launched an exciting webinar series – Connecting the international community to Oman's procurement and investment opportunities – intended to help Omani MSMEs and large businesses connect with a global audience of investors. Regarded as one of the Sultanate's most dynamic IT companies, Business Gateways is an IT organisation enabling and implementing nationwide technology-driven platforms of strategic importance for Governmental stakeholders.

"The strength of participation in our webinar series – in terms of online attendance and outreach – has been overwhelmingly positive," said Hemant Murkoth, CEO – Business Gateways. "The outstanding success of the webinars on China and UK gives us confidence that The Stage is an effective and powerful platform that helps the JSRS buyers and supplier's community connect and engage with investors and customers in target markets around the world."

The webinar series is hosted on an online knowledge-sharing platform, The Stage, an initiative of Business Gateways. Through these webinar-based presentations, stakeholders, suppliers, operators and embassies engage, discuss and share information on business prospects, with emphasis on showcasing procurement and investment opportunities in Oman to select international markets. The webinars are designed to empower Omani MSMEs and garner international visibility while also promoting and encouraging B2B Partnerships. Adding significant appeal to the event is the presence of key stakeholders representing promising new investment destinations in the Sultanate, and prominent public & private sector organisations in the target market.
Since its launch, the webinar series has garnered praise for its tangible success in shedding light on Oman's immense portfolio of procurement and investment opportunities to the world. China, given its unrivalled status as the global economic powerhouse, was the first international market to be featured in the series. Supported by the Embassy of the People's Republic of China (Oman), the webinar introduced China to Oman's market, upcoming projects and prospective B2B Partnership ventures.
Next in the series was the United Kingdom which, as the biggest contributor of foreign direct investment into the Sultanate, made for an impactful presence. Conducted under the Patronage of Oman's Ministry of Commerce, Industry & Investment Promotion (MoCIIP), the webinar titled 'Connecting UK to Oman's Procurement & Investment Opportunities' was a resounding success from all standpoints, with the backing from the Department for International Trade (UK), which is Britain's top policymaking body for trade and investment, in addition to the British Embassy in Muscat.
Opening remarks by Her Excellency Asila Bint Salim Al Samsamiyah, Undersecretary of Oman's Ministry of Commerce, Industry & Investment Promotion (MoCIIP), set the stage for roughly two hours of engaging presentations and discussions centring on a key message: 'Oman is open for business'. An overview of Britain's longstanding trade and economic partnership with Oman was presented by Gareth Stevens, Director of International Trade and First Secretary Defence and Security, British Embassy – Muscat. Additionally, sector-wise opportunities, spanning Oil & Gas, Renewable Energy, Free Zone Developments, as well as regulatory aspects governing these opportunities and more, were outlined by representatives from Petroleum Development Oman (PDO), Daleel Petroleum, Public Authority for Special Economic Zones and Free Zones (OPAZ), Addleshaw Goddard, and Business Gateways.
Buoyed by the immense success of the first two editions of its webinar series, Business Gateways is now targeting an array of promising new international markets. Taking centre-stage in June will be Canada, with its thriving hydrocarbon sector. And over the course of this year, the webinar series will also feature Italy, Switzerland, Singapore, Malaysia, Germany and the United States, among other markets. The webinar series builds on its efforts to help JSRS-registered Omani businesses access the global marketplace.
The Joint Supplier Registration System (JSRS), launched in 2014, is a 'single window' industry-level supplier certification system built and operated by Business Gateways at the behest of Oman's Ministry of Energy and Minerals.
For more details log on to (www.businessgateways.com)