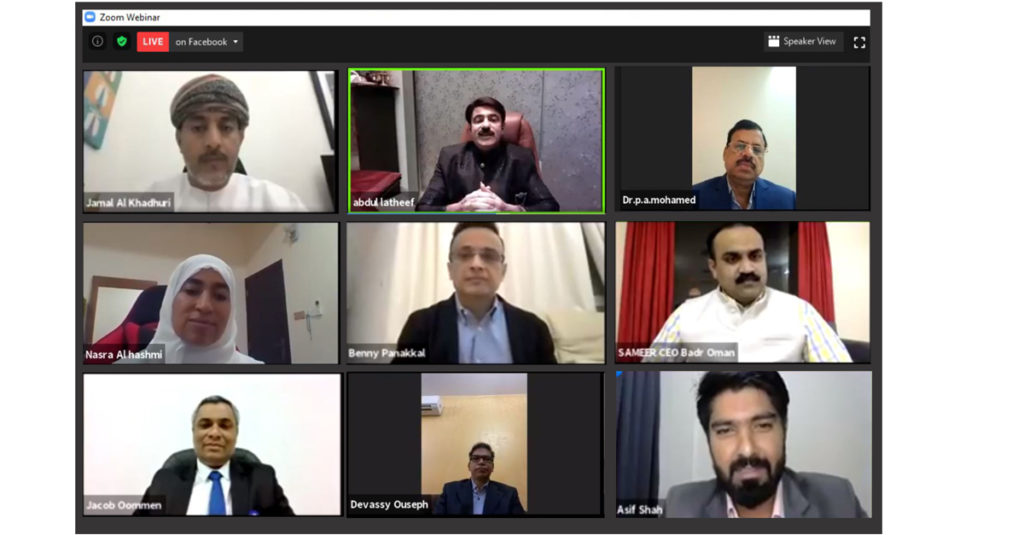 MUSCAT – Badr Al Samaa Group of Hospitals celebrated International Nurses Day by organising an online event. More than this year's nurses day theme, "Nurses: A Voice to Lead – a Vision for Future Healthcare", Badr Al Samaa dedicated this day for exemplary, selfless and tireless contribution of nurses in the fight against pandemic.

Dr Jamal Al Khadhuri, Director General, Directorate of Nursing Affairs, Ministry of Health (MOH) was the chief guest of the event and Nasra Al Hashmi, Director General – Nursing, Royal Hospital, MoH was guest of honour. The event was attended by managing directors of Badr Al Samaa, their senior management and hundreds of nurses from government and private healthcare institutions.

In his welcome address, Sameer P T, CEO said Nurses are the heroes of the fight against COVID. On this day we would like to appreciate the remarkable efforts taken by our nursing community. He expressed gratitude towards the Ministry of Health and Government Hospitals for extending every possible support including special training during the pandemic times. He said in the whole private sector Badr Al Samaa has contributed a maximum number of ICU beds, 65% of total.

Abdul Latheef, Managing Director speaking on the occasion said nurses are a vital part of the system and support of the Nursing Affairs department, MoH has helped us to adapt most modern policies in the department.  Every year we celebrate nurses day, but last and this year because of their efforts in fight against COVID we have a bigger reason to celebrate the hard-work and commitment of our nurses. Nursing is a blessed profession; nurses don't just earn a salary but prayers of the patients, which is important for a blessed and happy life.

Dr P A Mohammed, Managing said this year my respect and love for nurses has doubled by seeing how fearlessly they have taken the charge as frontline warriors in the fight against the COVID-19 pandemic. Nurses deserve much of the credit for your contributions in keeping the situation well in our hands. Our nurses have stretched themselves in these challenging times to balance the COVID-19 and regular healthcare services. Even after more than a year of this fight, we don't see the spirit of nurses becoming less.

Chief Guest of the event, Dr Jamal Al Khadhuri, Director General, Directorate of Nursing Affairs, MoH said today we are celebrating two Eids, one is Eid-ul-Fitr and another International Nurses day. He expressed gratitude to almost 20,000 nurses working in Sultanate of Oman. Badr Al Samaa has been a close partner to MoH in the fight against COVID-19 and we are very proud of Badr Al Samaa. He said nursing has evolved in pandemic; we need to invest more resources in development of this domain. He said nurses should be considered in leadership roles to ensure effective decision making in healthcare system.

Guest of Honour, Nasra Al Hashmi said that it is the right opportunity to express our humble gratitude to the most caring people of healthcare industry, nurses. She said government and private institution nurses have together taken the charge of the fight against the pandemic and have contributed so well that situation is within our hands and totally controlled.

Dr Benny Panakkal, Group Medical Director and Senior Consultant Interventional Cardiology said that the nurses right from the inception of this pandemic have been selflessly at the forefront. Not just their comfort they have sacrificed their personal and family commitments to give life to ailing patients. He appreciated their extraordinary contribution.

 K O Devassy, Chief Marketing Officer, said nursing community is committed to a lot of people to take care of peoples' health and they always carry out with the most attentive manner, carrying comfort and hope to thousands of patients. Their words of encouragement lift the public spirits.
There are more than 1000 nurses currently practicing in our group across the Middle East and they are a massive resource and their contributions especially during these distressing times are really commendable and valuable. They are worthy of our congratulations for their selfless work for the health of all people.

Asif Shah, Head Branding and Communication, who was also the anchor of the event, said today we are celebrating the contribution of most important people in our community, nurses. He said not for the regular services but for the fight against COVID-19 nurses deserves all praises and appreciation.

Jacob Oommen, Chief Operating Officer in his thank you note expressed gratitude to the chief guest and guest of honour, managing directors, senior management, nurses, and all other participants who participated in the event. He said we are proud of our nurses who never stepped back irrespective of many challenges and acted as true warriors in the fight against COVID-19.