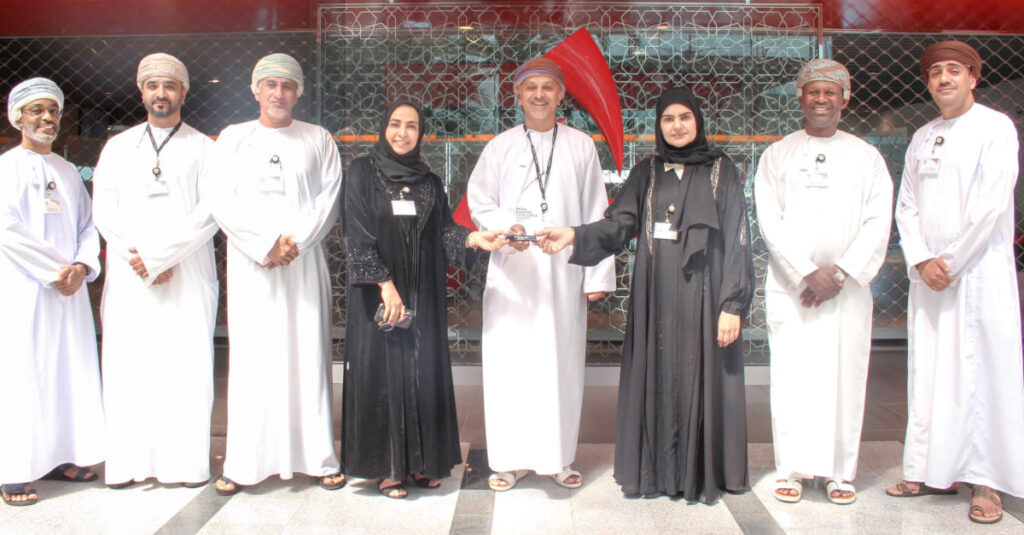 MUSCAT – In recognition of its excellent banking products, services, and its customer-centric vision to serve its customers better every day, Bank Muscat  was awarded the prestigious Best Retail Bank – Oman Award for the second consecutive year, at the recently-held MENA Banking Excellence Awards 2023 instituted by MEED. The award was received on behalf of the bank by Mohammed Sultan Al Habsi, Chief Representative, UAE Representative Office, Bank Muscat, at a glittering ceremony held in Dubai and attended by a number of senior bankers from across the region.

The MENA Banking Excellence Awards celebrated the achievements of the best banks in the region, which are focusing on innovative solutions and international best practices to enhance the banking experience of their customers. The recognition is an acknowledgement of the global best practices adopted by Bank Muscat, its customer-centric vision, and its large number of innovative, modern products and services. These have been developed to suit a modern lifestyle and provide more opportunities for its customers to enjoy a convenient and distinctive banking experience.

Speaking on the occasion, Abdulnasir N. Al Raisi, General Manager – Personal Banking, Bank Muscat, said: "We are delighted to win the MENA Banking Excellence Award for the second consecutive year. The accolades and recognition Bank Muscat continue to receive for its banking services come as a result of the great efforts made by its employees and the innovative products and services, which are being continuously developed by the bank. We thank MEED for recognising us through this prestigious award and will work to further better our services based on our customer-centric vision. Bank Muscat will continue to launch new, innovative products and services, which add value to our customers and are in line with their varying needs."

He added: "Bank Muscat is keen to contribute to the ongoing digital transformation of Oman, strategised as a part of Oman Vision 2040, and this is reflected in the continuing launch of a diverse range of products and services for our different customer segments. We would like to extend our sincere thanks and gratitude to all our valued customers for their continuing trust and confidence in our services and products, and promise to keep developing more such innovative services in the future to fulfill their aspirations."
Recently, Bank Muscat launched a new feature within its Internet and Mobile banking channels, which enables customers to submit applications for loans and credit cards digitally. The new feature enable customers to apply digitally for a number of loan facilities across various categories such as Personal, Vehicle, Marriage, Travel, Educational, and Health and Beauty loans. Customers may also apply online for a variety of credit cards including Visa Infinite credit card, Gold credit card, Oman Air credit card, Lulu credit card, Al Jawhar Visa Platinum credit card, Asalah Visa Signature credit card and the Private Banking Visa Infinite credit card according to the eligibility norms for the same.  Through these cards, customers can enjoy a number of advantages and facilities that meet their various needs.

Bank Muscat's digital services are highly sought after by its customers who prefer to take advantage of the numerous innovative features and facilities available through Internet and Mobile banking. Currently, more than 1.6 million customers benefit from these services, which are also helping enhance financial inclusion in the Sultanate. The bank's state-of-the-art technology enables customers to access services quickly and conveniently through a variety of e-channels including Internet and Mobile banking, the contact centre center and also through its more than 800 ATMs, CDMs and other electronic devices, which provide a variety of services around the clock.

The bank's many successes across different fields have been well recognised both locally and internationally, with it winning several regional and international awards in the recent past from international publications like Global Finance, Euromoney, EMEA Finance and The Banker. Awards received in the past included being recognised by Forbes Middle East as one of the Top 50 banks in the region. Bank Muscat continuously endeavours to deliver best-in-class services to its customers in the future as well as build on its track-record of strong performance.