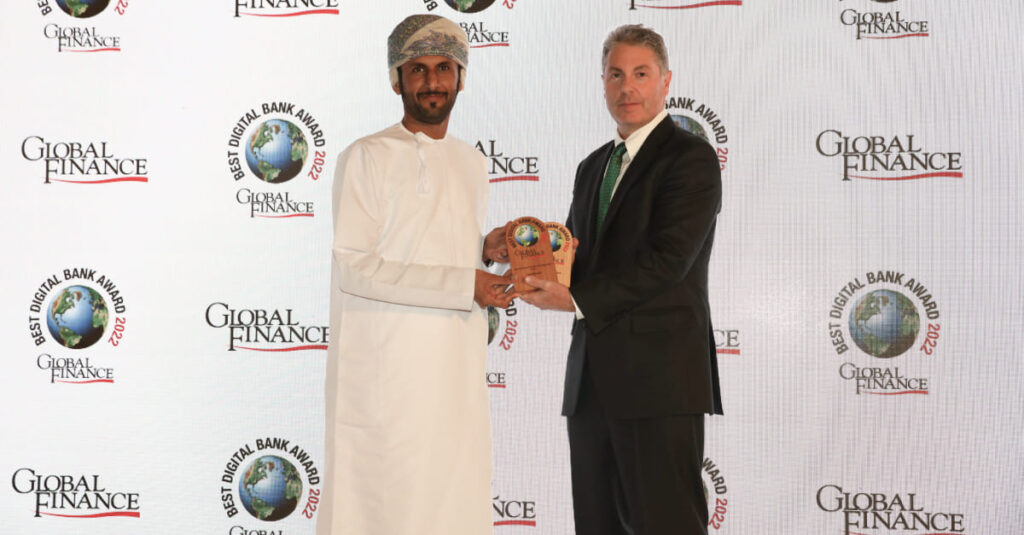 MUSCAT – Bank Muscat has won the award for the Best Consumer Digital Bank in Oman 2022 at the Global Finance's Best Digital Bank Awards held in Dubai. The winners were selected based on a number of criteria, including their strategy for attracting and servicing digital customers, success in getting clients to use digital offerings, growth of digital customers, breadth of product offerings, evidence of tangible benefits gained from digital initiatives, and web/mobile site design and functionality. The award was received on behalf of the bank by Mohammed Sultan Al Habsi, Chief Representative, UAE Representative Office, Bank Muscat.

Speaking on the occasion, Abdullah Hamood Al Jufaili, Assistant General Manager, Digital Banking, said: "Bank Muscat is delighted to win the Best Consumer Digital Bank in Oman award from Global Finance once again. The award is a testament to the bank's commitment to continue investing in state-of-the-art technology to further increase efficiency and improve customer service. As the leading financial services provider in Oman, we are committed to offering the latest financial services and solutions in line with global financial trends. The consistent rise in active customers on our e-channels reflects the rising popularity of Mobile and Internet Banking as well as other digital banking channels. By emphasising on service delivery through multiple channels and new products that cater to different customer segments, the bank aims to maintain its leadership in hi-tech products and services, including electronic payment and digital services."

Bank Muscat's continuously upgraded Internet and mobile banking services offer customers a fast, comfortable and secure banking experience. Today, over 1.3 million retail banking customers are using various features like real-time bill payments for utilities in Oman, such as electricity, water, telecom, mobile top ups, instant credit card bill payments, school fees payments etc. In addition, fund transfers within the bank and in Oman, fund transfers across the world via the SWIFT network; speed transfers to a number of countries including Bangladesh, India, the Philippines, Pakistan Sri Lanka and Egypt; Zakat calculator and charity payments. Customers can set or reset PIN and disable or enable their debit card for international usage through Internet banking or mBanking, thereby adding an extra layer of security for the benefit of customers.

Over the past two years, the bank has been witnessing a remarkable rise in e-channels usage including a rapid uptake in contactless payment through its various debit, credit and prepaid cards as well as contactless wearables. Customers are able to transact quickly, securely and 24/7 via mobile banking, Internet banking, contact centre and the bank's large network of over 800 ATMs/CDMs and other devices across the country, which is an affirmation of its customer-centric strategy. Bank Muscat's many achievements have been well recognised with the bank winning several awards in the recent past including being recognized as one of the Top 30 banks as well as Top 100 Companies in the region by Forbes Middle East. The bank has also won a number of prestigious awards from international publications like Global Finance, Euromoney, EMEA Finance, and The Banker.

Please go to https://www.bankmuscat.com/en/bankingchannels/Pages/default.aspx for more details on the bank's digital channels.