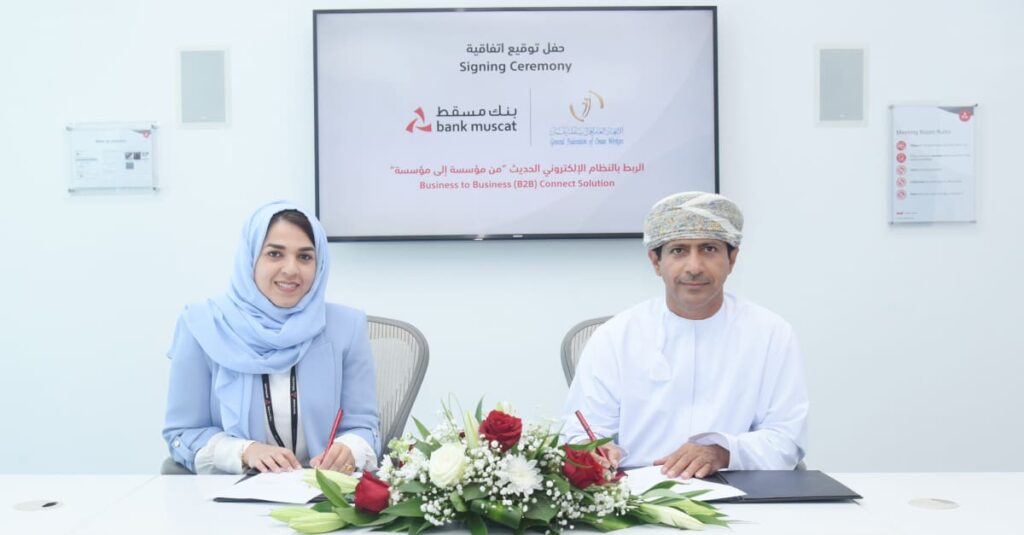 MUSCAT – Bank Muscat has signed an agreement with General Federation of Oman Workers for its cutting-edge digital banking solutions for Host-to-Host connectivity. The General Federation of Oman Workers, the trade union representing the Sultanate's workers before official authorities and in local, regional and international forums, has been on-boarded to Bank Muscat's B2B Connect.

Speaking on the occasion, Wafa Ibrahim al Ajmi, Assistant General Manager, Bank Muscat said: "We are delighted to onboard General Federation of Oman Workers to our sophisticated Corporate Banking solutions. Our solutions are designed to enable the General Federation of Oman Workers to process their large-scale banking transactions in an efficient way through digital channels. The straight-through nature of our payment solutions will support the General Federation of Oman Workers to provide faster responses to their stakeholders. The General Federation of Oman Workers will be able to achieve a high degree of automation in payables, reconciliation and minimise risks related to payment processes. We continue to enhance our relationship with the General Federation of Oman Workers with our complete range of products and services which includes collections and payment solutions".

Nabhan Ahmed Al Battashi, Chairman of the General Federation of Oman Workers, said: "We are proud to partner with Bank Muscat to use the bank's state-of-the-art B2B Connect solution to greatly improve our operational efficiencies. Our members, vendors and partners will find it easier to complete their transactions with us, and we are confident that this will improve their satisfaction. Our partnership with Bank Muscat, has fortified the digital transformation of General Federation of Oman Workers, and we look forward to further augmenting this successful partnership for serving and benefiting private sector employees."

Bank Muscat's comprehensive B2B Connect solution is a Host-to-Host solution built on an advanced architecture and addresses various corporate needs. The B2B Connect Solution connects the ERP system of the corporate / institution with the online banking platform of the bank in such a way that payment requests automatically flow from the ERP to the Online Banking platform and payment status and account reconciliation information from the bank's system will flow to the organization's ERP. Leveraging this connectivity, the corporate /institution can make salary and vendor payments with more efficiency and less operational risks. The B2B Connect solution can easily be implemented by the corporate as the solution is not specific to any ERP system and can be configured across both standard and custom-built ERP solutions.

As the trusted banking partner in Oman, Bank Muscat is committed to supporting government entities and corporates to make a mark in digitalisation to create a successful business environment. Bank Muscat's processes and technology are designed to drive future corporate transactions and digital banking requirements. Bank Muscat provides a complete range of products, services and technology driven digital offerings catering to government entities, corporates, SMEs and retail.

Bank Muscat's Transaction Banking solutions enable achievement of automation in the activities of the treasury/finance team through the use of cutting-edge technology and processes aligned with corporate's needs. The Account Services solution provides enhanced visualisation of the overall banking relationship across all banks, which includes accounts with Bank Muscat as well as with other local/international banks. Direct Debit and Virtual Accounts are collection solutions, which facilitate automation in the reconciliation of receivables in addition to providing corporates with complete control and visibility of collections. 'Sweeps' is an advanced liquidity management solution for account-balance management, which allows automation in funds movement between accounts as per pre-defined rules. 'Trade Portal' is an online solution, which allows processing of trade finance requests efficiently and with complete transparency. The bank's online Corporate Banking platform and the B2B Connect solution also facilitate salary payments for employees through a secure payment channel under the Wages Protection System (WPS) as mandated by the Central Bank of Oman and the Ministry of Labour. The bank has also launched contactless Visa Pre-load payment cards for corporates to streamline petty cash and cash expenses.