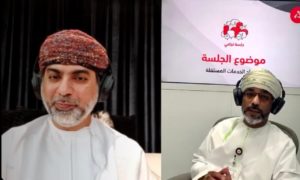 MUSCAT – Bank Muscat in line with its commitment to strengthening support to Omani entrepreneurs held its second online Najahi Talks session recently. The session focused on the newly emerging Gig Economy that is becoming popular in many countries, i.e., jobs based on short-term contracts or done by freelance workers.
The session in August hosted Abbas Al Hameed Al Lawati, managing partner of Mazars Oman, which is an Integrated Partner of Mazars Group France. Abdullah Al Jufaili, head, Retail Enterprises Unit (Najahi) of Bank Muscat moderated the session and managed the interactions with budding entrepreneurs, which was hosted on the bank's official Instagram account. It was attended by a large number of Bank Muscat Instagram followers and addressed topics including an overall explanation of what the Gig economy is, its benefits to the local economy, and examples of the kind of activities that can be offered under the Gig economy.
It is important to note that Bank Muscat Najahi continues to offer these vital knowledge-sharing sessions. "Social media platforms are proving to be a great channel to stay in touch with our clients and share knowledge in this time of social distancing. Najahi Talks is receiving good attention as its shares topics that are very relevant to Micro, Small and Medium Enterprises (MSMEs) and the current market conditions," said Abdullah Al Jufaili during the interaction.
Abbas Al Hameed, shared his experiences and spoke about the general economic conditions highlighting the challenges related to job creation. He emphasised the role that the Gig economy can play in creating employment opportunities and explained how in developed countries like the US, the Gig economy employs more than one third of the total workforce. He invited Omanis to benefit from this new business trend by educating themselves more on the services that could be offered using their expertise. Abbas also answered questions raised by the participants including: How the Gig economy works and some examples of activities that can be offered in Oman under the same. He explained how technology is a big enabler of this mode of freelance or temporary work. The online webinar was a grand success with many entrepreneurs taking advantage of the knowledge-sharing session to learn new ideas to take back and implement in their own businesses.
Najahi Talks complements other initiatives undertaken by Bank Muscat to promote the growth and development of the Micro, Small and Medium Enterprises (MSME) sector in the country. The specially-designed Najahi products mainly include credit facilities without the need for collateral to develop and grow micro and small businesses. Bank Muscat's Najahi strategy is an important part of helping MSMEs grow and strengthen the Sultanate's economy. Those who are interested in participating in upcoming Najahi sessions will be able to get more details from the bank's social media accounts. The event is usually held during the first week of every month.