MUSCAT – Bank Muscat recently held a special event at the Hormuz Grand Muscat to appreciate and commend 129 long-serving employees at the bank in line with its commitment and efforts to acknowledge and recognise their role in the bank's successes and achievements over the years. The event was attended by Sheikh Waleed K. Al Hashar, Chief Executive Officer, Bank Muscat, and members of the Management Team. A total of 129 employees were given long-service awards for completing the significant milestone of 20 years of service.

Addressing the gathering, Said Salim Al Aufi, General Manager – Human Resources and Administration, Bank Muscat, said: "We are immensely proud to recognise the contributions of our longest-serving staff members through these long-service awards. We thank all our colleagues who are here today for growing with the bank and continuing to inspire their colleagues. Thank you very much and we do hope that they will sustain their diligent performance in the coming years. It is a privilege to mark their outstanding contributions at the bank and honour them through today's special event."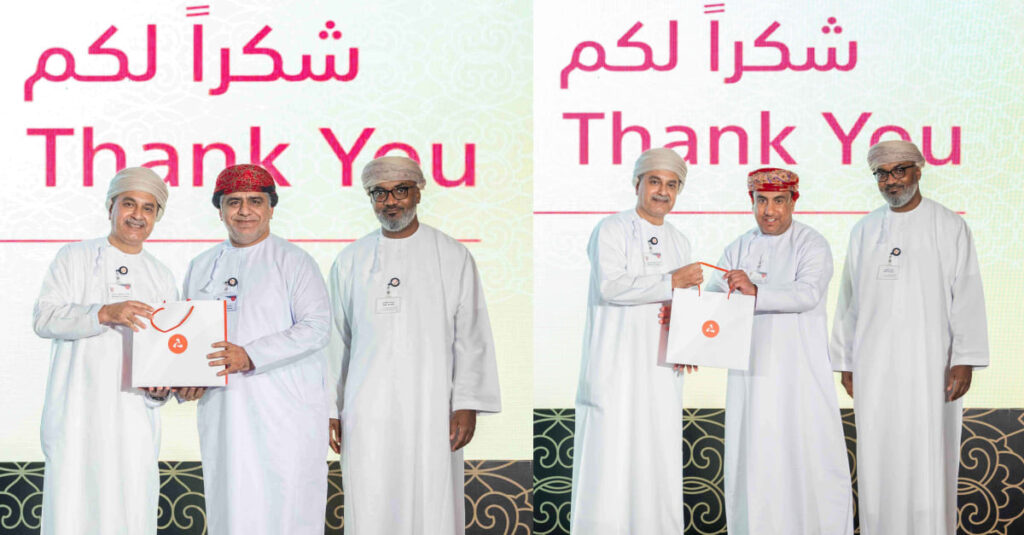 Said Al Aufi continued that Bank Muscat realises the importance of human resources in achieving the development plans in the country. He stressed how each and every employee at the bank was playing an important role in the bank's operations and supporting its leadership in the financial services sector in Oman. He added that the bank has achieved a high rate of Omanisation by providing training, development, and opportunities to its employees to upgrade their skills and abilities.

A number of Bank Muscat employees who were commended during the programme expressed their happiness and appreciation for the efforts made to develop Omani cadres in the financial sector. In particular, they pointed out to the professional atmosphere and the various efforts made by Bank Muscat to provide learning and development opportunities through on the job training as well as formal educational qualifications and certification.

Alya Mubarak Al Alawi, Head of Legal Services, Bank Muscat said: "I have thoroughly enjoyed my time working at Bank Muscat, the leading financial institution in the Sultanate, for its very professional work environment and excellent HR practices. The bank pays great attention to developing its employees and I am grateful for the many chances I have had to grow my knowledge and skillsets, and thereby develop further in my career. I thank Bank Muscat for providing me with many wonderful opportunities, which have made such a huge difference to my career and I also would like to thank all my senior colleagues who have mentored and supported me in this journey."

Qais Rabi'a Al Balushi, Branch Manager, Khasab, said that Bank Muscat is a preferred employer for young people in the Sultanate as the bank is committed to developing the skills of its employees. He thanked the bank for the various opportunities, which were instrumental in improving his career path. He also expressed sincere thanks to the management for the continuous support and care taken for the development of employees.

Speaking about her experience, Basma Mohammed Al Maamari, Assistant Regional Manager, North Al Batinah said: "My journey at Bank Muscat is an excellent example of how the bank encourages its employees to do well in their careers by providing them the right training, a professional work atmosphere, skills upgradation and cutting-edge technology and equipment. Our experiences over the years have taught us to absorb the art of management and overcome various challenges in our journey at the bank. I would like to express my sincere appreciation to Bank Muscat, especially the Executive Management, for the support and attention accorded to employees."

As one of the top employers in the Sultanate of Oman, Bank Muscat constantly invests resources and time to further develop the skills of its employees and help them reach their peak potential. From the moment of joining the bank, suitable training and development opportunities are provided to make employees skilled with work-related processes and procedures such that they can deliver to the best of their abilities. In 2022, over 28,000 training seats were utilised by employees over a total of 34,000 training man-days in various training programmes. It is indeed a testament of the bank's excellent HR practices that most of the senior and middle management have attained their current positions by rising within the bank's ranks over the years.