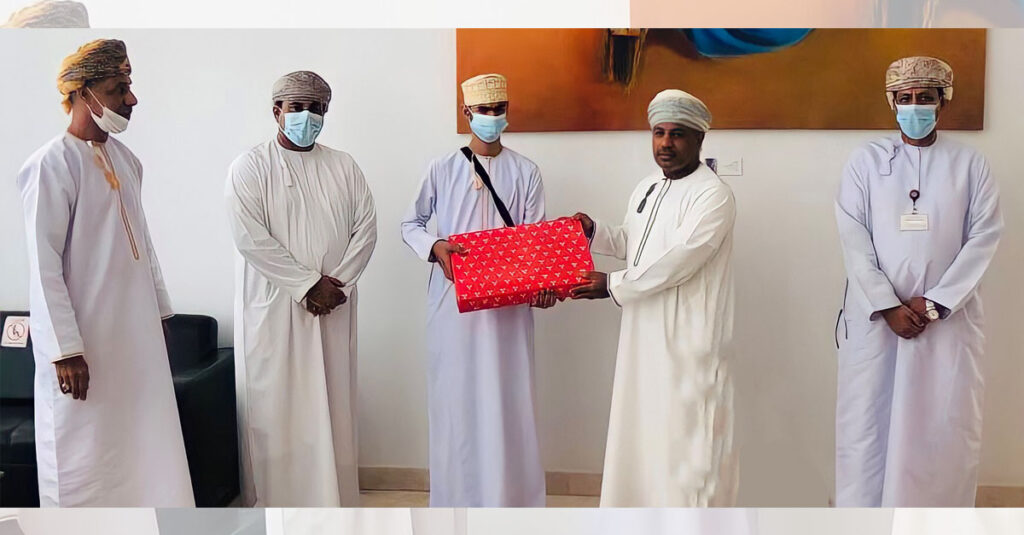 MUSCAT – Bank Muscat has extended strong support to students with special needs studying in different educational institutions in Oman. The bank provided BrailleSense devices and laptops to a number of visually impaired students at Sohar University to support and motivate them.

The devices were given away in the presence of Dr Hamdan Sulaiman Al Fazari, Acting President, Sohar University, and Yousuf Khalfan Al Nadabi, Regional Manager North Al Batinah, Bank Muscat. These devices will help the students both in their studies and also in their day-to-day lives by enhancing their skills and capabilities and their potential to contribute to society.

On this occasion, Talib Saif Al Makhmari, Manager, Community & Media Relations, Bank Muscat, said: "We are happy with our constant partnership with Sohar University in extending support to students. Continuing our strong partnership with higher education institutions is one of the top most priorities at Bank Muscat. Such initiatives are of great importance because they are designed to contribute in enhancing the day-to-day life of visually-impaired students and extend a helping hand to improving their success rate in higher education and help them get suitable job opportunities in the future. This is a key part of Bank Muscat's efforts in social responsibility in different fields." Talib Al Makhmari added: "We are proud to partner with higher education institutions and we will continue supporting our students and offer them the best possible opportunities in their journey. We would like to express our sincere appreciation to Sohar University for their cooperation and partnership in making this initiative a success."

The students expressed their happiness to receive these specialized devices which will help them have an easier learning experience. Huriya Khalfan Al Subhi, an Arabic language and literature student at Sohar University, said: "I would like to extend my sincere appreciation to Bank Muscat for this thoughtful initiative. It was a pleasant surprise for us, as we were hoping to get BrailleSense devices and the bank made our dreams come true. These devices will offer us a helping hand and will help us in terms of taking notes and browsing the Internet quickly. We also hope that it will help us later in our jobs in the future."

Nasser Hamood Al Sawafi, who is also studying Arabic language and literature at Sohar University, said: "I am very thrilled to get a BrailleSense device. This is a great initiative from a leading institution like Bank Muscat. I was waiting to get this device since it can positively help me in both my personal life and in my studies. This device is well known for helping visually impaired students follow up on their classes since they offer various supporting features. It will for sure open new horizons for us in the future."

As a forward looking financial institution, Bank Muscat has always tried to set an example for the corporate sector to develop social responsibility as part of its corporate culture. The bank runs over 10 long term projects aimed at supporting different segments of society. The bank has previously supported a number of Non-Governmental Organisations working for the welfare of disabled people in Oman including the Oman Association for the Disabled and the Al Noor Association for the Blind.