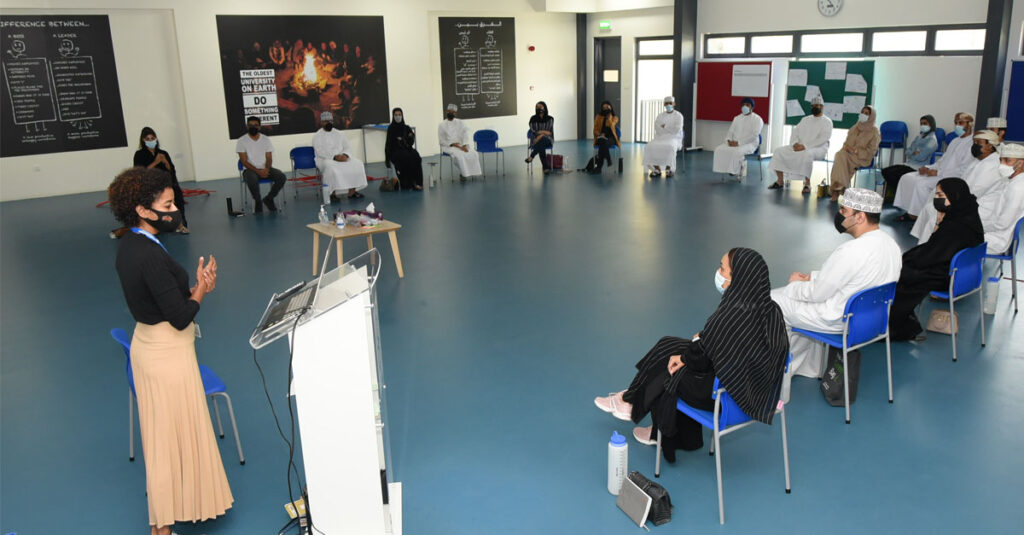 MUSCAT – Bank Muscat has partnered with Outward Bound Oman to provide its employees with specialised training that will further improve their teamwork, critical thinking and effective communication skills. Two batches of bank employees participated in these training workshops held recently at the headquarters of Outward Bound Oman in Al Khoudh. Outward Bound Oman is well known for its focus on the development of human talent through a unique, intensive and immersive learning environment.

The training workshop for Bank Muscat employees aimed to raise their awareness of the importance of focusing on customers, and to introduce them to the importance of work ethics, and how it can be applied in the work environment. It also pointed out the importance of dealing in a professional manner with colleagues, managers and the bank's customers. In addition to enhancing the ability of employees to assume new responsibilities and adhere to the highest standards of integrity at work, the workshop also included several assorted activities to enhance their participation and interaction during the training.

Said Salim Al Aufi, Group Deputy General Manager – Human Resources, Bank Muscat, said: "Bank Muscat recognises that its employees are its core strength and the primary reason for its success and accomplishments. Hence, it continuously invests resources and time to further develop their capabilities. The bank is also closely supporting efforts for further development of Omani youth through specialised programmes and courses to realise national development goals. We thank Outward Bound Oman for their excellent training that focuses on communication, teamwork, confidence, critical thinking and creativity. This will help our employees unleash their full potential and contribute immensely both to the bank and Omani society in general."

Mohammed Darwish Al Zadjali, Chief Operating Officer, Outward Bound Oman, said: "From school students to job seekers and the emerging talent of leading organisations, Outward Bound Oman courses have helped shape the lives of thousands of people in the Sultanate, helping equip individuals with the right competencies and capabilities to support the ambitious goals of Oman Vision 2040. We are very happy to partner Bank Muscat, which is a pioneer in investing in human resources and providing Omani talent multiple ways to innovate, perform and be prepared for the next stage in their careers and lives."

A number of Bank Muscat employees who took part in the workshops expressed their happiness and appreciation for the various efforts made by the bank to develop Omani cadres in the banking and financial sector. Since the very beginning, Bank Muscat has adopted many innovative strategies to equip talented Omani nationals to take up leadership positions. In fact with over 3,800 employees and around 95 percent Omanisation, the bank is a pioneer of developing Omani talent. As a result of its strong HR processes and abundant learning and development opportunities for employees, most of its senior and middle management have been promoted from within the bank's ranks. It must also be noted in this regard that as part of its strategic plan, the bank continually creates a pipeline of leaders not just for the bank, but also to contribute to the overall growth and development of the nation.