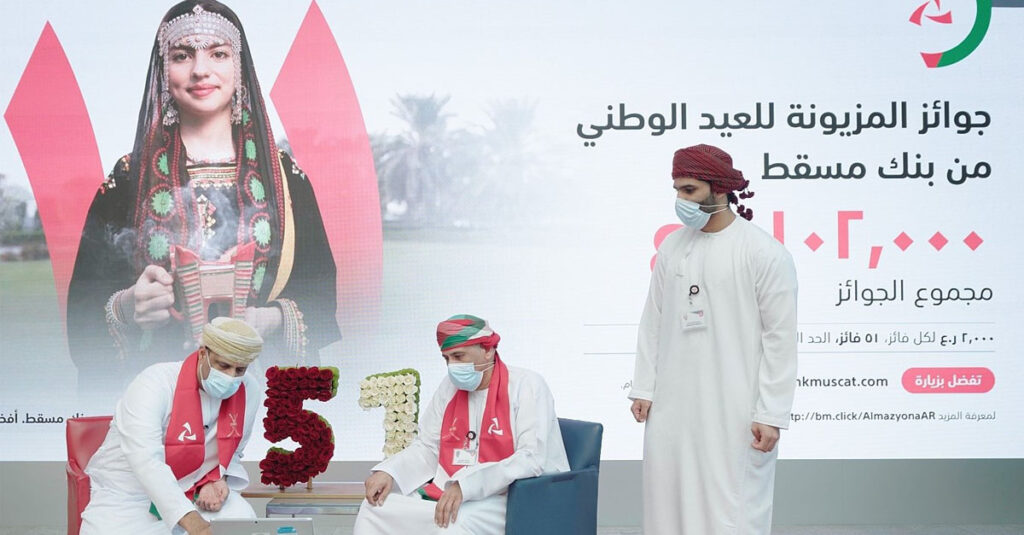 MUSCAT – Bank Muscat conducted a special draw coinciding with the Sultanate's 51st National Day celebrations on November 18, 2021 at its Head Office, which was attended by Abdullah Tamman Al Maashani, Deputy General Manager – Institutional Sales and Product Development and Saleh Mohammed Al Maini, Assistant General Manager – Capital Regions, Bank Muscat.

The special Al Mazyona draw gave away a total of RO 102,000 to 51 lucky winners, with each winner walking away with RO 2,000 each. All customers maintaining a minimum balance of RO 1,000 in their Al Mazyona account were eligible for the special draw by the leading financial services provider in the Sultanate.

Speaking on the occasion, Abdullah Tamman Al Maashani, Deputy General Manager – Institutional Sales and Product Development, Bank Muscat, said: "Bank Muscat is honoured to extend our warmest greetings and congratulations to His Majesty Sultan Haitham bin Tarik and the people of Oman on the occasion of the Glorious 51st National Day. To celebrate this special and grand occasion, the bank will reward 51 customers with special prizes. Bank Muscat always participates in national events in order to bring joy and happiness to its customers and will continue to hold special prize draws." He called upon all customers to continue saving more in their accounts to get more opportunities to win exciting financial prizes.

Al Mazyona has succeeded in inculcating a strong savings culture in Oman. For nearly three decades, Al Mazyona has rewarded numerous customers and enriched their lives. Bank Muscat encourages everyone to save for the future with the objective of creating a life-changing experience for winners and improving the well-being of their families. Oman's flagship savings scheme continues to reward a prudent and financially responsible savings habit among millions of customers with a massive RO 11 million to be won by 7,470 winners over the course of the year. Al Mazyona is designed to transform the lives of prudent savers and the number of winners has gone up by 12 per cent in 2021 over the previous year. Bank Muscat recently celebrated the holding of the Omani Women's Day Draw during which RO 25,000 was distributed to 25 lucky winners. Also during the recently held Shababi draw, 25 youth won prizes of RO 500 each on the occasion of the Omani Youth Day. The upcoming End-of-Year draw will offer high value prizes totaling over RO 1.5 million including two mega prizes of RO 250,000 each.

The Al Mazyona scheme is targeted to accommodate all nationalities and segments, including ladies, youth, children, high-savings balance customers and salary account holders, thereby inculcating a strong savings habit among citizens who will be financially responsible. The bank has invited all its customers to take maximum advantage of all the opportunities it offers to win exciting prizes by increasing the savings in their accounts.