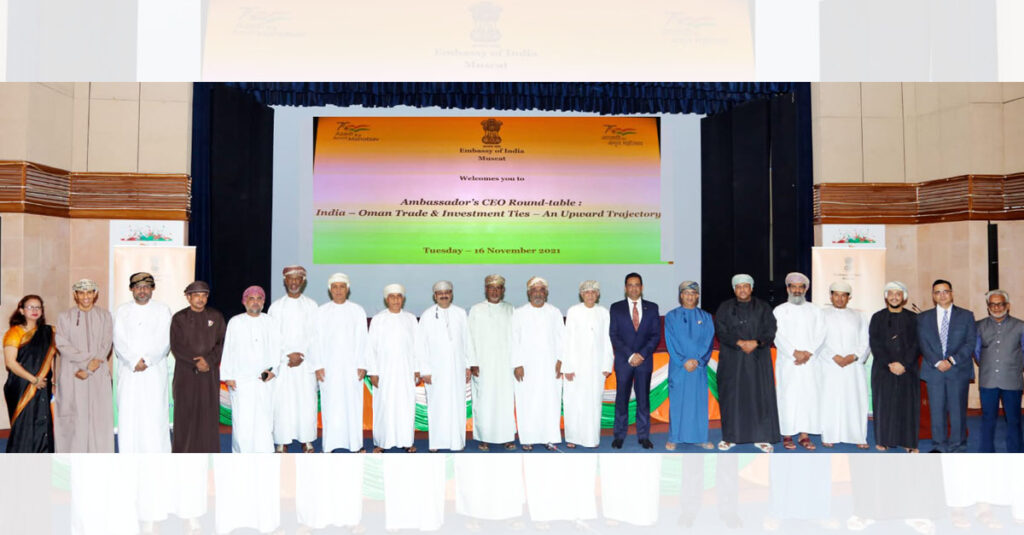 MUSCAT – Embassy of India, Muscat organised "Ambassador's CEO Round-table : India-Oman Trade & Investment Ties – An upward trajectory" on November 16, 2021, second in a series of interactions aimed at boosting economic and trade cooperation between India and Oman.

The event was attended by more than 15 prominent Omani business leaders representing diverse sectors of the Oman economy.

Noting the unique historic relations and deep-rooted people-to-people ties between India and Oman, Ambassador of India to the Sultanate of Oman, H.E. Amit Narang spoke about the robust and buoyant economic and commercial relations between the two sides that are poised to grow further. He stressed that given the advantages of proximity, connectivity and familiarity with each other's markets, a great potential exists for enhancing bilateral trade and deepening investment cooperation.

Ambassador Amit Narang noted with satisfaction that even during COVID19, India has been a reliable source of supply for fruits, vegetables and other essential items to Oman. Indian companies have emerged as leading investors in Oman, particularly in Free Zones with presence in various sectors like iron and steel, cement, fertilizers, textile, cables, chemicals, automotive etc. Oman's strategic location as a gateway to the Middle East as well as Africa coupled with direct maritime connectivity (with the start of operations by Oman Shipping Company to two ports in India – Nhava Sheva and Mundra – from Sohar in Oman) make Oman a favored destination for Indian companies.

Ambassador Amit Narang underlined the importance of Oman's Vision 2040 that provides an excellent roadmap and platform for deepening India-Oman business ties and taking them to the next level. Oman Government's push towards economic diversification under its Vision 2040 and Tanfeedh programme has opened up new opportunities for businesses in India and Oman to grow together. Ambassador assured that India will be a reliable partner of Sultanate of Oman to realise the objectives of Oman Vision 2040.
Ambassador also encouraged Omani businesses to explore possibilities to invest in India. He briefed them about Government of India's Atmanirbhar Bharat initiative and assured participants that Embassy would be happy to provide all assistance for any trade or investment related issue between India and Oman.
Sharing their experiences about working with India and Indian companies, business leaders from Oman were very optimistic about the future of India-Oman economic and commercial relations in the post-pandemic period. They shared their constructive ideas and views for stronger cooperation between India and Oman, in particular context of the pathway towards Oman Vision 2040.
The Round-table was a useful exercise to understand the priorities and expectations of the Omani business leaders and will contribute to further boost trade and investment relations between India and Oman.