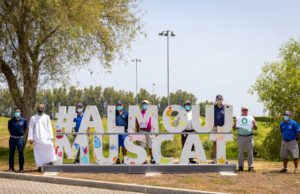 MUSCAT – Al Mouj Golf is set to further its sustainability credentials by announcing that it has successfully retained its GEO Certified® distinction – a marque dedicated to recognising credible leadership in sustainability and golf.
Commenting on this achievement was Nasser bin Masoud Al Sheibani, CEO of Al Mouj Muscat, "Al Mouj Golf was first certified in 2017 and this continues to be an important partnership for Al Mouj Golf. I am incredibly proud of the team for successfully earning our re-certification. Their efforts represent an important milestone in the facility's ambition to operate in a highly sustainable way and will help us elevate the impact of our sustainability practice; creating new opportunities through education and responsible leadership, providing widespread benefits to a broad spectrum of stakeholders and championing innovation to set new benchmarks in such a crucial sector."
In recent years, the course managers at Al Mouj Golf have undertaken significant work to enhance the natural character and biodiversity of the course, also reducing the consumption of water and other vital natural resources, while also contributing to national goals on priority issues such as combating desertification; protecting groundwater supplies; converting to clean, renewable energy; stimulating the circular economy; and engaging youth and communities in healthy recreation.
GEO Foundation is the international not-for-profit dedicated to helping golf to deliver and be recognised for a positive impact for people and nature. Inspiring golf to fully embrace sustainability and promoting a shared understanding of issues and solutions, working with and through industry associations and businesses. Strengthening the reputation of golf clubs and developments and helping golf celebrate great golf environments on the basis of a new collection of real-world data and highlights.
Jonathan Smith, Executive Director, GEO Foundation praised the progress made and results generated "We're extremely impressed by the ever strengthening commitment, action and results shown by Al Mouj Golf and we congratulate the entire team there, and all those that support the efforts including Toro and Ocean Tee. So often sustainability initiatives are side projects, piecemeal or designed to do the minimum on compliance – and therefore can fail to become fully embedded into brand and culture. Al Mouj demonstrates the opposite and is an example of how to embed environmental responsibility and social value into all aspects of operations and brand. For this, they are to be very highly commended."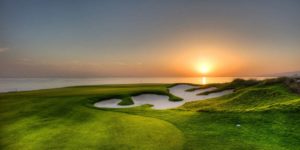 Two important Continuous Improvement Points from the club's previous certification have been successfully addressed. The first of these was the naturalisation of out-of-play areas, which comprised 2 hectares of tee surrounds being naturalised, resulting in a 350m3 reduction in daily water consumption. Secondly, 500 sprinkler heads were relocated as part of an audit for better spacing and more efficient coverage. These two measures resulted in a total irrigation reduction of 12 percent.
Mundhir Al Barwani, chairman of the Oman Golf Association congratulated Al Mouj, for all that they have achieved and now inspired in others in golf in Oman and said " The Oman Golf Association recognise the importance of sustainability issues to golf, government and society and we are excited about doing more to support and extend golf's role even further through our collaboration with the GEO Foundation, in close partnership with the government, Al Mouj, the European Tour, and the other courses in Oman"
"Through their actions Al Mouj has inspired others. Most notably, this has included acting as the catalyst for a range of new environmental and social initiatives linked to the European Tour Oman Open, for which the Oman Golf Association is promoter and Al Mouj is host venue, for the 2020 Oman Open" Barwani added.
For more information on Al Mouj Muscat, please visit: www.almouj.com
For Al Mouj Golf, please visit www.almoujgolf.com