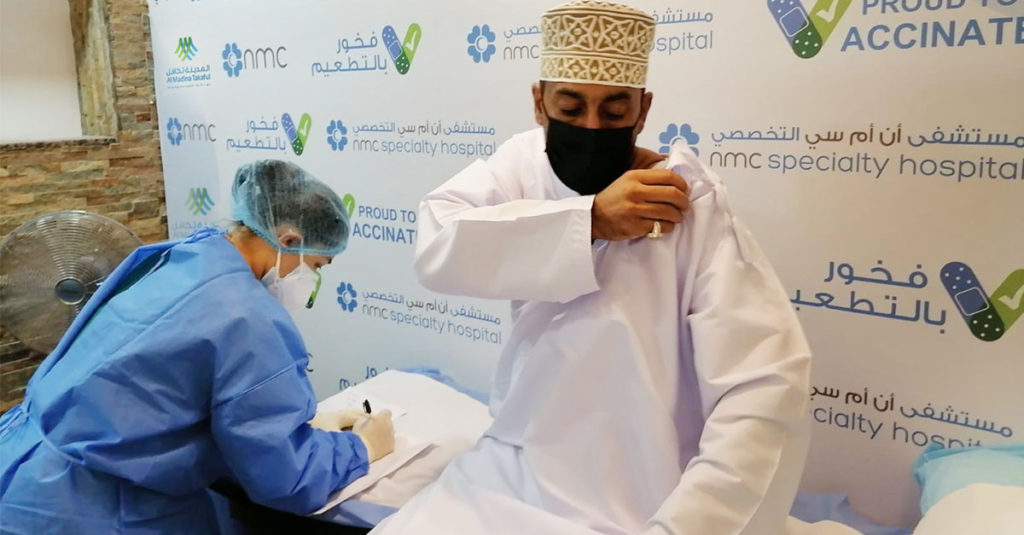 MUSCAT – To ensure the health and well-being of its employees, Al Madina Takaful, Oman's first Takaful insurance provider organised a vaccination drive across its locations to cover its entire staff. Employees were vaccinated over a multi-day drive held at the company head office in Muscat and its branches in other governorates. The inoculation drive was conducted in association with NMC Healthcare Oman and employees were vaccinated with Pfizer vaccine.

Usama al Barwani, CEO of Al Madina Takaful said, "The objective of this vaccination drive was to protect our colleagues and largely support the nation to overcome COVID-19 pandemic. We stand firmly with the Oman government in contributing towards the country's vaccination programme. This drive will make us stronger and will also help lessen the pandemic burden on the country and health system. The vaccination drive aims to ensure that 100 per cent of our staff are inoculated."

Al Madina Takaful has been consistently stepping up its efforts to fight the pandemic through innovative measures and preventive care. The company followed all government health guidelines while executing this drive, streamlining all its efforts to protect the health of employees. In accordance with the Supreme Committee's direction, Al Madina Takaful vows to continue the battle against COVID-19 in every possible way and ensure a fully vaccinated workforce in its all its operations.

Since the early days of the pandemic, Al Madina Takaful has been part of the government's endeavour to combat the virus. Al Madina Takaful took actions in accordance with the advisories from Oman's Supreme Committee and local health authorities. The company's measures to ensure the safety of our employees included increased sanitation of our office, work from home facility, holding online meetings, implementing visitor guidelines. Al Madina Takaful will continue to adhere to all COVID-19 safety and health protocols as set out by the Government and stringently follows all the standard operating procedures at the workplace and in the public.

In the spirit of supporting the community during the pandemic Al Madina Takaful extended it support to Al Rahma Association recently. Al Rahma Association continues to help the less fortunate families across all governorates of the Sultanate providing them with the necessary financial and non –financial support.