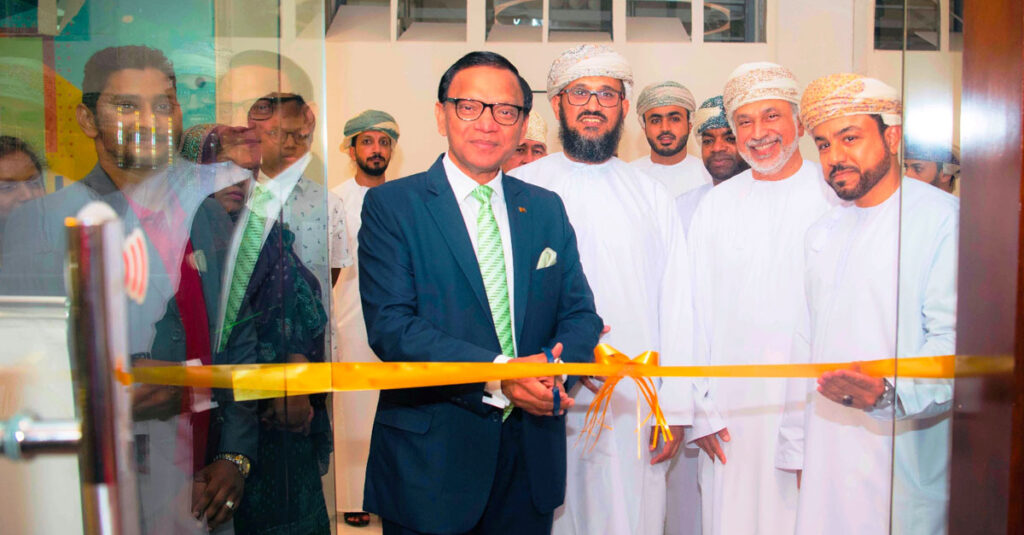 MUSCAT – Ambassador of Sri Lanka to the Sultanate of Oman Ameer Ajwad launched an exclusive outlet of Premium Quality Ceylon Tea (Akbar Tea) at Boulevard Boutique Mall in Muscat on July 5, 2022.

Akbar Tea is a product of Akbar Brothers (Pvt) Ltd who is the largest Ceylon Tea exporter for more than 29 years. Akbar Tea is the most globally outreached Sri Lankan brand of the year 2020 and the best exporter in the Sri Lankan Tea industry for the 12th consecutive year. Akbar brothers had become the first Sri Lankan Tea Company being awarded with the internationally recognized ISO90002 and HACCP quality certificates.

Opening the tea outlet, Ambassador Ameer Ajwad stated that Akbar Tea was one of the Sri Lanka's foremost exporters of high quality Ceylon Tea and that over 75 million cups of Akbar Tea is drunk daily world-wide. Ambassador expressed hope that the Akbar Tea outlet in the heart of the city of Muscat will serve the Ceylon Tea lovers in Oman.

Under the Akbar Tea brand umbrella, the company offers a comprehensive product range of Ceylon tea as traditional black and green tea in loose packs and tea-bags, together with flavoured and herbal teas, ice tea and a variety of different packaging options. Akbar tea is a popular Ceylon tea brand in US and Europe and now available in the Omani market in Muscat and Salalah.
During the event Mohammed Kaleel Ahmed Azam together with his Omani partners, Musallam Al Barami and Ali Salam Al Awaed made a presentation on a range of Akbar Tea varieties available in the outlet.
Head of West Asia Department of the Ministry of Foreign Affairs of the Sultanate of Oman Mohammed Al Shafari, Chairman of Muscat Media Group Mohammed Essa Al Zadjali and Deputy Director of Small and Medium Enterprises Department of the Oman Chamber of Commerce and Industry (OCCI) Hussein Marzouq Abdullah Al Harrasi graced the launching ceremony as guests of honour. Counsellor of the Sri Lanka Embassy Dilini Abeysekara and other well-wishers participated at the ceremony.
17-member delegation from Oman Chamber of Commerce and Industry (OCCI) led by the Chairman of OCCI Eng Redha bin Juma al Saleh, who undertook a business visit to Sri Lanka in March 2022, had a familiarisation tour in the Akbar Tea Packing Facility in Colombo.