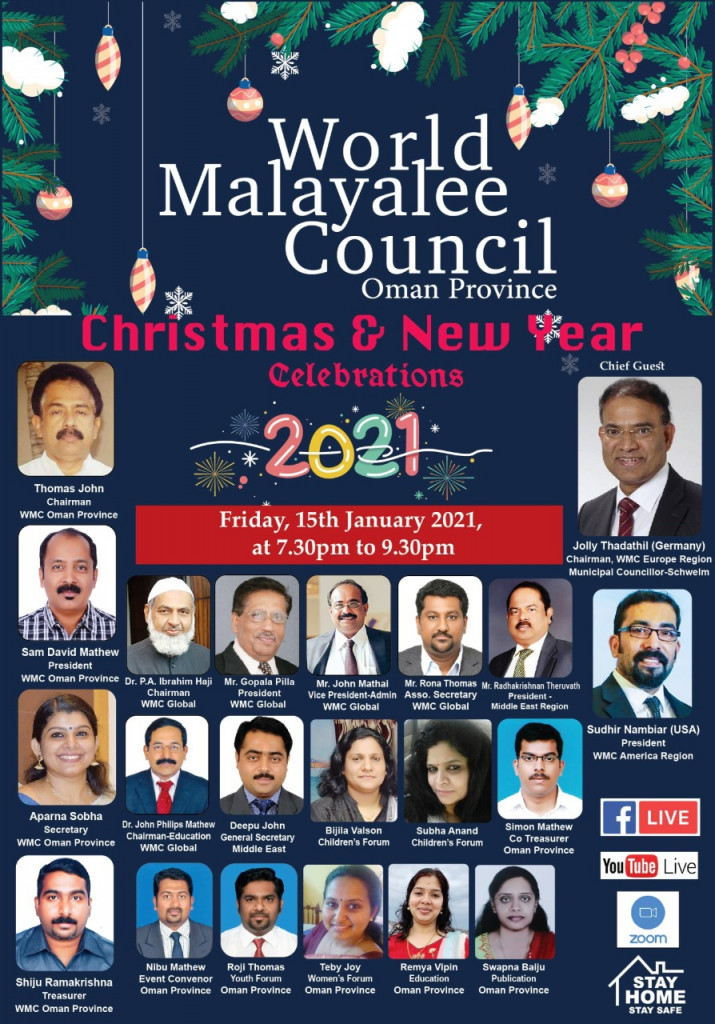 MUSCAT – World Malayalee Council Oman Province team have scheduled their Christmas and New Year celebrations on Friday January 15, 2021 on Zoom Platform. The Chief guests for the Zoom session will be Jolly Thadathil, Chairman WMC Europe Region and Municipal Councillor-Schwelm Germany along with Sudhir Nambiar President of the America region.

Global Chairman Dr Ibrahim Haji, Global President Gopala Pilla, Global Vice President of administration John Mathai, Rona Thomas, Global Associate Secretary and Middle East Region President Radhakrishnan Theruvath also will attend the function.WMC Oman province Chairman Thomas John, President Sam David Mathew, Secretary Aparna Sobha and Treasurer Shiju Ramakrishnan will deliver the messages through local participation.Dr John Philips Mathew, Advisory board Chairman will give introductory speech and Deepu John, General Secretary Middle East and E.A Hakkim, Chairman Abudhabi province will give the felicitations. Bijila Valson and Subha Anand are the programme conversers and Simon Mathew, Nibu Mathe-Event Conveners, Roji T. Thomas-Youth Forum Convener, Teby Joy-Women's Forum, Remya Vipn-Education Forum and Swapna Baiju-Publication will co ordinate the cultural programmes.

WMC Oman province members have also arranged different cultural programmes as part of the celebrations.