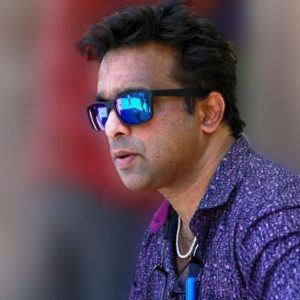 Dr C V Ranjith
Dental surgeon, Vijaya Dental Clinic, Cherukunnu, Kannur (INDIA)
Music director, Singer, Ad director & Owner, music band 'Black & White'
I always think of life as one big drama of coincidences, half chances and opportunities that 'comes a-knocking'.  And often, one thing leads to another.  One should never hesitate to move on if one door closes because another will automatically open, which we should fearlessly enter.  Such is life.
Story of my life
And that has been the story of my life. It has happened with my life before (which I will come to later on) and most recently with the advent of the dreaded COVID-19 pandemic, which threw our lives out of gear and closed many doors.
In my case, when my daily work as a dentist stopped, however temporarily, it gave me more time to work on all pending projects and also bring forth new creations. And the next thing I know I am being feted for a musical creation, which my talented friends and I did as part of the 'Break the Chain' campaign against COVID for the Kannur Administration, which went viral on social media.
Fight virus with music
When COVID-19 wreaked havoc into our lives, I felt weakened, tired, frustrated and became very upset and disturbed as the virus brought pain and suffering for many.
I have never felt in this manner before. But, as an artist, I realised that I shouldn't give in to these emotions, I mean, not like this. Instead I should channel it in the right direction. And so despite the constant provocation by this virus, I held on to my emotions and thought of a way to fight it back. Maybe I don't have the means or the science to fight this deadly virus, but I realised I had something else within me to at least take a bold swipe at it – creativity! Music!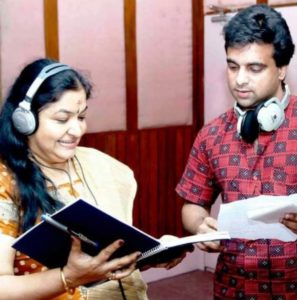 Break the Chain for the world
Music runs through my blood and whenever it boils, I let it flow. It was during the lockdown period in Kannur when I hit upon this idea to do a musical campaign to fight the virus.
From my end, I was also free. Although I am a practicing dentist, the lockdown posed by the virus gave me some free time and as soon as I made up my mind, I contacted Lincoln Samuel, my song-writer friend in Kochi, and told him of my plan and asked him to pen the lyrics.
To cut a long story short, in a matter of days, the song was written, its music composed, the verses sung and the song was ready for the world!
That was how 'Break the Chain', the song which was made for the Kannur District administration, for their campaign by the same name, came into being. And the rest, as they say, is history…
13000 views in few hours
The song was sung by Vincent Peter; guitar by Sandeep Mohan; editing by Prashob; music production by Ashwin Shivadasan – all from Kochi, while I composed and arranged the music, sitting in Cherukunnu in Kannur. The digital mixing was done in Kasaragod.
How did we do it? All by means of modern technology and liaising through WhatsApp.
The album was officially released from the chamber of the Kannur collector, T. V. Subash, one of its first and foremost promoter. The industries minister, E. P. Jayarajan released it in the presence of the ports minister, Kadanappaly Ramachandran.
Within hours of collector Subash posting the song on his Facebook page (https://www.facebook.com/CollectorKNR/videos/1117074141964605/), it attracted 13,000 views! And people are still raving about it.
On this lonely blue dot…
I have composed music for six films, many albums and ads. But, I must really say this album stole the thunder. I am immensely satisfied by the end result and I really feel we have in our own way bravely fought this virus with music!
It was not just about how it was created, all online and the artists sitting in various places, but it also showed how collective can overcome all odds. And our song, with the wonderful starting line, "On this lonely blue dot…", the singing, the music and the accompanying video, is all about mankind's will to fight and outlive this virus.
No secret to loving one or more things
Many have asked me how I am able to equally balance both my demanding profession and passion. I think there is no secret to it. If you are in love with both, you can handle them. In fact, in college, I was fully into badminton and have played upto state level. Even today when I get time, I play badminton. You always find time for the things you love to do. If you can't, it's an excuse!
Entry to musical world by accident
On the music front, I really adore Hindi and Malayalam film songs. In 2002, I happened to compose a tune, which my parents as well my friends loved. So, I decided to record this tune on a tape recorder with a guitarist friend of mine. Until that day, the tape recorder seemed to work just fine, but, when we started to record the tune, it wouldn't work. Therefore, I was forced to record the tune in a studio – that is how my musical journey began, which comes back to my earlier dictum on how 'when one door closes another opens'.
And from there my musical world opened up, sans formal training or any musical experience to speak of. From there I launched my first Hindi album, Shalu (https://youtu.be/hIeq_Y_Rjk0).  If that tape recorder would have worked on that day, I would neither be a singer or a music director.
Dust off pending work
And COVID upended my world. I was unable to operate my clinic during the lockdown period, and even after that, functioning by adhering to all the COVID norms is not an easy task.  Wearing PPE kits etc – and as a dental surgeon, examining a patient and performing a dental procedure, while still maintaining social distancing is an almost uphill task.
But, while my work took a hit, I had quality and quantity time with my family and I loved every moment of it. And it also helped me dust off many pending music-related works and put a new spin to many such stuck musical endeavours. Again, I really miss the travel I used to do for music recordings and also my fun time with friends and meeting new people – as now it has all been reduced to the virtual level.
Curtain raiser for the post-COVID era
Mind you, I think the future is not going to be much of a difference. This is currently a curtain-raiser for the post-COVID era. Drastic changes will be witnessed in all walks of life. The good part of it is that the prime focus will be on health. We are not going to take our health for granted anymore. COVID has taught us many harsh lessons and one of them is the great need to bring a sea change in our health.
Even countries that boast of a robust health infrastructure have failed to contain the virus spread – why? Only because they have not raised health awareness among their people, despite building a strong health infrastructure. So, in the future, everything health related would be given prime importance – infrastructure, management, research etc. We have seen the tragic collapse of the healthcare systems in some parts of the world and they are all bitter lessons from which we have to learn forever. And we should never repeat such mistakes.
Not an easy task ahead
Post COVID challenges will also hinge primarily on rehabilitation of the daily wage workers, migrant labourers, and also the job losers, non–resident Indians, the bulk of whom are from the Gulf countries. It is not going to be an easy task for any government and they will need considerable amount of time to bring everything to order.
Don't harden your hearts
But, as we all toughen up to brace the effects of this pandemic, let us not harden our hearts. Instead, let us open our hearts for the good of the many who need our help and support. In my own humble way I have contributed my mite to the cause of the deprived. Besides, I run a specialty dental clinic in Cherukunnu, Kannur, and my immediate responsibility was to help my support staff – I didn't deprive them off their salaries citing the pandemic or the lockdown.
All of them were paid and when we reopened, my staff, who had confidence in me, gave me full support and we began operating the clinic following all COVID protocols.
Such is life during COVID
Yes, life has become risky today, in the sense, if you realise it, there is a risk to practice our profession; there is a risk to travel; there is a risk to go and buy grocery; there is a risk to even step out of our homes, there is a risk to let anyone come close; there is a risk to shake hands – such is life during COVID!
COVID prevention awareness
Despite all this, I am actively involved in the COVID prevention awareness campaign along with the Kannur district administration, which is ably supported by our young and active collector, Subash.
Music will open more doors
My love and passion for music grows unabated. And I am sure that with music we will be able to open more doors; create more musical joy for this world.
We will.  Mark my words; we will make another song after we win this war against this pandemic.
All Rounder
(*) Dr Ranjith is a graduate of Bapuji Dental College, Davengere, and runs his specialty dental clinic in Kannur. He has 25 years of experience in his field and is known to actively participate in all activities of the Indian Dental Association.
His other calling is music and he is an all-rounder there – a singer, music director and ad director, all rolled into one. "Sometimes, the assignments that I get demand me to perform all these roles and it does get a little tricky and challenging – but each of these moments are rich learning experiences!" Dr Ranjith confesses.
Dr Ranjith's Facebook page:  https://www.facebook.com/CVRanjithofficialpage/
Upcoming projects:
Malanad Malabar cruise tourism promotional song (lyrics: Kaithapram Damodaran Namboodiri, singer: Vineeth Sreenivasan. Cast: Vineeth Sreenivasan, actor and dancer Vineeth; Mattanur Shankarankutty and Kaithapram. Director: Salim Ahmed; music and video director: Dr C V Ranjith
To direct a Malayalam film (script, screenplay, music and direction): "I utilised this lockdown to complete the script. Hope to cast three young Malayalam superstars in this debut venture, set to roll by mid 2021," Dr Ranjith reveals.
Major projects and awards:
* Shalu – Hindi album
* Song on Sachin Tendulkar in 20 different languages
* Composed music for Malayalam movies:  Ninnishtam Ennishtam and Therevu Nakshathrangal (where singer Dr K. J Yesudas sang two songs and acted in one)
*Composed music for Tamil movie: Nizhal (directed by actress Ambika)
Awards : Prem Nazir award, Kannur Rajan award, AT Ummer award, M S Baburaj award – all for music direction.